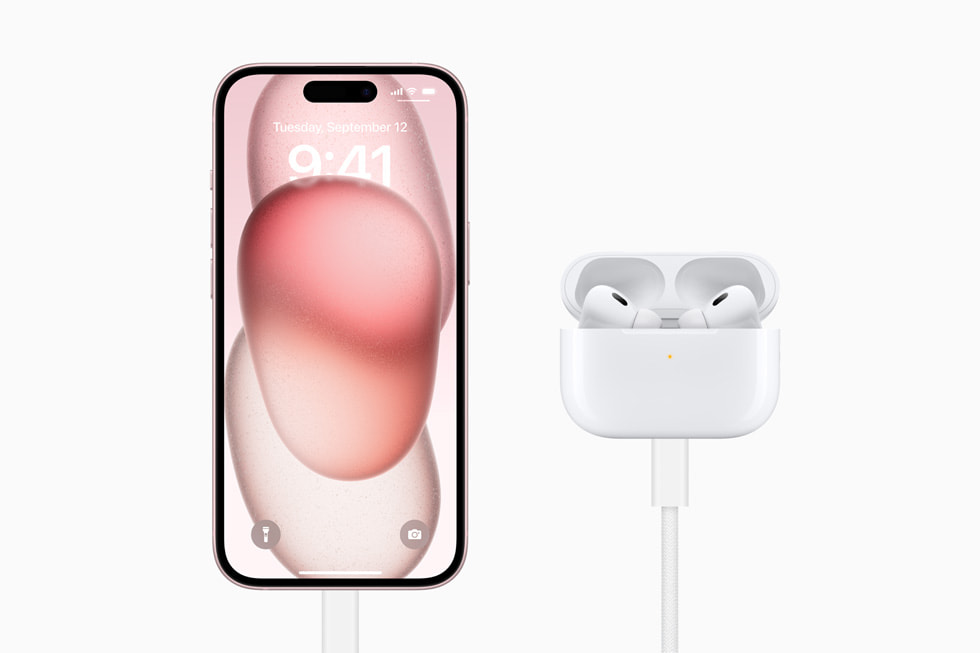 A lot was unveiled at Apple's Wanderlust launch event this week, from the much-anticipated new iPhone 15 to updates to the Apple Watch.
Besides the new products, however, Apple also made a few important changes to its interfaces and applications, while pushing hard for sustainability. Here are five takeaways from Apple's latest show-and-tell.
1. Goodbye Lightning port, hello USB-C
Finally moving to a USB-C port, Apple is following the footsteps of other smartphone makers. Users will sigh with relief because there will be fewer cables lying about, as the same cable can be used to charge other devices such as laptops and phones. And not only from Apple but Windows and Android devices as well.
Last year, the European Union ruled that USB-C must be on all new phones, tablets, and cameras by the end of 2024, and this has gotten Apple to this point. The switch comes 11 years after the Lightning port was introduced.
Apple has resisted the change because Lightning is a proprietary Apple technology. Switching to USB-C could reduce the royalties Apple receives from third-party vendors under the Made For iPhone programme.
Through this programme, Apple controls the quality of third-party products. At the same time, it receives royalties for the right to produce Lightning adapters, docks or chargers. Moving to an open standard like USB-C could hurt this business.
A secondary effect of this Lightning-to-USB-C switch is that new AirPods Pro cases will have the USB-C port. This means the earbuds can be charged with the iPhone 15. There were no announcements for a new AirPods Pro but new cases will go on sale from Sept 22.
2. Siri gets untethered
The virtual assistant no longer needs Wi-Fi or cellular connection to connect to the Internet to respond to queries. The processing is done on the new Apple Watches for faster response.
Apple claims dictation is 25 per cent more accurate. Since Siri is on-device, Apple Watch owners can ask Siri health-related queries. it will give instructions such as your average walking heart rate, which is useful.
3. A new gesture called Double Tap is awesome
I can't remember the number of times I've been walking my dog and the phone rings. Now on my watch hand, I bring my thumb and index finger together, as in a tap.
This will activate an action on the Apple Watch, such as answering a phone call. Or to start a timer or open a Smart Stack on the watch. These shortcuts can be set in Settings.
4. New iPhone Action button can be customised
The mute switch is being replaced by an Action button which can be customised to work as a shortcut for other apps. The mute can still be activated by simply long-pressing the new Action button on the side of the iPhone, which lets users toggle between ring and silent mode.
Users will feel the haptic feedback while an action flashes across the Dynamic Island. The new Action button lets users access the camera or flashlight quickly, open Translate or other features.
This Action Button is akin to the one on the earlier Apple Watch Ultra, which lets users access shortcuts to tasks like Workout apps.
5. Sustainability rings loud and clear
The new iPhone 15 and Apple Watches are built with recycled material and components. To reduce carbon emissions, Apple is shipping products by sea and it is moving away from leather cases and straps for its devices in favour of recycled and plant-based materials. This helps Apple move closer towards its goal to be carbon neutral by 2030.
Apple also says the standard iPhone models boast 100 per cent recycled cobalt in the battery and 100 per cent recycled copper in the main logic board, copper wire in the Taptic Engine, and copper foil in the inductive charger in MagSafe.
The Pro models feature 100 per cent recycled aluminum substructure and 100 per cent recycled cobalt in the battery. At a time when e-waste is a big worry, this will help ease consumers' concerns about their impact on the environment.
For those looking at the Apple Watch Series 9, it has a new band that is made from a woven fabric material with a magnetic buckle, similar to the current Modern Buckle band.