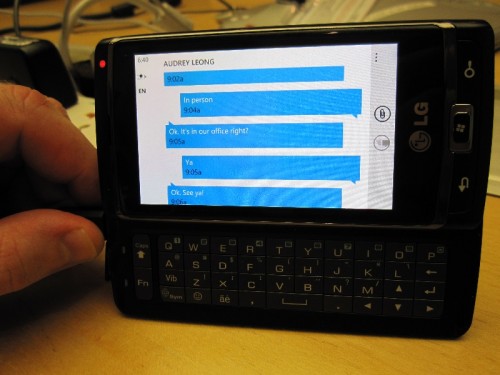 When some Microsoft folks recently asked me how users and techies felt about its upcoming Windows Phone 7 OS, I told them "you're lucky to still be in the news".
Until the past few weeks, when favourable first-looks of Microsoft's totally rebuilt smartphone OS came online, the only OSes that anyone was talking about were Apple's iOS and Google's Android.
For an example of how fast a dominant OS can fall in interest level, look at Nokia's Symbian OS that now powers most of its phones, as it transitions to the more advanced MeeGo. Who thinks anything great of Symbian now?
And compared to Nokia, Microsoft was worse off a few months ago – it only showed glimpses of what Windows Phone 7 was about at February's Mobile World Congress and nothing more.
So, it was with a bit of surprise when I saw how well Windows Phone 7 was built, during a hands-on preview at the Microsoft offices here in Singapore last week.
Having lost crucial market share to Android and iOS, Microsoft has clearly done the right thing by building its new OS from ground up. Gone are the clunky "halfway house" touch offerings on Windows Mobile 6.5. Absent too is any lag that you get while moving around menus. In fact, pretty animations accompany most actions – without slowing things down.
Here's what I learnt from a hands-on session with Windows Phone 7:
>> Customisable "tiles"
You can basically change everything on the Home screen, which is made up of "tiles", or a sort of big icons, that let you in on either a contact or program. It's very flexible and easy to customise like Android's home screen, but I have to say, a little less pretty. You can change the colours, but I wish I could have nice icons instead.
>> People Hub
Think of HTC's FriendStream or Motorola's Blur, and you get the idea here. Basically, you get updates on a friend's social activity on one page, whether he/she is updating his/her status on Windows Live or Facebook with this feature on Windows 7, which works pretty fast. But, and this is a big but, there's no Twitter updates yet – Microsoft is still working on getting them in.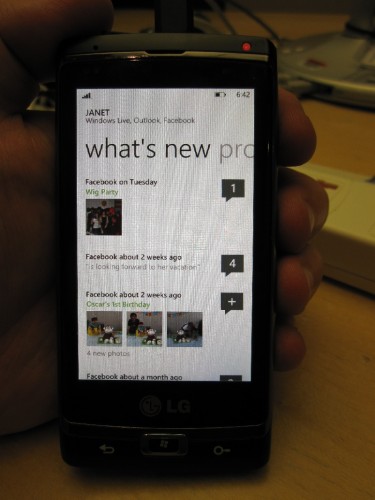 >> Auto upload pictures
How many times have you taken a picture of a nice bowl of ramen and then searched through your picture gallery to upload it to Facebook? With Windows Phone 7, you can set the phone to upload every new picture you take automatically to Facebook or Skydrive (for backup). Great feature – just make sure you don't forget and take any Edison Chen-like kinky pictures.
>> Music + videos
This one I am impressed with, especially the Zune-like interface, that lets you scroll through and also search for songs in your library with much finesse. If you use your phone as a music player, this Windows Phone 7 interface beats both the iPhone and certainly the Android in its touch and feel.
>> E-mail
With the iPhone 4's reported problems with syncing with Exchange servers, some companies might just be happy to go back to a good old Microsoft phone OS. That's probably what the Microsoft folks were planning on, with a pretty nifty e-mail client that can filter through e-mails with a simple swipe of the finger on-screen.
Want to jump to Urgent or Unread messages? Sure. Just swipe your finger. With Android, you still have to go to "Labels" or directories, to check out your mail. But there remains a big question here for Microsoft, especially from the consumer: does it have push mail for Gmail and Yahoo out of the box? Microsoft doesn't seem to have an answer to that yet.
>> Calendar
Again, the calendar view looks cool, by integrating both your personal Windows Live calendar with your office's Exchange/Outlook calendar in one view. But again, the big question is yet to be answered: does it support Google's Calendar out of the box?
>> Xbox
This could potentially be Microsoft's secret weapon, if the Windows Phone 7 integration with Xbox Live is done right. At the demo, I only saw how you could link your gamer tag to your phone, because the Microsoft folks were all tight-lipped about this. But the possibilities are great. Imagine selling a mobile version of an Xbox title to a gamer while he is out and about? Or perhaps letting him hook up with pals over the Xbox Live network while on the move?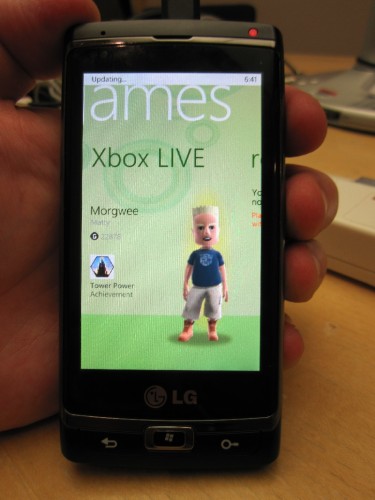 >> Office
Edit your Word documents, and if your eyes are so powerful, even Excel spreadsheets, with the bundled Office app, which will be a handy tool for busy folks on the go. I like this because it comes with the phone out of the box. You can start working and editing your e-mail attachments straightaway.
>> Voice activation
This is one of my favourite features simply because it works. I've tried Google's voice search/dial on my Nexus One, but often find myself repeating what I had just said. To be honest, I've never been a big voice recognition fan since I reviewed the good old Dragon Naturally Speaking software for the PC in the late 1990s.
So, when the Microsoft chap, Matt Hardman, spoke into his phone, telling it to call his wife, I wasn't impressed. Hey, you're an angmoh, I said, of course, it recognised your voice. But when I tried with my Ah Beng voice, it too recognised what I told it to do. Now, that's something I can use, especially when I want to call my wife while driving.
>> Updates
Finally, updates are one area that I think Microsoft can improve on. Instead of delivering them over-the-air, Microsoft will send OS updates over the Net and users will have to sync up their phone via a Zune application on their PCs. This adds complexity to the updating process, though the good news is Microsoft itself, rather than individual phone makers, will be sending out these updates directly.
This could solve a problem that has confused and pissed off many Android phone users – fragmentation. Singapore's Milestone users, by the way, are still yet to receive their Android 2.2 updates even though American users of the similar CDMA-based Droid have got theirs.
>> Flash?
For now, no Adobe Flash support is planned for Windows Phone 7, which means no YouTube or Flash games or animation on your Internet browser – something that updated Android phones like the Google Nexus One, have been able to do for a while now.
How soon is now?
"Holiday 2010" is when the first Windows Phone 7 devices, made by LG, Samsung, HTC and Dell, will appear in stores. The device I tried on was an LG model with a slide-out keyboard, different from some of the demos shown to the media in the past few weeks.
All in, I'm impressed with how much the ground-up work has changed the Windows Phone OS beyond any recognition from its older versions. That's a good thing.
Gone are the laggy screens and clunky interfaces. Instead, the current one is reasonably up to date with what Google and Apple have in the top phones out there now.
The approach that Microsoft has taken is also quite smart. Instead of going totally closed (typical Apple) or laissez faire (a la Google), it has taken the middle ground. While being stricter – much stricter than before – with hardware makers in terms of what hardware are allowed, it is also open to many phone makers with different form factors. That's a good thing too.
But one immediate problem I foresee is the lack of apps. So crucial to the success of an OS these days, an app store stocked with all manner of knick-knacks to satisfy spoilt iPhone and Android users will take time to build up, and time is a luxury for a company playing catch-up in the cut-throat mobile phone space.
A yet bigger question for Microsoft is whether their holiday release will come fast enough. Even as Android devices are being updated with version 2.2 (Froyo), folks are talking up Google's next OS update – Gingerbread – scheduled in the coming months. And Sony is said to be coming up with a PSP Go-like phone that uses that Google OS, possibly as early as October this year, says Engadget.
How much all that factors into the buying decision remains to be seen. But if you always wanted more choice, then Windows Phone 7 is a good thing that's coming our way soon.