Brought to you by ConnecTechAsia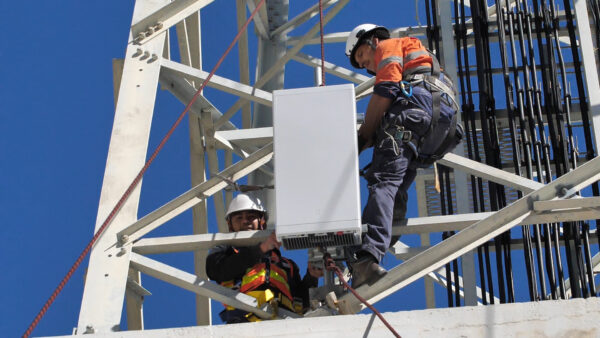 A year after the first commercial 5G networks came online in the United States and South Korea, the new mobile technology has been seeking new uses for the benefits it has promised on paper for years.
While the pandemic in 2020 had initially threatened to slow the adoption of the latest generation of mobile networks, the technology has continued to evolve for both consumers and businesses alike.
Across Asia-Pacific, 5G networks have begun springing up. Late last year, China's telecom operators began rolling out 5G services to consumers, as part of a deployment that was described as one of the world's largest.
In Southeast Asia, as well, 5G has become available this year, at least in parts of the region's major cities. Singapore's StarHub started a consumer trial in August, while the Philippines' PLDT rolled out a 5G service in parts of Manila.
For consumers, new 5G-enabled phones have started appearing as well. From Samsung's Galaxy S20 Ultra earlier this year to an upcoming Apple iPhone that is expected to sport 5G, consumers can expect more 5G devices that deliver faster downloads.
For businesses, 5G promises to connect up smart devices ranging from field sensors to autonomous vehicles, in industries as disparate as F&B and logistics.
Finding new uses
Yet, as Asia-Pacific starts to see the technology come alive in its various cities, what will be the earliest use cases to drive the initial adoption? The industry is still trying to find an answer, convinced it is not far away.
In Singapore, a trial got underway this year to design and test new uses of 5G networks in manufacturers, so that the technology can be expanded to other sectors in future.
It will showcase how manufacturers can use artificial intelligence (AI) to visually inspect and monitor machinery, while taking advantage of augmented reality to assemble or debug the machinery.
Carried out by IBM, M1, Samsung and the Infocomm Media Development Authority (IMDA), it is as part of Singapore's efforts to build a 5G ecosystem crucial to the takeup of the new technology.
Singapore had previously identified various areas where 5G will be beneficial, such as maritime operations, port operations and even mobile gaming for consumers.
While there are many possible use cases, one consumer application for the fast and low-latency network could be streaming games on the go.
In August, StarHub started offering a service that lets its subscribers stream retro games such as Double Dragon onto their devices, so they do not have to download or install any of the titles on their devices.
"In the near term, we believe that adoption among consumers and SMEs will grow faster, driven by the availability of 5G-capable phone models, cloud gaming and AR/VR content," said Chong Siew Loong, StarHub's chief technology officer.
"This was why we raced to be the first in Singapore to launch 5G services, for customers to enjoy early 5G experiences on devices already available in the market," he added.
5G already evolving
Even at this early stage of its deployment, 5G technology has already been improving at a pace unseen before with cellular networks.
While the first 5G networks made use of existing 4G network cores and boosted download speeds, upcoming versions using a pure 5G network core built from the ground up will provide an additional benefit – ultra-low latency that enable the near-instantaneous remote control of equipment or vehicles.
By being highly virtualised, these new 5G networks also can be "sliced" easily into portions that can be dedicated, say, to a business customer that requires low-latency, wireless connectivity to its fleet of autonomous vehicles.
This flexibility makes this so-called standalone or SA version of 5G compelling for many businesses. A smart factory, for example, could seek to deploy a private 5G network for its manufacturing processes and data analysis.
In August, T-Mobile in the United States said that it was the first in the world to roll out an SA version of 5G. Besides low latency and network slicing, it also claimed better coverage with the new network.
Around the world, the first SA 5G networks are being tested and expected in the next year or two. Singapore, for example, expects to have the first such networks deployed by January 2021 and have half of the country covered by end-2022.
Connectivity is critical
Even as the search for new applications goes on, the technology is gradually broadening its coverage around the world, including in the Asia-Pacific region.
Part of the push will come from the rapid digitalisation of businesses, which has been accelerated by the pandemic this year. From workers working remotely to new digital business models, businesses now depend even more on a solid link to the cloud.
In South East Asia and Oceania, 5G will account for 21 per cent of mobile subscriptions by 2025, according to equipment vendor Ericsson.
While 5G subscription growth in some markets has slowed as a result of the pandemic, this is outweighed by other markets where it is accelerating, it added.
"The current Covid-19 pandemic has challenged us to do many things differently and to move activities online to different digital platforms," said Nunzio Mirtillo, head of Ericsson in South East Asia, Oceania and India.
"This has led to data proliferation as well as a geographical shift of data traffic from downtown business and public areas to residential areas on both fixed and mobile networks," he added. "The crisis has also demonstrated the critical importance of connectivity."
Check out the latest on 5G and other telecom technologies at this year's CommunicAsia, part of ConnecTechAsia, Asia's leading infocomm and media event. More details here.