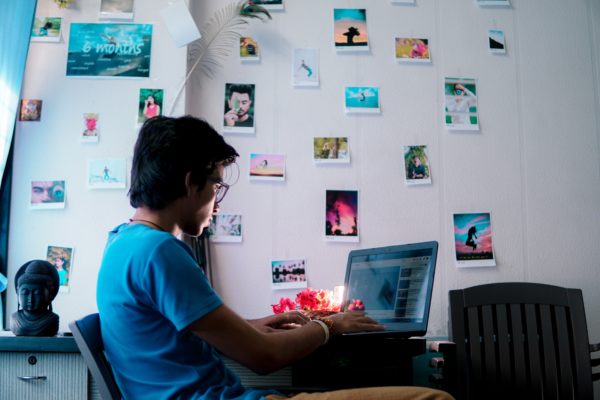 There are many things that could come out of this terrible coronavirus pandemic that has already killed thousands of people in a short few months.
One is surely a heightened awareness of the threats posed by such viruses, as places such as Singapore and Hong Kong were transformed after the 2013 SARS outbreak.
Another is the sweeping changes to normal life as we know it. Even when the world returns to a sort of normalcy – and it's too early to say when that could be – things won't be business as usual.
For many businesses, changes to some long-held practices are already taking place.
As face-to-face meetings are reduced and offices emptied with work-from-home arrangements, many have taken to digital processes that have stayed in the pipeline but never rolled out on today's scale.
Remote working is one such practice that has been forced on businesses now, with a third of humanity under lockdown, from India to the United States.
Even in Japan, where clocking in and out of an office has been an enduring practice, the government has told employees to work remotely instead of turning up in the office.
How has that experience been? For some, this would have been a simple exercise in firing up Zoom, Microsoft Teams, Skype for Business, Cisco Webex or any other such collaboration tool.
Everyone would log in, and as long as nobody accidentally turns on his or her camera while being undressed, a meeting goes ahead fine. So, much like real life, except people can join from home, in a car or at a cafe, if it isn't of bounds like in some cities.
What many users of these videoconferencing tools would have noticed are the many additional features that are also available. Calendars, documents and most of the things you need for office work are in there.
Many of these are based on full-fledged office productivity systems that replace old, awkward ones that require you to log in to a server back in the office.
Running on the cloud, these services are easier to scale up, especially when something unexpected such as this pandemic happens.
Got more users? It's easier for a business to pay for more licences of such services than to set up another server back in the data centre.
I jumped on one such service just earlier this week. LarkSuite, a full-fledged remote working service was launched using a virtual media conference with journalists from the region all logging in remotely.
You have the usual screen sharing as well as videoconferencing, but the service also brings together tools such as cloud storage. Running off AWS cloud services, LarkSuite is offering its basic tools for free. It will charge business that want a customised solution.
The increasing sophistication of remote working tools is reflected in many other options today. Look to Microsoft, which is shifting its Skype tool, which is based mostly on videoconferencing, to Teams.
The new software lets you easily fire up documents, such as an Excel spreadsheet or Word document, and share it in a common virtual space with colleagues.
So, to draw up a schedule for staggered remote working days, for example, you can do so quickly without separately firing up Excel to create a document then switching to Outlook to e-mail it.
As with anything digital, there are always risks involved, especially with cyber threats. Already, researchers have found vulnerabilities with Zoom software that let hackers eavesdrop on a virtual meeting.
Schools in the United States that have taken to Zoom have had uninvited people join in a meeting and spew racist words and share pornography on their screens.
But as with any advancement in technology, there has to be a way to mitigate the risks. Just as cyber security tools beef up defences on each phone or PC today, businesses will have to harden their mission-critical collaboration tools.
And the move to digital processes goes beyond just remote working. All sorts of processes can go digital, from the approval of budgets to onboarding of new employees.
So much talk about transformation has been about the products and services delivered to customers. Internally, businesses have to respond to change too, especially those that are not digitally native.
For better or worse, there won't be a test run for many of the transformations going on today. The digital tools have to be set up, deployed and tested by real users in real time, no thanks to the urgent situation.
In a way, there can be no better test. And for many of the users in this unscheduled experiment, the experience will be a transformative one as well.
If you realise you don't have to travel so much to agree on a deal, you might think twice about the expense and time away from your family next time. Perhaps a digital agreement might do.
No, there's no substitute for the pressing of palms, of a handshake that brings trust.
Nor can every meeting be replaced by a digital version – today, Techgoondu attended the launch of Huawei's P40 in Singapore in a small group meeting this week to get a hands-on feel of the new phone.
All the same, there's no going back to the days before the coronavirus struck, first in China before spreading to the rest of the world at the start of 2020.
Some senior managers might try to go back to old ways and old processes of working, but the younger ones who are tech-savvy and ready for a more flexible way forward will embrace the change.
Of the changes that could emerge from this crisis, one positive could be the way people work and live. Digital tools are enabling better communication, shortening distances even as the crisis seems to isolate people and pull them apart.