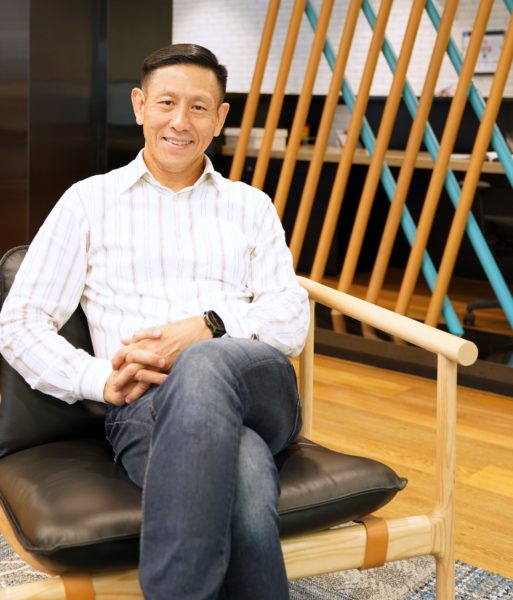 A Singaporean Ng Tian Chong, 54, now heads HP Inc's Asian business, overseeing the PC, printer, 3D printing and managed printing services for commercial and consumer businesses across the region.
He joins an elite and small group of Singaporeans who are leading the Asian business of global tech companies.
They include Tan Yen Yen, president of Vodafone Global Enterprise, Asia Pacific and Irving Tan, who was Cisco's Asian head between 2014 and 2018 before his current global job as (Cisco's) senior vice-president and chief of operations based in the United States.
Ng's appointment in November last year is good news to many aspiring IT leaders here because it has been a long while since an Asian has helmed the regional operations.
In TC, as he is popularly known, HP has a strong executive with intimate knowledge of doing business in the region and a deep understanding of the different business facets of the corporation.
He is also a 30-year HP veteran with a comprehension of the working dynamics of a giant American multinational.
Ng is pleased that an Asian is leading Asia because "Asia is my backyard". He is proud that Asia is the fastest growing region for the company, expanding with double-digit growth year on year.
He wants to see continued growth. A crucial component to this is building talent, he said in his first interview as president of HP Asia-Pacific and Japan.
"I don't want to take growth for granted, that growth will continue as if it will happen by magic. I want to capture the rich business opportunities but it can't happen without people," he added.
Talent management is a key focus especially with millennials increasingly making up more of the workforce. Millennials have a different perspective of work progression from their predecessors.
More HP employees will be offered opportunities to work in different countries, exposing them to varied job functions and cultures. There will be more talent discussions as well as encouraging more cross-border interactions as businesses become more global.
Retaining talent is equally important. This is where Ng turns to three fundamentals that he has gleaned from his three decades of working with HP and which have shaped his leadership style.
The three are: enjoying the challenges of what he is doing; gaining the support of his boss and having a good company culture.
His work has always been interesting and challenging, he said. About 90 per cent of the time, bosses have been good, with mutual respect for each other, he noted.
Company culture is where he placed the strongest emphasis. He had joined the Hewlett-Packard company 30 years ago in the US after graduating in international business from Menlo College in California. The company founded in 1939 was then an iconic Silicon Valley company.
However, the 2000s and 2010s were seismic years, brought on by several acquisitions and leadership changes. Finally, the company split into two in 2015: Hewlett Packard Enterprise sold the server and software business while HP Inc took the computer and printer business.
Changes to the company culture have occurred but the roots have stayed the same, said Ng.
The leaves have shed but new ones have grown, "but the core part of HP culture which values integrity, trust and respect and teamwork, the HP values I started with, are still present", he noted.
These fundamentals have convinced him to stay on in HP through the tumultuous years and even as headhunters have come calling with the promise of higher pay, he said.
"Strengthen the HP culture, make people enjoy coming to work, where there is mutual respect, integrity and teamwork in the work environment," he stressed.
Leadership lessons
Ng's leadership style was also influenced by some of the senior Asian HP executives in the 1990s and early 2000s, when the country and regional heads then were helmed by locals like Koh Boon Hwee, Alex Chan and Paul Chan, all of whom have gone on to become corporate stalwarts in Singapore.
There was also Lien Siaou Sze, a 28-year HP lifer who led HP's global software business and was considered one of the world's top women leaders by Fortune business magazine.
Ng recalled that as general manager of commercial support services, Lien was heading up the Asia Pacific and Japan services business. She was also the Hewlett-Packard Company managing director of Asia-Pacific and Japan.
"She showed me that it's possible to be an Asian and manage at the most senior level within the Asian context," he said.
"Siao Sze played her own game, managed the business and team in her very Asian way yet very successfully navigated HP's global and regional teams," he noted.
"She was very sensitive to the cultural nuances, excellent at building compelling vision for the business and building strong teamwork," he added.
From Alex Chan who was then HP's Southeast Asia managing director, he learnt that having executive presence will allow him to deal with his US counterparts, regional customers and local teams effectively.
He has assimilated these lessons well. Senior HP executive Lionel Chng said Ng's understanding of Asian cultural differences and business climates will make a positive impact on staff, businesses and communities in the region.
"He welcomes different points of views and has a strong focus on our customers and partners. His is strategic in his approach, encouraging a high level of collaboration with his team," said Chng, who became Ng's chief of staff this month.
Cecilia Pang who was with Hewlett-Packard for 19 years before leaving for another industry some years ago, has observed Ng's progress from afar. She described him as a leader who has been groomed in the values of the traditional HP Way, such as treating colleagues with trust and respect.
"But he has also proven his mettle in rising up to the challenges of the new HP era, embracing new business models and making the right changes to move with the times," she noted.
For the people he is mentoring, Ng wants them to never to be afraid of dreaming big and thinking big.
"Be yourself. Be proud of who you are, understand your strengths and weaknesses, know your capabilities and move forward with confidence," he said.
He encourages younger managers to be empathetic. "Listen more and always seek to understand the other perspective first."
PC industry
Many would consider the PC industry as old and jaded. Ng admits the industry is changing rapidly but believes there is still scope for growth.
HP's playbook is to find those niche areas where customers are willing to pay for aesthetics alongside good performance and functionality. Generally, customers want mobility, productivity and security, he said.
With work blending into life and vice versa, executives demand functionality but also want to identify with devices that "sexy" and unique. Ng points to two products which were announced late last year.
The Spectre Folio, a laptop in a completely leather case, is designed to look like the leather valise professionals carry around.
In HP's wide laptop catalogue, the Folio is aimed at customers looking for a premium laptop experience instead of a shiny piece of machined metal.
The same concept goes for the HP Tango, a fabric-covered wireless printer camouflaging as a book, which is good looking enough to be placed on the bookshelf in a living room.
Through research and understanding customers' needs, HP sliced the market into smaller segments to identify new customers. That was how it uncovered that there was demand for a premium range like the Spectre Folio.
"We found these pockets of growth. So we developed new products at the premium and at the entry level," said Ng.
He added: "We also believe the different markets in Asia are unique, we must cater to them. So as a global brand, we must have a local soul. That is why we've invested in design centres in Taiwan and in China."
Understanding customers and appreciating the social trends will be key to HP maintaining its growth. Fiscal 2018 was an exceptional performance for HP. It reported net revenue of US$58.5 billion, up 12 per cent from the previous year.
This is a notable performance, set against the global backdrop of a flat PC market in 2018. Figures from research firm Gartner showed less than one per cent PC growth globally.
Work and the SAF
Married with five children, Ng has continued with the Singapore Armed Forces as a volunteer after completing his national service. Holding the rank of Colonel (NS), he is Chief of Staff (Div Hub) to Division Commander.
How does he balance between the two jobs? Time management is critical. HP occupies him during the day with the SAF work coming after. There have been occasions when he has had to attend SAF activities during the day, he said, but HP has been very supportive.
Lessons on leadership and confidence picked up from the army were applied to his HP job and vice versa. The ability to manage under crisis and manage staff, which he learnt from HP, has been something he applied to his army job.
"I continued as an SAF volunteer because I believe in national service and national defence and I want to play my role in it," he said.
"It is my conviction. I have been fortunate to be brought up in Singapore and in a safe environment. I want to play my part."