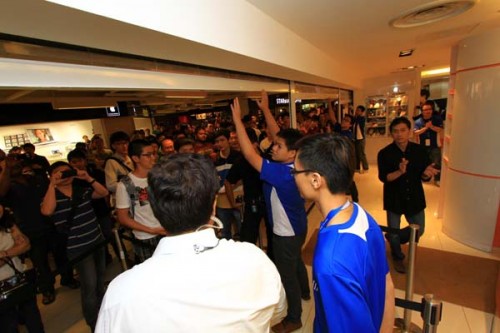 There's a queue for everything in Singapore, and the latest last night was for Samsung's much-awaited Galaxy S III smartphone, as it went on sale here.
Just weeks ago, thousands got in line for a copy of Diablo. And of course, with every iPhone launch, Apple-crazy Singapore users would wait for hours to be the first to get their hands on the latest.
What's interesting about this Galaxy S III, however, is that it's probably the first time such an Android phone has attracted so much attention.
On the whole, Android has long overtaken Apple's iOS as the number one operating system for smartphones. But that was because of the sheer number of options offered by phone makers such as Samsung, HTC and LG. No one went as ga-ga over one particular phone, as they did when each new iPhone went on sale.
That has changed now possibly with Samsung's Galaxy S III. The followup to the popular Galaxy S II from last year, it was well-hyped because of its bigger screen, newer interface and smarter features. It also retains the Korean phone maker's penchant for making really slim, sexy devices, which helps.
Last night, when the hundreds queued up for the new Android phone, the event signalled an important shift – Samsung, like its rival Apple, could now attract users with some of the American company's much-vaunted branding.
Sure, the Korean firm had organised the event with its telco partner, M1, and shared some nice photos of the lines with the media (shown here).
But it would have been an even bigger story if no one turned up at the Paragon shopping centre last night! Samsung had to be confident that people were really crazy about its new phone.
And confident, it is. After a string of hits last year that included the Galaxy Note, it has pulled away from the crowd of rival Android phone makers, be it LG, HTC or Motorola.
It's telling that Samsung hasn't really changed that much while moving from the Galaxy S II to Galaxy S III, and yet the crowds are lapping up the new phone. We are told that the phone is sold out in many outlets and M1 just posted on its Facebook page an hour ago that stocks were low at its stores.
It's also telling that HTC probably had a phone just as good as, if not better than, the Galaxy S III. But the Taiwanese company is finding it a lot harder to return to its prime position after a quiet 2011 which saw it lose market share and mind share.
The limelight thus belongs to Samsung. After breaking sales records with its Galaxy S II, it won't be a surprise if it did the same with the Galaxy S III. Even before the new phone shipped, there were reportedly nine million pre-orders for the Galaxy S III. With the Galaxy S II, it had taken Samsung five months to sell 10 million units last year.
The question is whether it can keep things buzzing at the current pace.
Apple found out, despite being the leader for so long, that a couple of quarters of slowdown really hurt in an arena that declares new winners every three to six months. Its rumoured "iPhone 5" has been delayed and the queues you usually see at its launches may now be gravitating towards Samsung events as well.
Tough world for cellphone makers. A great scenario for users, who are now truly spoilt for choice.
Tell us your experience using the Galaxy S III and share if it's worth the hype.