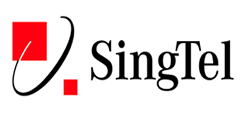 A software glitch in its new equipment has cost SingTel a hefty S$400,000, after it was fined today by the infocomm regulator for disruptions in its 3G services in various parts of Singapore last year.
The Infocomm Development Authority (IDA) today meted out its heaviest fine yet to a telecom operator here, citing the seriousness of SingTel's downtime, which affected thousands of users in the central region of the island. More than 5 per cent of SingTel's base stations were affected.
Between September 6 and 7, 2011, subscribers in areas such as Orchard, Tanglin and Telok Blangah had difficulty making and receiving calls and getting SMS, MMS and mobile data services via SingTel's 3G network, the IDA said today.
This was caused by a software glitch in the new switches that SingTel was installing to upgrade its network, it added. The glitch affected the normal routing of data packets in the network.
What may have made IDA toughen its stance was the "unsatisfactory" efforts to restore the services quickly. SingTel, according to the regulator, could have shortened the duration of the disruption.
The latest fine appears to be aimed at keeping telcos on their game, after several disruptions last year amid complaints from consumers about congested networks and slow downloads. SingTel's rival, M1, was fined S$300,000 by IDA in November 2011, though it appealed immediately.
Depending on the length of the down time, the IDA could fine a telecom operator up to S$1 million or 10 per cent of its annual turnover, whichever is higher. The regulator said it had considered mitigating factors such as the fact that SingTel's 2G network was not affected.