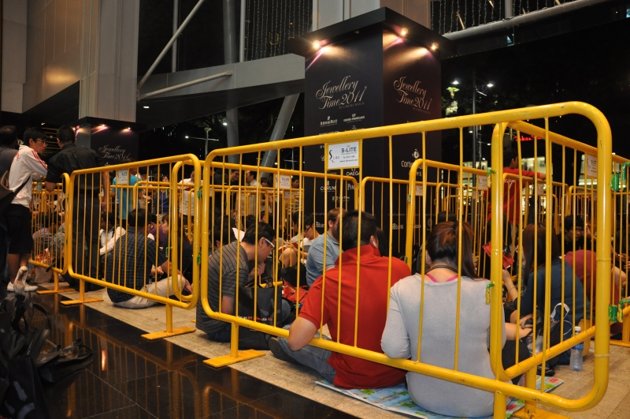 Higher launch prices notwithstanding, hundreds of iPhone fans queued up late Thursday night to be among the first people in Singapore to own Apple's latest gizmo – the iPhone 4S.
Although the launch time stated by all telcos was Friday 12 midnight, some began queuing as early as 8.30am on Thursday to ensure that they get a place in the queue.
Take Melva Yip, a 21-year-old student at Nanyang Polytechnic. He and his friend agreed to work in shifts and started their quest from 8.30am on Thursday. His reward: the first M1 customer to own an iPhone 4S.
A current iPhone 4 user, Yip is convinced that the 4S is a worthy upgrade. "I'm upgrading for the speed, for the camera," he said.
Also in the M1 queue was 20-year-old Jayden Chen. He said, "What attracts me is the Siri function. I'm switching over from SingTel because I think there's a lower chance of getting the phone fast with SingTel, as they're going with a pre-order system."
In comparison, M1 offered the iPhone 4S on a first-come-first-served basis.
But others were less willing to queue for the phone themselves. 27-year-old Amit Sawhney, who owns a construction materials manufacturing business, conveniently got his foreign worker to stand in line for him from 9.30am. As a result, he managed to be the first SingTel customer to own an iPhone 4S.
In addition to the launch of the physical handsets, SingTel also unveiled their exclusive apps for the iPhone 4S, including one which localises voice-controlled assistant Siri's functionality in a separate app.
Called deF!NE, the app allows users to search their surroundings with familiar terms like "char kway teow". A quick hands-on with the app shows that it's nowhere near Siri's polish, but still works well enough to be useful.
These apps could prove to be a key differentiator for the red telco, as the iPhone 4S is otherwise identical across the board.
Update: Record crowd turnout
According to M1, it was a "record turnout" crowd for the iPhone 4S, which dwarfed previous crowds for the iPhone 4 and iPhone 3GS.
An estimated 750 people were in the Paragon queue on 27th October Thursday night.
Customers hoping to get an iPhone 4S at M1 outlets this weekend should check M1's Facebook page for the latest updates on availability. Thus far, M1's online store is all out of stock. The 64GB iPhone 4S model is also out of stock at all retail outlets.
Information for SingTel stores can be found on SingTel's Facebook page, and updates and availability for StarHub on StarHub's Facebook page.
(This story first appeared on Techtalk, our technology content partners at Yahoo! News Singapore, with additional updates by Chan Chi-Loong, Techgoondu. Photos courtesy of Yahoo! News Singapore)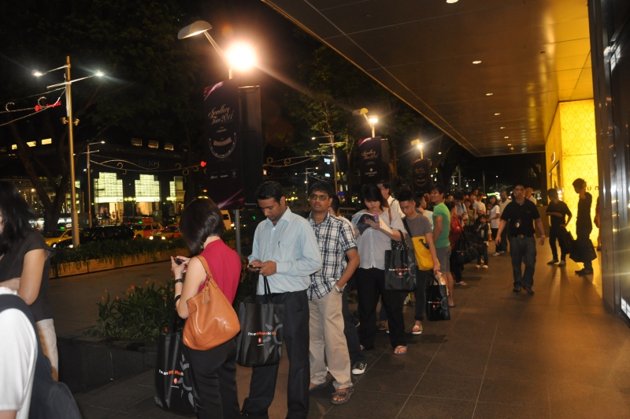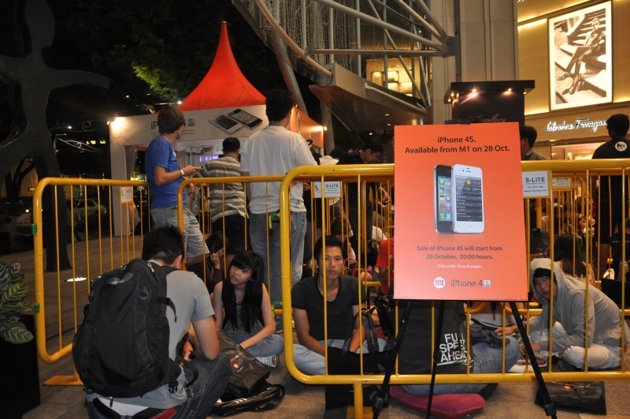 Queue outside the Paragon for M1 on Thursday 27th October night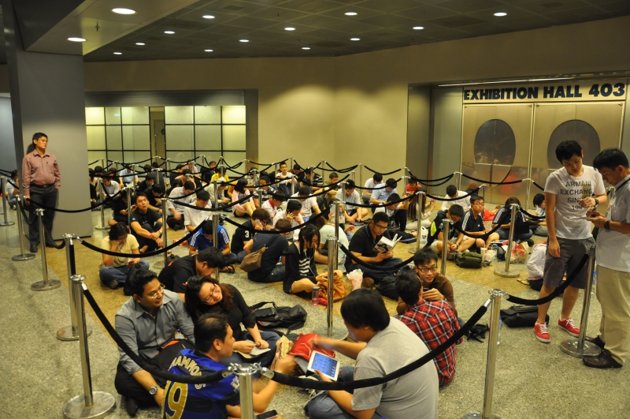 Queue outside Suntec Hall 4 for SingTel on Thursday 27th October night