As the 10th iteration of a smartphone that has stayed at the top of the game over the past decade, the Samsung Galaxy S10+ looks rather conservative, compared to its flashier foldable cousin, the Galaxy Fold, that was also unveiled yesterday.
Yes, at first glance, it looks like last year's model with the tried-and-tested sloped screens and sure, it's got more cameras now – three main ones and two for selfies – to compete with similarly-equipped rivals.
But more importantly, it has managed to keep its 6.4-inch AMOLED screen clear of any irritating notches while retaining the two front-facing cameras in an unobtrusive manner. In terms of looks, this is a big thing.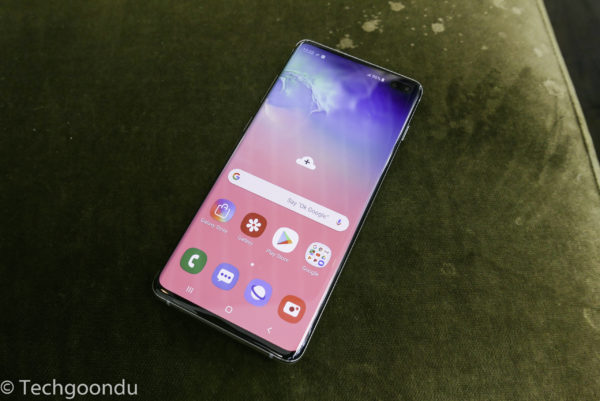 An in-screen fingerprint sensor now lets you unlock the screen quickly and effortlessly, as I found today while testing the phone at a media event in Singapore. You suspect this will be the main method used by most users.
Okay, this still isn't the full-display sensor debuted by Vivo earlier this year, but Samsung is the first with what it calls an Ultrasonic Fingerprint scanner. It reads your fingerprint's 3D contours and not just a 2D image, making it more secure, according to Samsung.
For many potential buyers, the biggest question won't be about the design or the features thrown in, which are excellent. It has to do with price.
The Galaxy S10+ will start from a princely S$1,398 for the 128GB version. If you want 512GB, be prepared to pay S$1,798 and if you're crazy enough to desire 1TB storage, fork out S$2,198, please.
The latter two come in a "ceramic" black or white finish, which look fine but they seem more aimed at pushing prices up. Yes, a Samsung phone is now priced past two grand, just like Apple.
Meanwhile, a smaller Galaxy S10 with a more pocketable 6.1-inch screen will cost S$1,298 for a 128GB model. You have one fewer front-facing camera for selfies as well.
There's also a budget version called the Galaxy S10e, which costs S$1,078. Unfortunately, it clearly lacks the DNA of its more capable siblings. It only sports a dual-lens rear camera and lacks the sloped screens on the side. Surely, you can do a lot better with S$1,000.
It seems as if Samsung is ignoring the growing popularity of Chinese manufacturers closing in with fancier cameras and innovative designs in the past year, by gunning for the same formula that has made Apple so profitable in the past.
Whether that's a wise decision, seeing how Apple has suffered from weak sales in China of late, is something we'll see more clearly in the months ahead.
As it is, the Galaxy S10+ is an attractive phone that builds on the South Korean company's strong brand and keeps up to date with what rivals have been coming up with.
It will sport an octa-core processor – some markets will get a Qualcomm Snapdragon 855 processor, while others may get Samsung's own chip – and an ample 8GB of memory to run apps smoothly.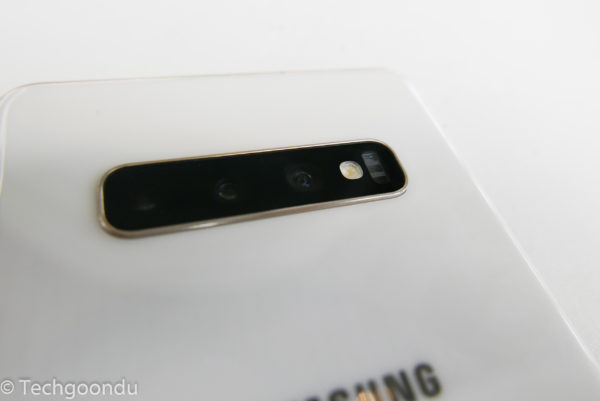 Photography-wise, the new phone is also practical. The main camera in the rear comes with three lenses – a 12-megapixel telephoto lens, a 12-megapixel wide-angle lens and a 16-megapixel ultra-wide lens.
Perhaps most interesting is the ultra-wide lens that gives you a 123-degree field of view. It could come in handy for landscape shots during holidays, or simply to squeeze a bunch of people into a shot.
For videos, the new Samsung phone shoots at 4K resolution and in HDR10+, which promises to bring sharper contrast and produce more vibrant moving images.
And of course, these days, you can't have a flagship phone without some mention of artificial intelligence (AI),
So, the Galaxy S10+ will tell you roughly what you are trying to shoot – it recognises a glass of water but not a camera, from a quick test today – and recommends the best settings to get the best pictures.
I'll have to try out the camera more to see if it lives up to its promise. Given that rivals such as Huawei have spent so much effort in this area, Samsung has a tough fight on to keep users happy.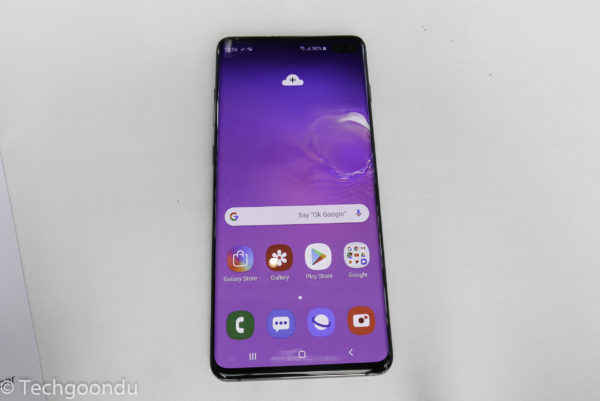 Perhaps why Samsung's new flagship may be successful again is that it has something for every user – as long as you can afford it, of course.
The headphone jack is, thankfully, retained so music lovers can stick to their audiophile earphones. You don't have to worry about running out of juice with Bluetooth earphones or the hassle of plugging in an adapter.
The Samsung One interface, based on Android 9.0, is also much neater and tidier now, unlike previous Samsung efforts. Plus, a beefy 4,100mAh battery promises to keep things running throughout a day for heavy users.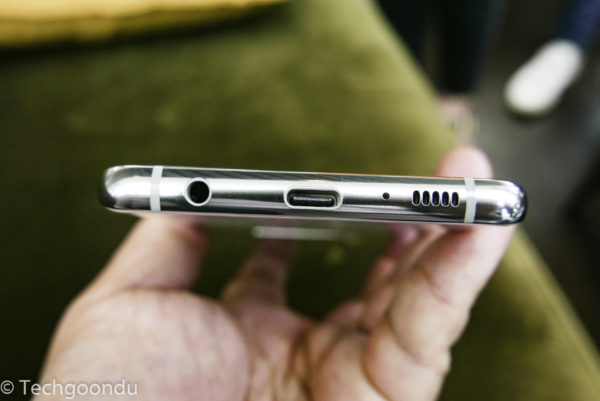 The phones will be out on March 8, 2019, though you can pre-order them at various retailers or with your telecom operator from February 22.
I should say that there's also a 5G version of the Galaxy S10+, which is not out yet in Singapore since there's no commercial 5G network here now.
Along with a larger 6.7-inch screen, it sports an additional camera that senses 3D depth, which can be used to detect hand gestures, for example. Prices are not out yet.
Check back as we get our hands on the new Samsung Galaxy S10+ in the coming days.