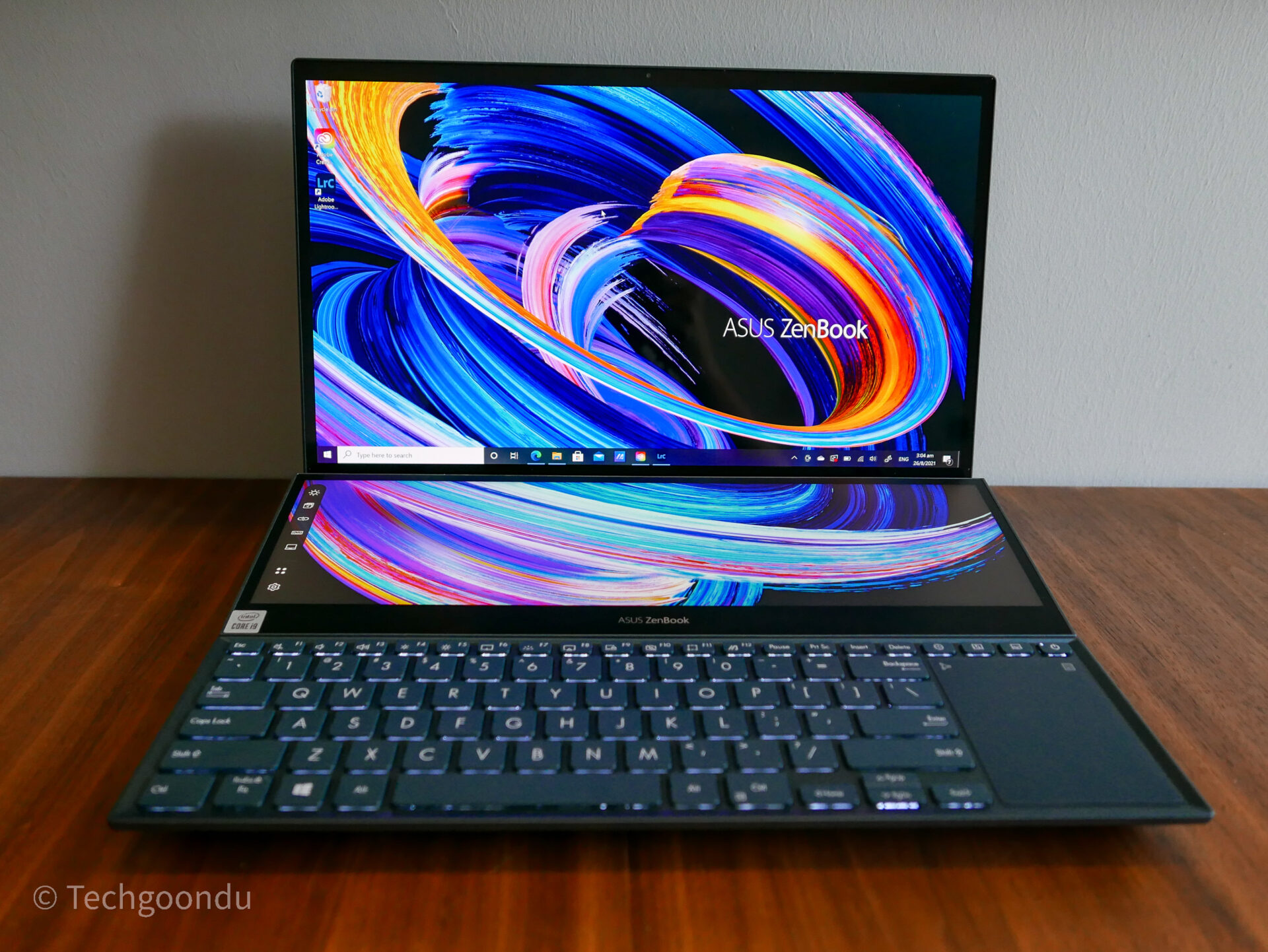 Unpacking the Asus ZenBook Pro Duo 15 OLED notebook, I get a sense of deja vu.
That's because this new dual-screen wonder is an upgraded, more corporate version of the impressive Asus Zephyrus Duo 15 gaming notebook from last year.
Just like before, the design will never fail to impress when you first flip open the screen. Right below the main 15.4-inch display is a smaller 14-incher that tilts up at an eye-friendly incline.
Together, the two touchscreens are meant to make life easier for photographers, designers and other creative users.
By offering a large amount of screen real estate in a relatively compact design, the ZenBook Pro Duo 15 OLED lets these users manipulate, say, the contrast on the smaller screen and immediately see the output in the main screen.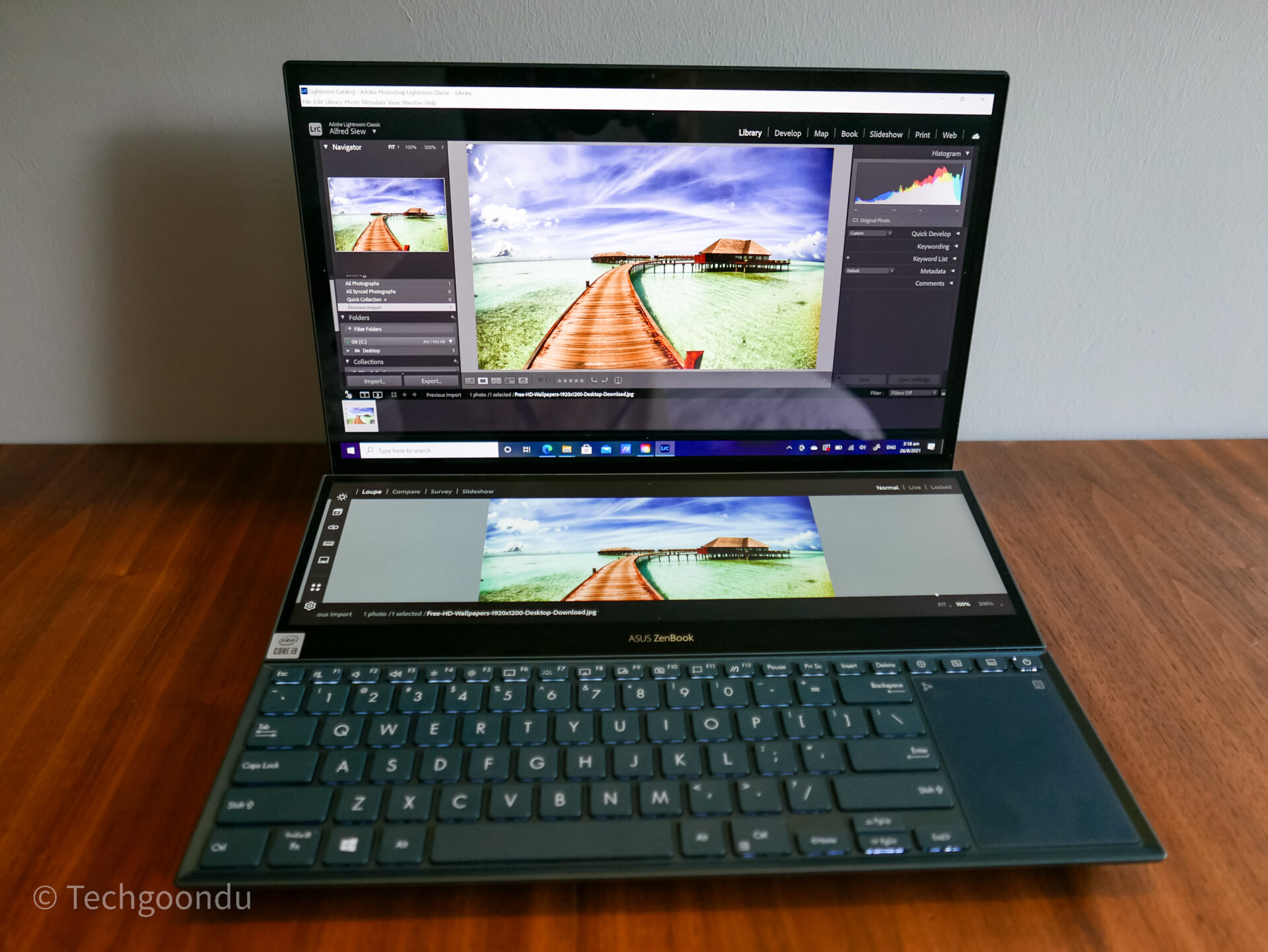 You can also drag a window across the two screens, if you wish to expand the displays. This actually works fine because the two screens align well despite the thin bezels in between.
So, the dual screens work great whether you use the second screen simply as a Spotify playlist window or are really utilising it to control a video you're editing on the large screen.
Asus says this feature, called Control Panel, works with commonly used creative tools such as Adobe After Effects, Photoshop, Premiere Pro and Lightroom Classic.
I fired up Lightroom Classic and there is an option for a second screen which lets you automatically fire up a second control panel on the Asus notebook's smaller screen. Quite nifty.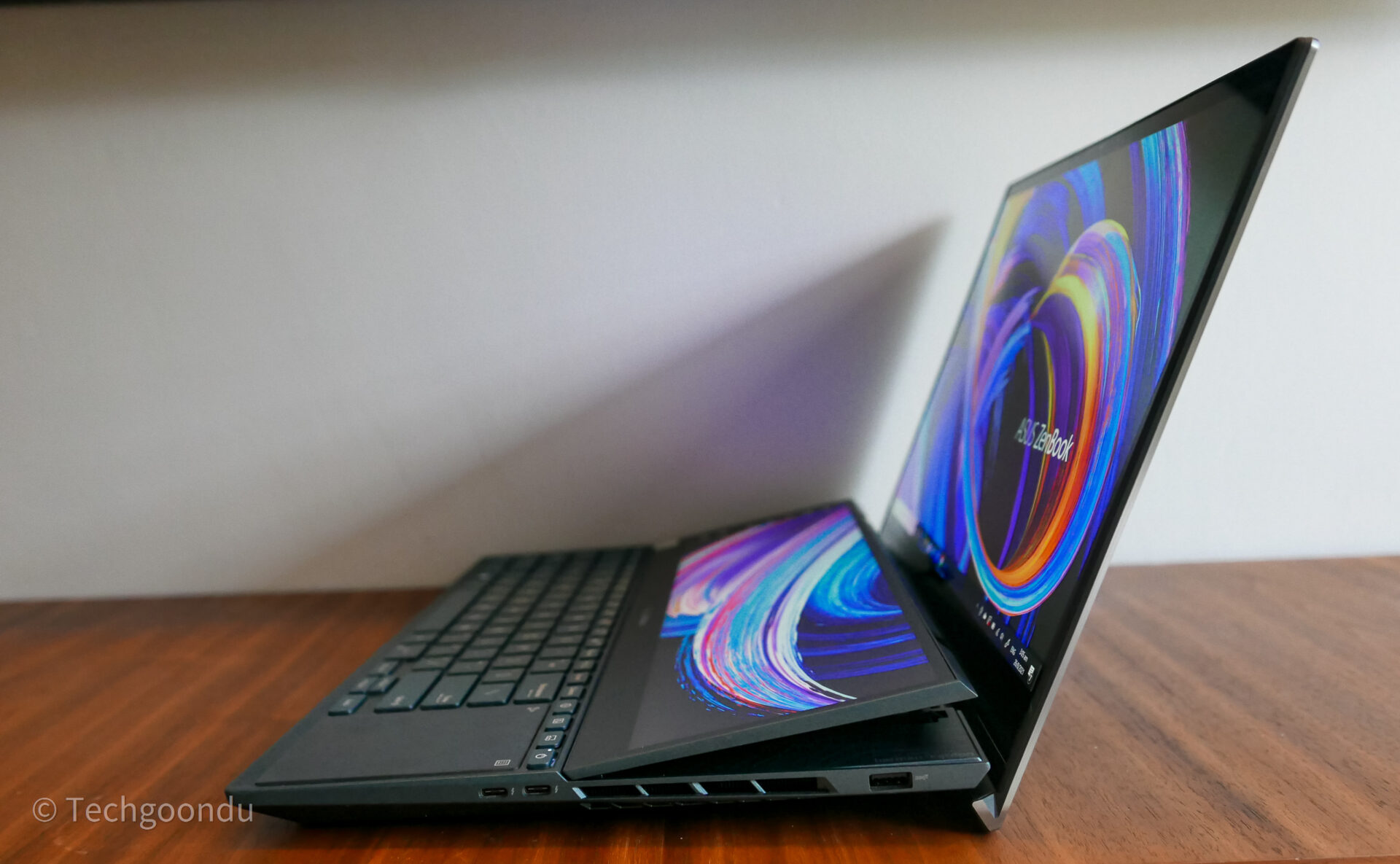 Speaking of that, let's not forget that these screens are top-notch too. The main 15.6-incher comes with 4K resolution and 120Hz refresh rate while the smaller 14-inch also comes with a more elongated 4K resolution (3,840 x 1,100). And yes, you can poke an included stylus on it.
Try watching some 4K content on the OLED screen and you'd be delighted by the high contrast and vibrant colours which manage to avoid oversaturation. Plus, details pop up at you when you're sitting close enough to the screen.
Good news is, despite packing in two screens, the Asus notebook weighs 2.34kg. That's not light in terms of regular 14- or 15-inchers but it isn't heavy like bulky gaming notebooks of old, either.
What I also like is the neat ZenBook blue finish on the magnesium alloy chassis. It looks premium and doesn't attract that many fingerprints, thankfully.
What about the performance? Again, Asus has packed in the goods, though they are slightly less "extreme" as what you'd find on the gaming version last year.
You get a high-end Core i9-10980HK processor, 32GB of RAM, an Nvidia GeForce RTX 3070 graphics card, and a 1TB solid state drive. That's enough to make short work of most creative jobs you have in mind.
With the PCMark 10 benchmark test, which measures performance in everyday tasks like videoconferencing and spreadsheets, the Asus notebook scored a high 5,670.
That's higher than last year's Asus Zephyrus Duo 15, which had a zippier GeForce RTX 3080 and two 1TB SSDs running in RAID0 but scored lower with 5,214.
As comparison, the Microsoft Surface Laptop 4, a thin and light laptop, scored even lower at 4,145, which points to much less performance in productivity tasks.
What about games? The Asus ZenBook Pro Duo 15 OLED is no slouch, either. In synthetic tests such as 3DMark, which simulates real games, the notebook did well thanks to its high-end Nvidia graphics chip.
It scored 7,128 in the Time Spy subtest, 14,892 in the Fire Strike subtest and 24,792 in the Night Raid subtest.
These scores are lower than what I got on the Zephyrus Duo 15 last year (7,808, 18,045 and 44,526) because the gaming notebook has a beefier graphics chip.
However, the new Asus machine can certainly let you play games comfortably, especially if you're looking at the 2K and Full HD resolutions that are less demanding.
Besides the performance, there are many things to like about the new machine. The good amount of ports, for example, is handy for folks who need to plug in an external drive or additional display.
Two Thunderbolt 3 USB-C ports and and a USB 3.1 Gen 2 port are found on one side while an HDMI 2.1 port and audio jack are on the other side.
Unfortunately, Asus seems to deem a network port unnecessary here – it was on the Zephyrus Duo last year. If you work on large video files, you're going to want a wired gigabit connection that is faster than the Wi-Fi 6 onboard.
Having said that, the new machine does impresses in a number of other areas. The easy-to-type keyboard which offers ample key travel as well as speakers that deliver decent audio quality speak of a refined PC.
Some issues from before also apparent here, though I don't think they are deal breakers. One of these is the rather loud fans when they spin up during, say, a game or a benchmark test.
This is a trade-off, of course, since the notebook chassis is slim and the fans can't be too thick. This means they need to spin faster to get the heat out of the hot-running graphics chip.
All things considered, the ZenBook Pro Duo 15 OLED is a machine that anyone would be happy to own. The unique dual-screen design that lets the machine transcend its small size is handy in many ways.
Unfortunately, you'd need S$4,998 in the bank to buy the machine. That's not as extreme as the S$7,000 that Asus asked for the gaming version of its dual-screen notebook last year, but it's still mighty expensive.
To be sure, this is a niche product for creative professionals who might splash the cash for a well-made notebook that has ample performance for both work and play.
Not many can afford to, but those lucky ones who do will be rewarded with a great workstation and gaming machine.