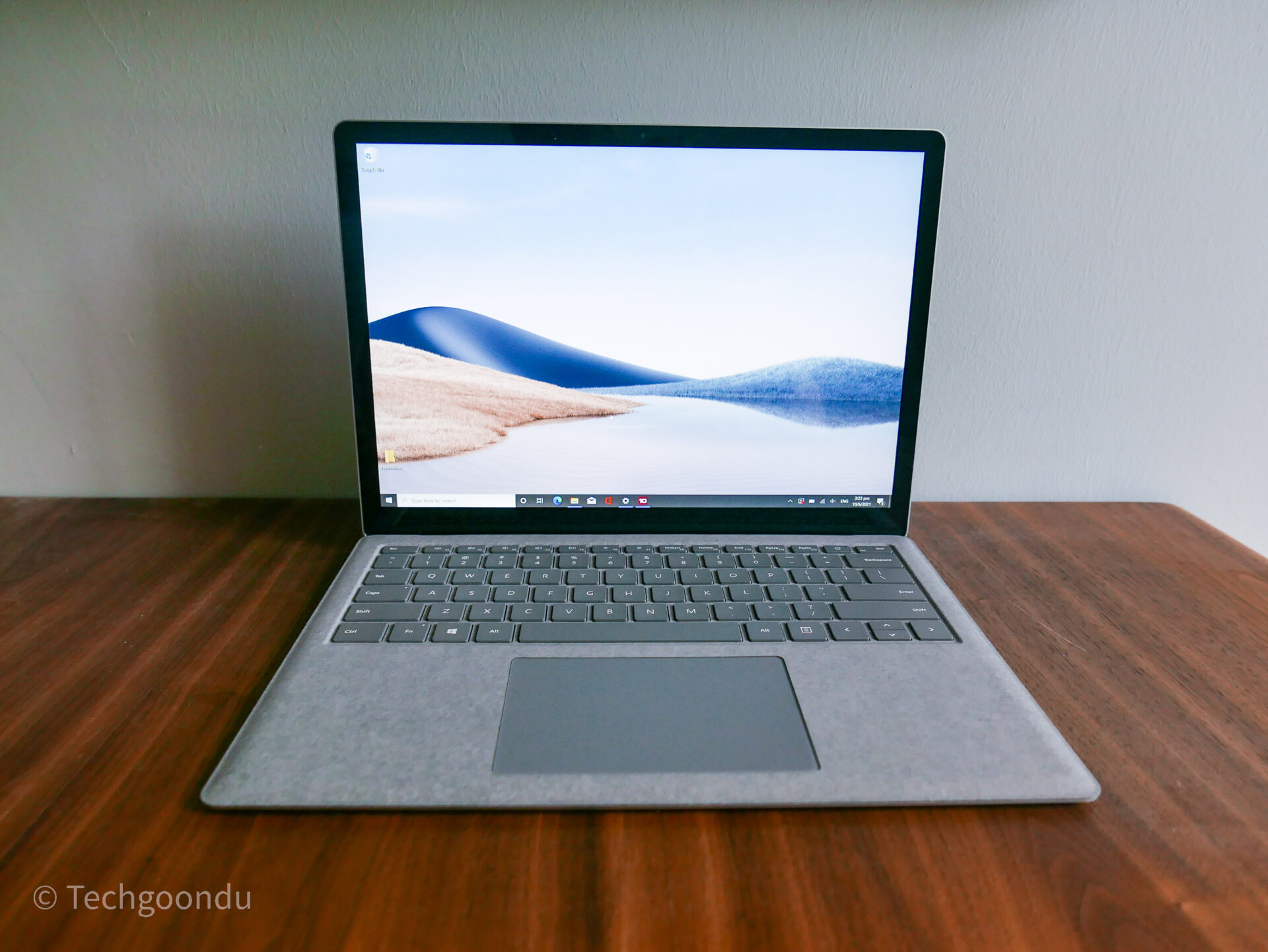 If you are looking for a laptop that's zippy, has a great screen and is a nice all-rounder, then Microsoft's new Surface Laptop 4 has to be on your shortlist.
No, it doesn't have the super slim bezel or the smaller size of a Dell XPS 13, but the new laptop is easily likeable because it does most things right, starting with a sharp touchscreen that is highly responsive.
Its looks aren't that shabby, either. With the smooth silver or black finish you've come to find on earlier Surface Laptops, the new version keeps things simple with a singular Windows logo on the lid.
The corners are nicely curved, like a Macbook. The only air vents you'd find are at the back of the machine so it looks like a solid piece of aluminium that you'd be happy to carry around.
You can also opt for an Alcantara finish as well, which features a cloth-like material for your arm rest. Just make sure not to spill drinks on it or touch it with oily fingers. Nope, I didn't try that out because I had to return the unit in decent shape.
Another thing to take note of is weight. Yes, the 1.2kg Surface Laptop 4 is not as light as the lightest in the class, like a sub-1kg Dynabook Portégé X30L-J. But the Microsoft laptop isn't that heavy either, when you lug it around an office or campus.
The unit I have for review sports a 13.5-inch screen, though there's another model with a 15-incher. The one I tested comes with an Intel Core i5-1135G7 chip, 8GB of RAM and a 512GB solid state drive (SSD). This configuration costs S$1,899, which is competitive but isn't the cheapest around.
I had hoped to try out a version of the laptop using an AMD Ryzen 5 chip for its engine. That is actually cheaper with prices from S$1,499, which will attract users seeking good value and don't mind a smaller SSD.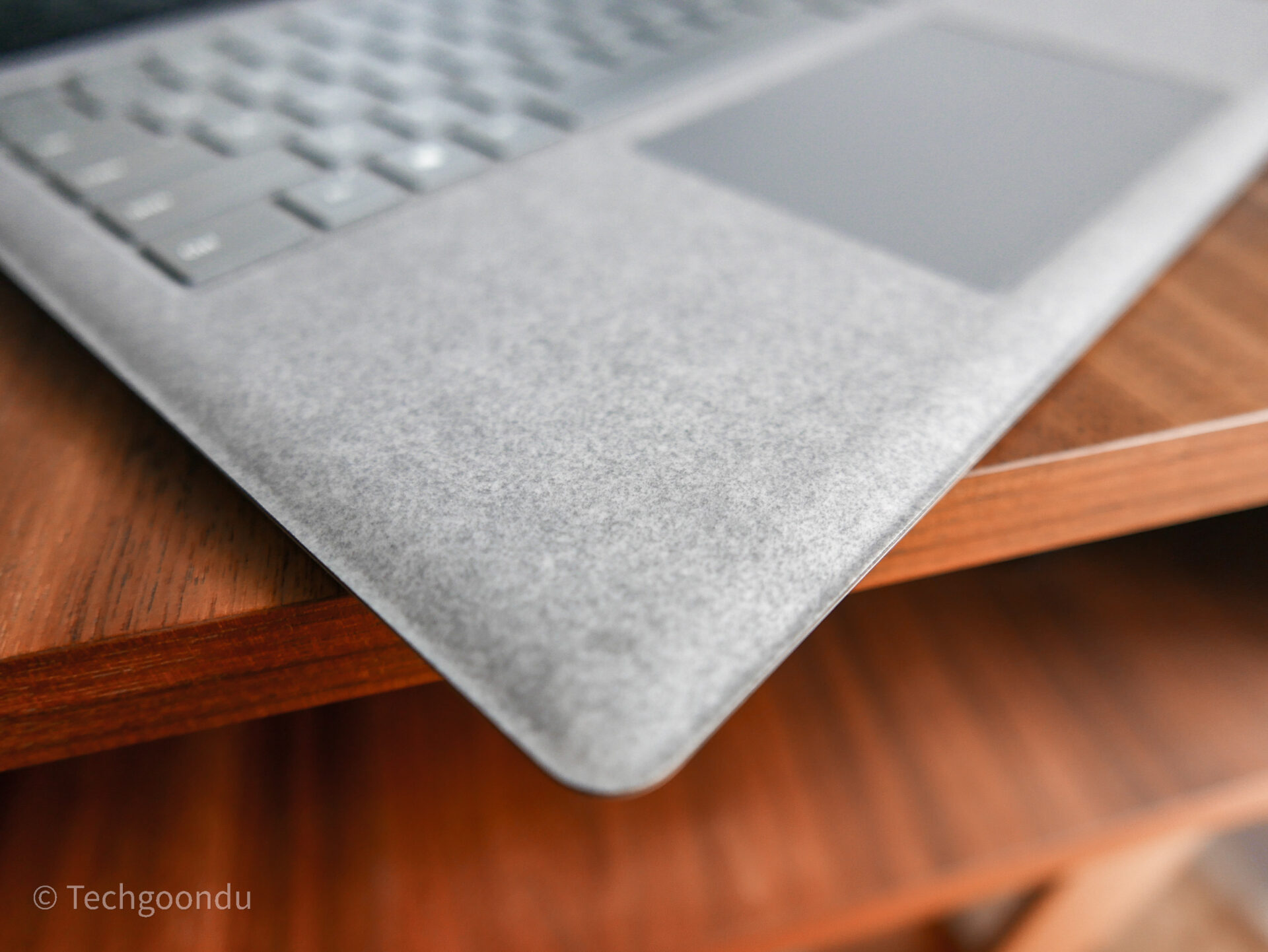 That said, the Intel Core i5 version uses an 11th-gen chip, so you're in good hands as well. Though 8GB RAM and a 512GB SSD are not top specs, they should serve most users fine unless they are using the laptop regularly for, say, editing videos.
When it comes to performance, the Surface Laptop 4 certainly is no slouch. In handling everyday tasks, it performed well, according to the PCMark benchmark used to measure frequently used tasks like video conferencing and spreadsheets.
The Microsoft laptop scored 4,145 in PCMark. This is close to the 4,771 on the Dynabook Portege X30L-J, which has a zippier Core i5-1165G7 chip and more RAM (16GB), to be fair.
What about games? To be sure, the Surface Laptop 4 is more of a generalist, but the Intel Iris Xe graphics now included in many 11th-gen chips has boosted graphics performance on even thin and light laptops.
In 3DMark tests, which simulate actual games, the Microsoft laptop performed as you'd expect. It scored 1,482 in the Time Spy subtest, 4,090 in the Fire Strike subtest and 14,626 in the Night Raid subtest.
Interestingly, this is better than what I go on the slightly more higher-spec'd (and costlier) Dynabook Portege. That laptop scored 1,388, 3,531 and 13,557 in the 3DMark subtests.
It's true performance isn't the only thing to look for in a laptop. In terms of usability, the Surface Laptop 4 gets most of the important things right.
For me, the biggest selling point is the excellent touchscreen, which is also sharp and bright. It is great for young students, who like to interact directly, say, to write a Chinese character or even to draw. An additional S$148 Surface stylus is a good addition.
For under S$2,000, most other laptop makers would put out machines that are aimed at the budget segment. However, the Surface Laptop 4 not only has a sensitive touchscreen but also one with a decent resolution of 2,256 x 1,504. Many rivals offer Full HD (1,920 x 1,080) at this price range.
I like it that the laptop runs quietly even when it is being pushed to perform by the benchmark tests. When this is happening, the bottom of the machine only feels warm to touch, not so hot that your thighs will get burnt.
Other handy features also help complete the experience, elevating the Surface Laptop 4 above many cookie cutter offerings in the market.
The touchpad is large, like on a MacBook, and it is a good alternative to a mouse when you are tight on space. There is a full-sized USB port on the side so you can easily plug in a USB flash drive if you wish.
The power adapter, which attaches magnetically, also safely detaches when it is yanked on accidentally. This is a nice touch also found on previous Microsoft Surface tablets and laptops, even though it originally was on an Apple MacBook.
Speaking about power, the laptop promises 17 hours of usage after you juice it up fully. I didn't run it for that long but suffice to say, it lasts through a typical workday of 8 to 10 hours without issue.
If there's one thing to complain about, it's that the keys on the keyboard are a little shallow. I write, or rather, type for a living, so I'd like a keyboard that offers better tactile feedback for long hours on it.
If you're just firing away short e-mails or messages each day, then the Surface Laptop 4 keyboard might not be as big an issue for you. To be sure, it's not a deal breaker for everyone.
On the whole, Microsoft has done well with the Surface Laptop 4. The Intel option isn't the cheapest around but it's got a good, sharp touchscreen that will come in handy for schoolwork.
That goes towards justifying the S$1,899 price, which is still competitive, to be fair. This is a laptop that is well worth checking out if you're looking for one to work or study from home.