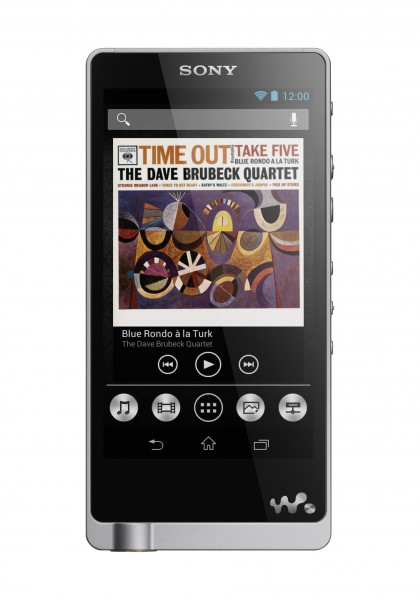 Sony unveiled its new Walkman NWZ-ZX1, the company's first music player to support high-resolution audio, earlier this week.
With high-quality playback that is claimed to be seven times the audio quality of what a CD can offer, this latest addition to the iconic Walkman line is bound to attract audio buffs seeking a media player capable of playing hi-res music.
The player can play 24-bit/196KHz audio tracks encoded in various formats such as FLAC, Apple Lossless and AIFF, which are popular with audio buffs. These tracks promise higher quality audio than a CD, which typically provides a resolution of 16-bit/44.1KHz.
The new Walkman also promises playback that has less distortion and noise at all frequency ranges. Dynamic range is said to be better as well, thanks to the better quality of compressed audio files with Sony's Digital Sound Enhancement Engine (DSEE) technology.
The NWZ-ZX1 is Sony's largest capacity Walkman to date with 128GB of memory, the equivalent of 800 hi-res audio songs, which take up more space than regular MP3s.
It also runs on Android 4.1, allowing you to download your favourite apps through the device's Wi-Fi connectivity. This versatility comes in handy for exercise lovers seeking to use fitness apps while listening to their favourite tunes.
For those easily frustrated by tangled headphones, the NWZ-ZX1 is capable of streaming music to your wireless headphones via Bluetooth. This function also allows wireless streaming of music to speakers, saving you the hassle of having to walk over to your speakers to change music or volume.
Physically, the NWZ-ZX1 feels similar to other smartphones and media players. It sports a 4-inch touchscreen display, and is almost similar in size to the iPod touch.
However, the NWZ-ZX1 isn't without its drawbacks. At approximately 139g, it is even heavier than your iPhone 5S or Samsung Galaxy S4, though this could be attributed to more electrical components required for hi-res audio playback. It is also priced at a hefty S$899, and boasts only 32 hours of music playback and no camera functionality.
Still, the finer audio quality that the NWZ-ZX1 promises to deliver remains the essence of a desirable music player. This is a device clearly targeted at audiophiles who wouldn't mind sacrificing weight, battery life and extra cash for a superior music experience.