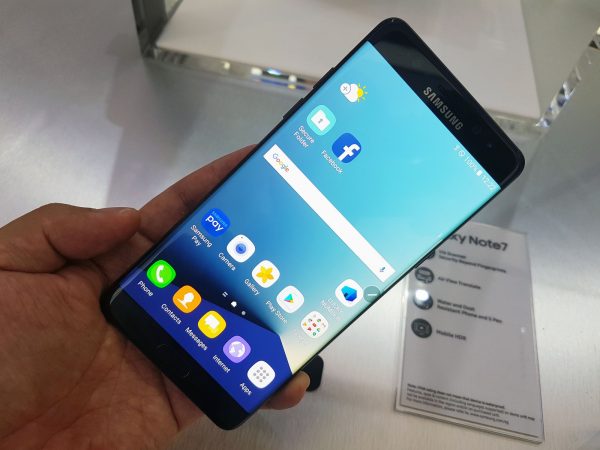 When I approached today's launch of the Samsung Galaxy Note7 in Singapore, I wasn't expecting huge changes in the latest phablet from the South Korean company. Was I surprised when I saw it.
Okay, the new phone unveiled just hours ago in the United States retains much of the winning features of the Galaxy S7 edge, but clearly, Samsung seems to have listened more closely to feedback.
There's the sloped edges so popular in the Galaxy S7 edge, but now they are a bit less sharp and, well, edgy. This answers a common complaint, that the edges are hard to hold.
I really have no issue with my own Galaxy S7 edge, but I've heard this gripe a number of times, and it seems Samsung may have too.
The second big thing is the interface. Gosh, it's taken a long time for Samsung to do this but it has finally junked the cartoon-like icons and colourful but unwieldy layout. In its place, a flat, neat design that's more modern and closer to what you have with stock Android.
Seeing this today at the Singapore launch, I could've done a double-take. Here was a Samsung phone showing a clean set of icons and a much improved Android touch and feel. I never thought I'd say that. (read my review of the Galaxy S7 edge).
These two things may not be the headline features you've read in other stories on the new Galaxy Note7 but they are the deal makers that may finally make Samsung a lot more likeable to those who have stayed away.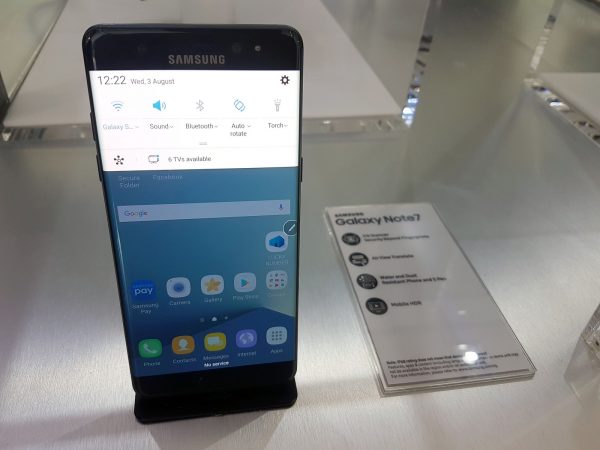 To be fair, it has always got the hardware right. This time, in the Galaxy Note7, it doesn't disappoint either. There's an octa-core processor, 4GB of RAM and 64GB of built-in storage, with a microSD card slot supporting cards up to 256GB.
The 5.7-inch screen isn't a big change-up from the Galaxy S7 edge's 5.5-incher, but it's clearly bigger when you place it in your palm. Remember that the sloped edges aren't as pronounced, so you do get the feel of a bigger screen, more than the slight difference in physical sizes may suggest.
The feature that you'd likely have heard most about the Galaxy Note7 so far is the iris scanner, which lets the phone identify you by your eyes.
This isn't some "fake" iris recognition by using a camera to take an image of your eyes, but real infra-red sensors that work even in low light. It compares details like the dimensions of your irises to ensure that you are who you say you are. You can't print a photo of your eyes and trick the phone.
In the short test I had today, I can say the phone registers real fast – it takes a scan of my eyes once instead of the several times needed to register a fingerprint – and recognises me in an instant.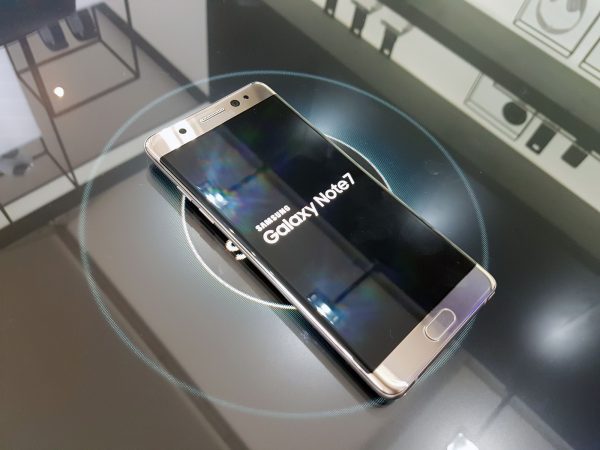 Samsung says you can use this to unlock your phone or pay for items using Samsung Pay, thus making the feature valuable for folks who are worried about security.
Now, I know it may be faster to simply place your finger over the fingerprint sensor than having to position the phone to scan your eyes, so I'm not immediately sure if this is a deal clincher. However, it will come in handy (yes, I know) if your hands are wet and you can't unlock the phone with your fingerprint.
The other big thing Samsung is touting is the updated stylus. Perhaps having seen how intuitive Apple's version is in the iPad Pro, Samsung has come up with one that is said to replicate the ease and accuracy of a real pen, thanks to improvements to its pressure-sensitivity.
I'll have to check this out more to see if it lives up to its promise. Indeed, there are a number things to try out on the new phone in the next few days before I come up with a more comprehensive review of the Galaxy Note7.
Knox, Samsung's security system, now promises to provide chip-level protection. In other words, it's involved in the starting up of the phone so it isn't easy for malware to be injected before the security kicks in.
There's also a secure folder that you can place your really private stuff in. This requires an additional layer of security clearance to get to, so you can keep prying eyes off.
And finally, the Galaxy Note7 is also water- and dust-resistant. That includes the S Pen stylus as well. So, yes, you can take the phone to the pool or even on a jog and not worry about water causing havoc.
All in, an impressive update to an already impressive Galaxy S7 series this year, that has brought Samsung back to winning ways.
For all that goodness, however, the Korean firm isn't shy of asking for a high price. The S$1,168 price tag is hefty, to be honest, but this is looking like one of Samsung's best phones in a while.
Look out for our review in the next few days, after we've had a chance to try out the Galaxy Note7 more thoroughly.