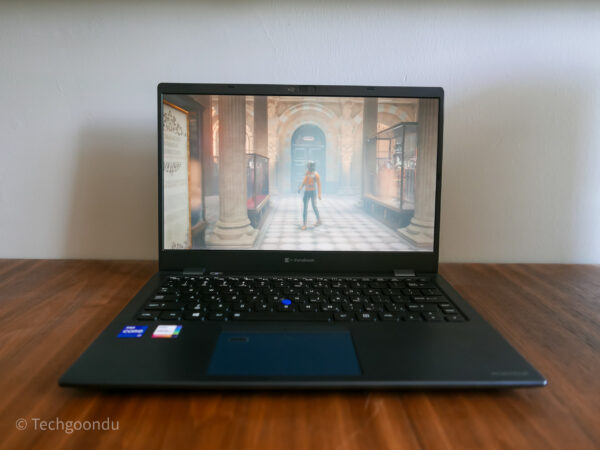 We get a fair number of laptops to review at Techgoondu, so when I recently picked up the FedEx box that the Dynabook Portege X30L-J came in, I was surprised how light it felt.
Can a laptop feel so light? Well, apparently so, with a machine that weighs under 1kg. Just 906 grams, to be precise.
It's not surprising that Dynabook has made the Portege X30L-J's thin and light chassis a main selling point. This is the lightest in its class, as the manufacturer is keen to say.
The difference is clear when you first pick up the laptop. For someone who has been using a three-year-old Dell XPS 13 that weighs 1.2kg, I certainly find the Dynabook much lighter.
Now, if you're wondering why the name Portege sounds a little familiar, you're probably thinking of the old Toshiba range of ultralight laptops that pioneered thin and light designs before they became so common today.
Unfortunately, Toshiba, like many Japanese electronics firms of late, have had to sell its assets and the PC division was one. From 2019, Toshiba laptop products were to sold under the Dynabook brand.
The good news is that you can spot quite a bit of the DNA of old. The magnesium alloy chassis is thin though feels sturdy enough for some hard knocks and bumps. The laptop has passed the MIL-STD-810G standard for military use, after all.
This is also a true business machine, so you don't forgo usability for sleekness. Despite the 17.9mm-thin frame, you have two full-sized USB ports and two smaller USB-C ports, including one for charging, on the sides.
Plus, you'll find a full-sized HDMI port, an Ethernet port and a microSD card slot. No adapters needed, which will be a godsend for those who use their laptops on the go a lot.
What I think Dynabook can do better in is slimming the bezels around the 13.3-inch screen. Okay, they are not that fat but you just have to look at the competition, such as the XPS 13, to see what's cutting edge today.
Speaking of that, the Sharp IGZO display on the Portege X30L-J is bright and vibrant for both text and graphics. Though offering only Full HD resolution instead of 2K or 4K, it shows off images with useful amounts of detail.
Performance-wise, I have little to complain about, either. The Dynabook laptop sports an Intel Core i5-1165G7 chip, 16GB of RAM and a 512GB solid state drive (SSD), decent enough specs for most of today's jobs.
In the PCMark test, which measures a PC's performance in everyday tasks such as video conferencing and spreadsheets, the Dynabook laptop scored 4,771. This compares closely with the 4,856 I got on a Lenovo Yoga Slim 7i in December 2020.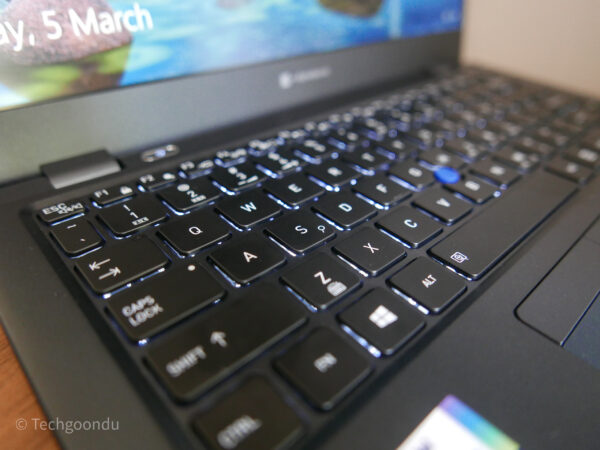 It's in graphics tests where the Dynabook laptop shows off the Iris Xe graphics that comes with the 11th-gen Intel Core processor. In the 3DMark benchmark, which simulates games you play, the laptop gave a good account of itself.
In the the Time Spy subtest, it scored 1,388. In the less demanding Fire Strike and Night Raid subtests, it scored 3,531 and 13,557 respectively. Once again, these scores are close to but slightly lower than what I got on the Lenovo laptop (1,624, 4,517 and 14,997).
In terms of usability, the Dynabook laptop offers a decent keyboard. Keys are not too close together and they offer decent depth that makes sure it's not a pain to type on the laptop.
The touchpad is sensitive enough so moving the cursor around on the screen isn't a hassle. That said, I wish it was a slight bit larger for easier access.
There are other user-friendly features. A plus is the camera cover at the top of the screen, which you slide gently to protect your privacy, without resorting to tape or stickers.
When the dual fans inside the chassis need to spin up, they are quite audible, but they do perform well. The heat at the bottom of the laptop is mild even when it's running a test, which means you can place this laptop on your lap safely.

Other features you'd expect on a new laptop are here as well, such as Wi-Fi 6 dual-band wireless and a four-cell 53Wh battery that promises up to 14.9 hours of juice.
On the whole, the S$2,499 Portege X30L-J is an attractive business laptop for those who are on the go frequently and desire a thin and light machine that delivers the performance as well.
It doesn't have the fancy designs and materials as you'd find on, say, an HP Spectre or Dell XPS, but if you look past the rather safe-looking colour scheme, this Dynabook laptop clearly delivers the goods.
UPDATE at 3/8/21, 2:40pm: The article has been updated to reflect the laptop's local pricing for Singapore.