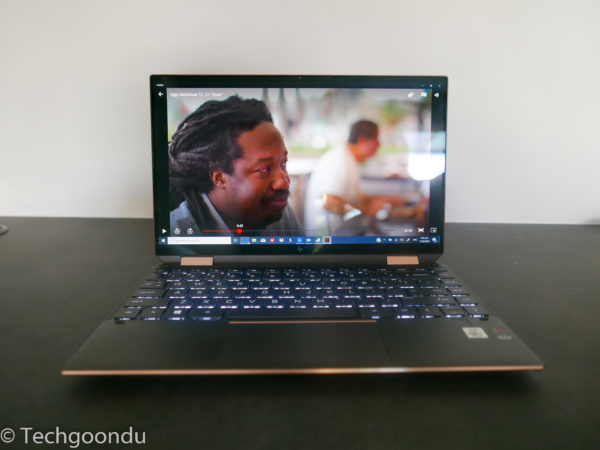 If you think that the new HP Spectre x360 13 looks a little familiar, then you'd probably have seen the PC maker's previous head-turning laptop – the Elite Dragonfly out just months ago.
In some ways, you can say this is the "consumer" version of the Elite Dragonfly, which was aimed at the mobile worker desiring features like HP's suite of security features or Intel management features, for example.
Certainly, there are many similarities. The most striking are the hinges that enable both models to be two-in-one convertible notebooks.
These large "360" hinges let you flip the 13.3-inch screen around so that you can use them like a flattened-out tablet or in "tent" mode to watch your movies on a plane, besides the traditional clamshell stance.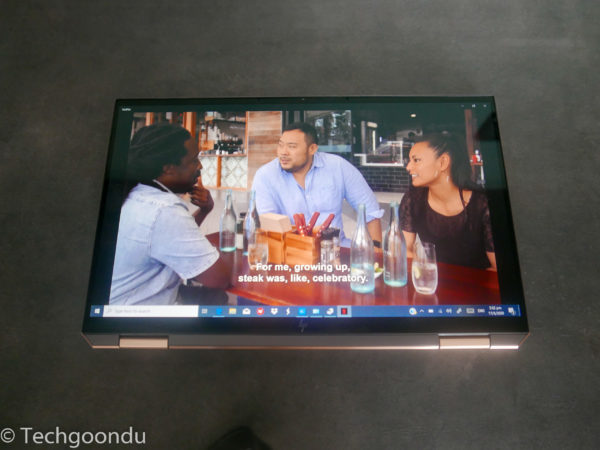 The thin bezels on the screen also allude to a modern design that competes with similar models such as the Dell XPS 13. There's also a slimmed-down wrist rest so the laptop is small enough to fit neatly in your bag.
For me, the most significant difference between the Spectre x360 13 and the excellent Elite Dragonfly is the weight. Made of aluminium, the new laptop weighs 1.3kg, heavier than the roughly 1kg on the magnesium Elite Dragonfly.
To be fair, the Spectre x360 13 isn't hefty for a thin-and-light convertible but it's clearly heavier than its more expensive counterpart aimed at corporate users.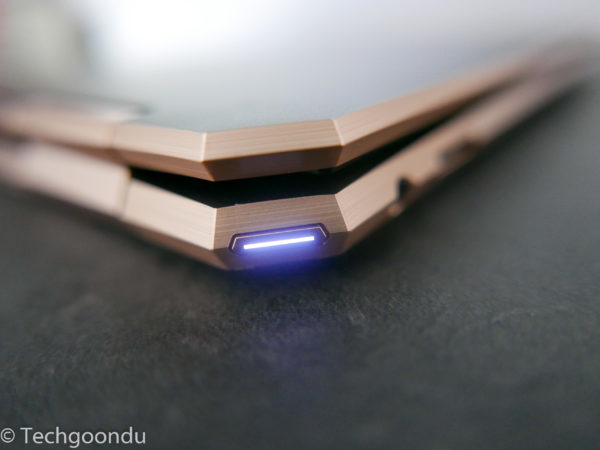 The design on the consumer-driven model is also slightly "flashier". The review unit loaned to me had a copper colour around the edges, which seem "cut off", you know, as in a diamond cut.
How you feel about that may vary, of course. What I'd question is why HP placed a small power button at one of these edges. I took minutes to find it!
There are some nice touches, to be fair. For example, a hardware button at the side lets you electronically shut off your camera, so you don't need a sticker to protect your privacy.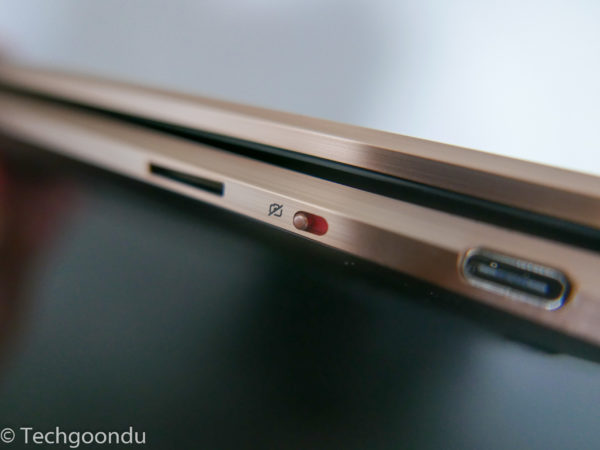 The keyboard is also decently sized, with keys easy and comfortable to type on. There's enough key travel to get the tactile feedback, which gives you assurance you're hitting the right keys.
With the touchpad, you get an elongated version. That's because of the smaller size of the laptop now. Good news is, the touchpad is still highly responsive and zippy enough for you to move your cursor across the screen.
Of course, you can also touch the screen to move items around quickly. I'd always use my fingers when zooming in and out in Google Maps.
I don't draw much – well, I can't draw to save my life, actually – but if you do, you'd be happy to know that HP has bundled a stylus with the Spectre x360 13, which is a nice touch. No need to spend an extra US$50 for this add-on.
What about performance? Well, the Spectre x360 13 costs from S$2,399 for an Intel Core i5 unit to S$2,899 for one that sports a Core i7-1065G7 processor, 16GB of RAM, a 1TB solid state drive and an AMOLED 4K screen.
Unfortunately, the review unit I had came with the top-end specs, except for the screen, which was only in Full HD and not 4K resolution. Since this configuration doesn't seem available in Singapore now, I shall not comment on the screen quality.
In PCMark 10 tests, which measure how well a PC runs everyday productivity tasks like spreadsheet and videoconferencing, the HP laptop scored a notable 4,375.
That's a lot higher than the 3,320 I got from the Elite Dragonfly I tested two months ago. This could be down to the Spectre x360 13's 10th-gen Intel processors with Iris Plus graphics, which offer a boost over the 8th-gen Core i7 on the older laptop.
Like most thin and light laptops, however, you should not expect the Spectre x360 13 to perform impossible feats on games, unless you are playing at much lower resolutions.
In 3DMark tests, which simulate real games, the HP laptop scored 727 in the demanding Time Spy subtest. This is a clear improvement over the Elite Dragonfly's 421, which is good news, though it is not nearly a gaming laptop which usually scores in the thousands with a discrete graphics chip.
In other subtests, the Spectre x360 13 does show improvements over older thin-and-light office laptops, which is probably down to the Intel Iris Plus graphics chip.
For the record, the new HP laptop scored 2,841 in Fire Strike, 6,258 in Night Raid and 9,545 in Sky Diver. Not too bad for a portable machine.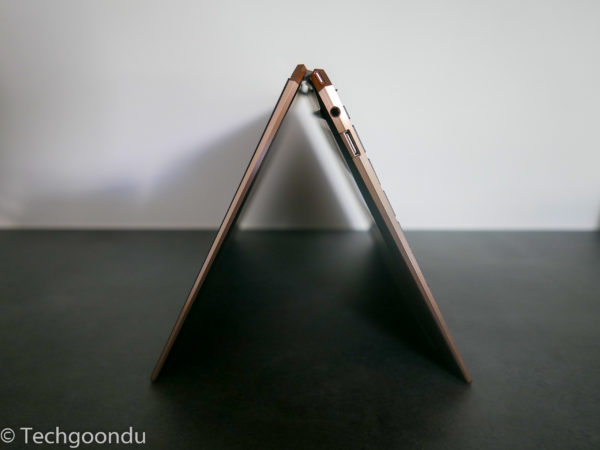 When it comes to battery life, the four-cell, 60 watt-hour lithium polymer power pack is touted to last up to 22 hours. That's good enough for a flight to the United States.
During my quick tests, I fired up the laptop sporadically throughout a work day and did not have to plug it in in the middle of the day. Yes, it's great for bringing it to cafes, especially during today's work-from-home arrangements.
Just like the Elite Dragonfly before it, HP scores high with the Spectre x360 13. Design and performance are up to scratch, as you'd expect.
If there's one thing I don't like, it's the crapware that HP decided to place in the laptop for some reason.
You get offers to sign up for Dropbox and ExpressVPN, which really, I'd prefer not to have on a premium machine. Fortunately, you can uninstall them so not a deal breaker.
Elsewhere, you find small touches that reveal the care involved here. Despite the slim profile, you still get a full-sized USB port along with two USB-C variants. Even the sound, thanks to Bang & Olufsen, is full and rounded, instead of being an afterthought.
Most importantly, the Spectre x360 13 has also got the added benefit of a newer, faster processor at a relatively lower price than HP's previous model. That's the clincher for me, really.
Yes, it packs in a bit more weight here because of the material used, but I'd still pick the Spectre x360 13 as one of the portable laptops to buy now.