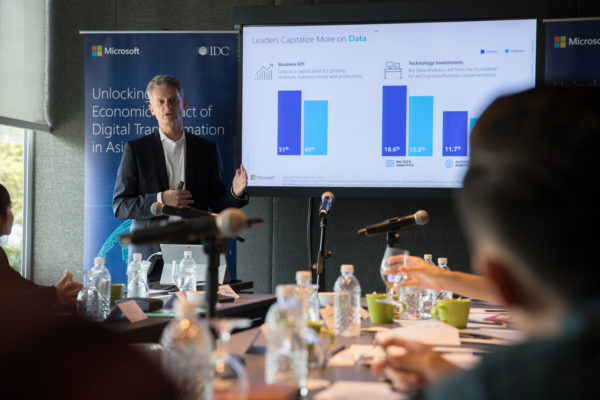 Digital transformation is set to contribute as much as US$10 billion to Singapore's gross domestic product (GDP) by 2021, as more organisations digitise their operations to find a firm footing in a time of disruption.
This will increase the annual growth rate by 0.6 per cent annually, according to a study released yesterday by research firm IDC.
Its projections were based on publicly available sources, such as the World Bank, as well as interviews with 1,560 business leaders in 15 countries in Asia-Pacific.
In the region, the digital economy is expected to contribute an estimated US$1.16 trillion to GDP. This will boost growth rate by 0.8 per cent annually.
Commissioned by Microsoft, the study also predicts that digital technologies such as mobility, cloud, Internet of Things (IoT) and artificial intelligence (AI) would become a lot more prominent in the years ahead.
In 2017, only 6 per cent of the region's GDP was derived from the usage of such technologies. By 2021, however, this would surge to 60 per cent, according to IDC.
Currently, organisations are using these digital technologies to boost efficiencies, such as by replacing human workers with robots, said Daniel-Zoe Jimenez, IDC's research director for digital transformation.
However, in the years ahead, they would be integral to every part of the operations, he told reporters in Singapore yesterday.
For example, a chef at a restaurant could be assisted by robots in the kitchen, while drones are dispatched to send the food to customers who have ordered online, he explained.
If the ideas seem far-fetched, there is evidence on the ground that digital transformation efforts are gathering pace, according to Microsoft.
Ralph Haupter, president for Microsoft Asia, said one question customers have been raising to him is how to tap on AI and other such technologies to boost their businesses in the coming years.
AI can work for customers producing anything from fridges to clothes, he added, stressing that it will be a critical edge in a competitive business environment.
Microsoft is pitching itself as a platform company offering all the pieces necessary for digital transformation. It is also trying to differentiate itself from Google and Amazon, other online rivals that also use data from consumers for their advertising or retail businesses.
One Microsoft customer in Singapore is Keppel Urban Solutions. It is using data analytics and AI to better deliver municipal services to development projects that it is working on in the region.
In Saigon Sports City, a 64-hectare development in Ho Chi Minh City in Vietnam, the developer is using smart technologies to offer security and access control, as well as the remote monitoring and control of energy and utilities infrastructure.