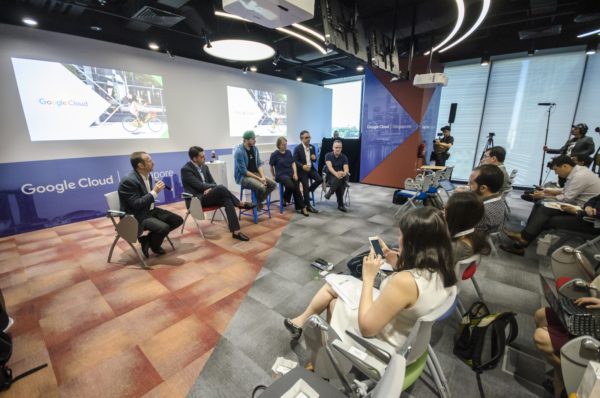 Google booted up its cloud platform for enterprise customers in Southeast Asia last week in Singapore, as it sought to gain a foothold in a region where rivals have had a head-start.
The Republic became the latest Google Cloud Platform "region", with the new cloud service promising lower latency for customers seeking to deploy new, more demanding online services.
Firing up the first virtual machines (VM) here at a launch last week, Google Cloud chief Diane Greene said there was more to come for the region as the company expands its offerings.
She said the pings were 80 per cent faster, which mattered to customers in Singapore, Kuala Lumpur, Jakarta and Bangkok whose businesses depended on the improved connectivity.
The launch in Singapore, the third in Asia, has been followed by one in Sydney yesterday. Later this year, Google is expected to open another region in Mumbai.
Though late to the game, the Internet giant is trying to gain traction with enterprises that are increasingly looking to public clouds to expand their resources for compute, storage and analytics.
Indeed, Google's expertise in search and analytics, as well as its strength in mobility through the Android operating system, could prove to be the critical difference over more entrenched rivals such as Amazon Web Services and Microsoft Azure.
Among Google's first customers in the region are the Singapore-based online marketplace Carousell, Jakarta's ride-hailing service Go-Jek and Creative Media Works, the company that runs the BBM Messenger service.
Carousell vice-president of engineering, Jordan Dea-Mattson, said one big advantage of using Google Cloud is the ability to buy and use the resources that his company needs, instead of having to upgrade to expensive packages with items that are not vital.
"I can buy VM instances by the minute instead of one hour," he noted. "I can boot up and shut down when I need to."
For Go-Jek, the key was the lower response time and the scalability promised by Google Cloud.
The startup's chief marketing officer, Piotr Jakubowski, said it will be able to achieve average response times of 50ms, crucial to having information updated all the time for its ride-hailing service that serves more than 250,000 motorcycle taxi drivers.
What Google will want more of are traditional large enterprises, not just native Internet companies that understand the power of the cloud, to jump onboard.
Home Depot in the United States and Family Mart in Taiwan are two big customers in that segment, and Google will celebrate a big win if it can snag a similarly large account in Southeast Asia.
It is seeking to be certified for Singapore's cloud security standard, known as Multi-Tier Cloud Security (MTCS), which is adopted by government agencies here and promoted as a quality mark for local enterprises.