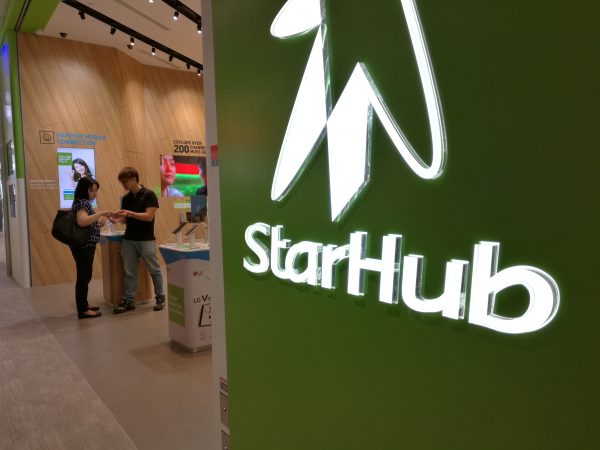 When StarHub's new head honcho reiterated this week that it would have to share infrastructure with a rival telecom operator, it was the latest sign of the once unthinkable becoming inevitable.
Chief executive officer Peter Kaliaropoulos had already overseen job cuts since he took the helm earlier this year, so there was no avoiding the struggles of Singapore's number two telco.
However, the change this time isn't a seasonal correction. No, despite the market tightening at times over the years, telcos here have never faced similar disruption since the market was fully liberalised back in 2000.
Back then, StarHub entered the fray with innovative offers such as per-second billing and free incoming calls. These would become standard features as the Big Three telcos slugged it out yet found a way to survive.
That was then, of course. Almost 20 years ago, less than half the population had a mobile phone. Today, there are almost one and a half mobile phone subscriptions for every person here.
That alone, however, would still not have resulted in the consecutive quarters of poor results at StarHub. Or even the impending entrance of TPG Telecom as a fourth telco.
Rather, the biggest change is the fundamental power shift away from the telco as a gatekeeper of information access and content delivery. The old model just isn't that lucrative any more.
So-called over-the-top (OTT) services such as Netflix and Amazon Prime have been around for years, but their entry in Singapore in the past two years has drastically deepened the problems for local telcos. The cord cutting has hurt them the most, even if indirectly.
After all, content used to be the crown jewel for a "triple play" telco offering pay-TV, mobile and broadband services. Remember StarHub's Hubbing campaign?
In the mid-2000s, it was so successful in locking in users with its exclusive pay-TV deals for the English Premier League that it could up-sell its mobile and broadband services easily.
Today, content is a much tougher game. For starters, there is the challenge from OTT providers, and this is not just from the likes of Netflix. Content partners such as TVB, HBO and Fox are also launching their own OTT apps, so viewers can just pay them direct and bypass telcos.
Today, you don't need to worry about having so many set-top boxes at home. A Netflix or Amazon app right on your smart TV lets you in on a streaming service with any broadband connection.
Even top-tier content is no longer exclusive. Thanks to tougher legislation forcing cross carriage in Singapore, you can watch English Premier League matches on either Singtel or StarHub today.
The market has been disrupted so badly that telcos are seeing the infrastructure they own as dead weight rather than the cherished asset of old. It is no longer a natural barrier to entry against competitors.
Unsurprisingly, StarHub has stopped laying the hybrid fibre-coaxial (HFC) cables to connect new homes to its cable TV network. Fibre is the future.
And now, it may end up sharing a mobile network, possibly with number three player M1, in 2019, according to a Bloomberg report.
What is holding back StarHub and M1 is their small Singapore market. Even virtual operators here in Singapore, such as MyRepublic and Liberty Wireless (which runs Circles.Life), are offering services overseas or planning to expand overseas.
While they are nimble and asset-light, the incumbent telcos move much more slowly and are held back by complex networks built over decades.
The newcomers run horizontally designed systems, that is, their customer databases and network management systems can be ported over to run in another country quickly.
Meanwhile, the old boys have deeply integrated their business functions into their systems. Change isn't an overnight thing. Neither is an expansion into a new market.
Of course, the importance of owning infrastructure could change with time. Over many years, the investment on a network could yet bring cost efficiencies for a traditional telco.
That's assuming they change their systems to transform their businesses and better engage customers. They need more investments and transformation, something that two large shareholders of M1 are trying to engineer through a buyout.
The biggest winner so far in Singapore is Singtel. Yes, it is highly verticalised, like its two long-time rivals. However, it has something they don't – scale.
In its expansion into Australia, India, Thailand and other regional markets over the years, it has built up a buffer against the disruption in its home base. Singapore now represents just 29 per cent of the company's underlying net profit, with the rest coming from the region.
Another area that it has gone into early is the market for enterprise computing services. Through its subsidiary NCS, it has been delivering a range of services for large corporate customers for years.
Today, with the emphasis on digital transformation and cyber security in organisations big and small, the big bet for telcos is on such large corporate accounts instead of the consumer market. This is the fastest-growing segment in many a telco annual report now.
Again, scale matters here. You can't turn up to meet multinational customers saying you only have half a solution. You need all the pieces of the jigsaw. Okay, you've got a piece on cyber security but what about data analysis?
Here, Singtel is already an experienced competitor, while StarHub and M1 are getting quickly into the market through acquisitions or getting staff up to speed with the needs of the market.
This needs time, though. And for StarHub and M1, the shift has to happen in real time. Pivoting to a new focus is tough enough; doing so when you are cutting staff or undergoing an ownership change is even tougher.
And the market is getting more competitive even as they get their chess pieces in place. The next year or two is going to be a ride unlike any they have been through.