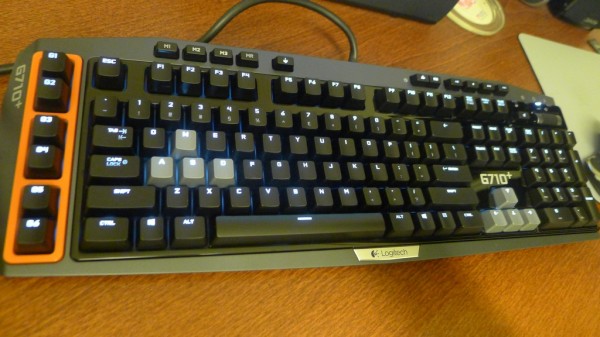 Mechanical keyboards, with their click-clack sounds, are all the rage these days and Logitech's G710+ marries that with gaming features that hardcore players are keen on.
For geeks, this is a combo that will surely attract, because of the tactile feel offered by the keys, as well as the durability that will be handy when it comes to long hours of banging on the keys.
There's also the bling that usually comes with any gaming accessories. With the G710+, you'll either love or hate the orange styling that accompanies the USB connectors and special G keys that you can map game macros to.
Fortunately, other than that, Logitech has kept much of the multi-coloured craziness out of the design. The backlight offers a nice white glow, whose brightness can be controlled directly on the keyboard without the need for software.
You can also separately set the brightness for your most important gaming keys – the A-W-S-D used in first-person shooters and the directional arrow keys. This means you don't have to "bling on" the entire keyboard if it's too bright in a dark room.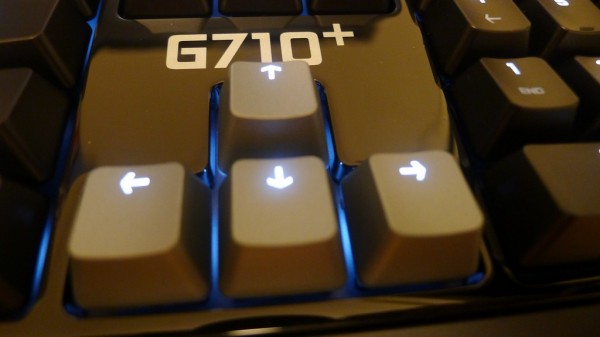 Also included at the top of the keyboard is a Logitech gaming button, which disables the Windows key in games, so you don't accidentally jump out of the action onto your desktop. I like it too that there are media buttons – and a nice scroller – to control the playback and volume of your tracks.
To complete the feature list, there's also a USB pass-through port at the front of the keyboard, presumably to hook up your USB peripherals. A USB memory drive works just fine.
In other words, this is a full-fledged keyboard – not just a gaming keyboard. Despite this, the size of the Logitech G710+ isn't crazy big, unless if you pop in the detachable arm rest.
When it comes to typing, the mechanical keys work as advertised. Solid, with a springy response, they will wow mechanical keyboard fans.
I'm a touch-typist who's not particularly nuts about mechanical keyboards – I use a Microsoft Ergonomic Desktop 7000 – but I can say the G710+ is generally pleasant to type on.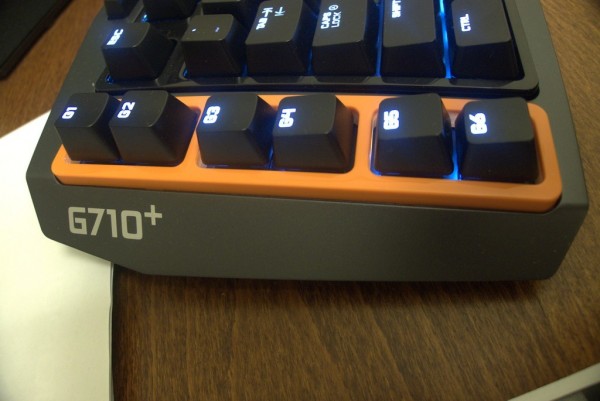 What of the promise of "whisper quiet" keys? Well, these are still mechanical keys, after all, and they will make a din if you are particular about noise. Just make sure you are not typing in the bedroom while someone else is trying to sleep.
Now, up until this point, I rather liked the G710+. It's got the features you'd expect from a gaming keyboard – the 110 anti-ghosting keys and 6 macro G keys make sure of that – and it's also got the mechanical keys that many users are crazy about now.
I'm also impressed by the build. It feels tough enough to face much pounding during many gaming sessions. Being heavier than the average keyboard also keeps the G710+ well seated on a table during frantic action.
Yet, for some reason, the Logitech Gaming Software does not seem to work with my Windows 8 (64-bit) PC despite all my attempts to clean up my software installs and registry. It just keeps crashing on startup, which means I cannot access many of the advanced features, like setting profiles to my games.
My PC, incidentally, is running an Intel Core i7-3770K and 8GB RAM on an Asus P8Z77-V Pro motherboard. I have uninstalled all my other mouse and keyboard software and even tried different USB connectors on the motherboard, but the Logitech software just keeps crashing. I even tried an old version of the software – 8.3.5 instead of the current 8.4.5 – and it still didn't work.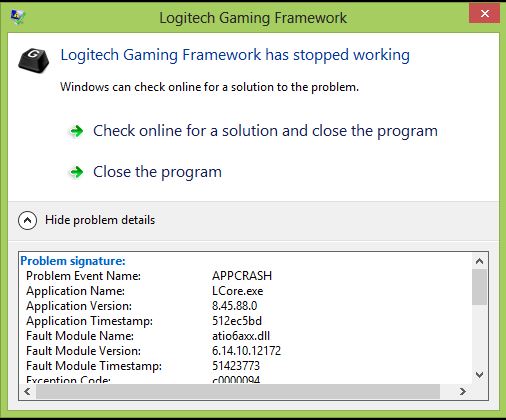 I then plugged the keyboard into my Windows 7 laptop and installed the software, and guess what, it worked. I'm still not quite sure why it doesn't like my desktop PC – it may be Windows 8 or perhaps I had some software running that wasn't compatible – but I'm still certain Logitech needs to spend more time on its application.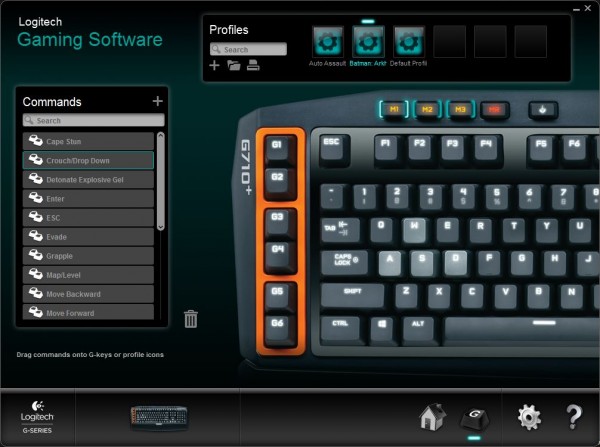 That's because I'm not the only one with issues. A quick glance over at the Logitech forums and it's clear others are pulling their hair out at the software as well. Logitech really has to up its game in this, because this could be a deal breaker for an otherwise well-made keyboard.
What I think Logitech can also do is to lower the price for Singapore. It's going for an expensive S$219, when it costs US$149.99 (S$186) in the United States.