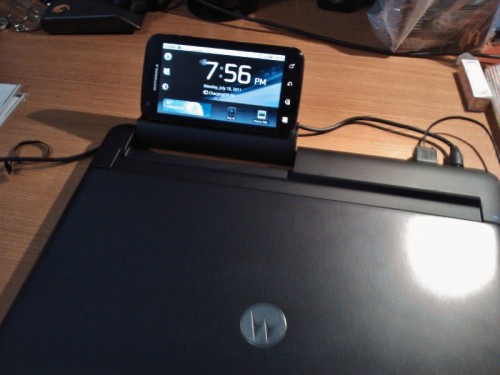 As mobile technology continues to converge, manufacturers are trying to provide us with the one device which can cater to all our mobile media needs. Incorporating a dual-core 1GHz processor, 1GB or RAM, an excellent quarter HD (960 x 540) screen, and the ability to transform into a quasi-netbook in an instant, the Motorola Atrix is certainly taking steps in the right direction.
But how will this first-of-its-kind product hold up under our scrutiny? Will it set a new trend, or falter in a few months? We took it for a spin to see if it's true to its promise.
The Phone
Hardware
The Atrix has a full plastic body with faux carbon metal styling on the back, which actually feels more terrible than it sounds. In our hot and humid country, sweat and grime infested fingers are a norm, and the plasticky feel of the phone soon gets a bit sticky.
Taking off the back cover is also quite a feat, as the phone gives no clues on how to go about doing it. The "button" which I pressed to try to get it off turned out to be the speaker grill (a very battered speaker grill, which proves I'm not the only reviewer to try opening it that way). Turns out you just have to push the corners away from you to get it open.
But those are the only complaints, for the Atrix has a tight and solid build which feels really durable. The rounded corners make it a comfortable device to hold, and the lock/power key is located in the middle of the top edge at a slight angle, a surprisingly ideal place for the index fingers of both hands to reach. Our review unit didn't have a fingerprint reader, so we couldn't test that one out.
The front of the device is dominated by a 4-inch screen, which looks crisp and bright even in direct sunlight.  But it has nothing on the iPhone 4, which still has a higher pixel density and therefore sharper screen.
Also on the front are the standard Android function keys and a camera, which lets you gawk at yourself and make video calls. A volume rocker sits on the right profile, and a 5-megapixel camera with LED flash, which is capable of taking 720p video, resides on the back. And on the left of the device are two connecting ports: a micro USB port and an HDMI port. These two ports work with Motorola's docks to enhance the phone's functionality (more on that later!).
Software
The Atrix runs Android 2.2 with Motorola's custom MotoBlur skin and widgets. 2.2 might be a bummer to some, but with a promise update to 2.3 this isn't that big a deal for enterprise users who don't need all the latest Android fun. MotoBlur has improved vastly since its birth, and some of its widgets are pretty useful, though it is still too distracting, in my view. How cool is it? This all comes down to personal preference here.
The dual-core chip is supposed to make everything lightning fast, but I must confess I see no difference between the Atrix's performance versus my old Desire HD with a single core 1GHz chip. Sure, resource intensive apps such as heavy games run smoother, but no discernable difference can be perceived during day-to-day usage.
Worse, there was noticeable lag once in a while when navigating through the menus and waiting for some native apps (messaging!) to load. User experience was also choppy and not too smooth in several instances. Could this be an Android issue in general?
The phone comes preloaded with several apps, including QuickOffice for productivity and Qik for video chat. Depending on your telco, there could also be other specific apps preloaded.  The default camera and camcorder apps are alright, though you won't be throwing away your point-and-shoot for this.
Battery
Motorola has very helpfully built in a power control function into the Atrix, letting you create battery profiles and fine tune your battery performance. The most useful one I found was the Nighttime saver, which stops the phone from syncing after 15 minutes of inactivity during non-peak (10pm to 5am) hours.
Another trick to conserve battery life is to control the phone's screen brightness, or set it to auto. But the automatic screen brightness function on my unit is ridiculously sensitive, so much that my screen literally flickers in rhythm when I walk through a shady area and bursts of sunlight hit the screen.
In general, the battery could last a day of usage without the need to hit the power socket. My normal usage includes regular syncing of mail, surfing the web, reading social network updates, and making calls and texting.  Pleasantly, the dual-core chip is not as much a power-sucker as I thought it would be. But if you play games or watch videos more, then the juice might not be enough.
Lapdock + Webtop
Finally, the unique selling point of the Atrix: the Lapdock. The Lapdock looks like a super thin netbook, with its full-sized keyboard, 11.6-inch screen, a large generous trackpad, two USB ports and stereo speakers. The Lapdock's construction is worlds apart from the phone, with a beautiful brushed metal casing and a rubbery plastic material around the back.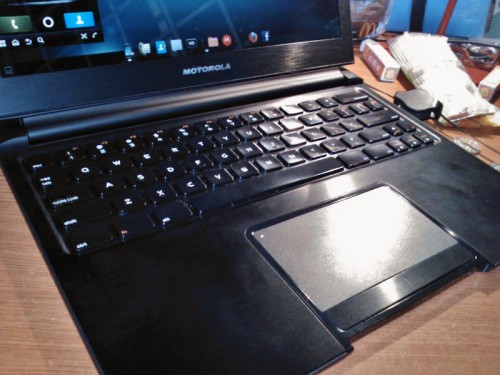 By itself, it's a piece of beautiful if useless brick, but slide the Atrix into a built-in holder at the back and an app called Webtop springs into life, bringing up a desktop with a full-featured file manager and Firefox browser with Flash, and you can play FarmVille to your heart's content.
The interface is similar to OS X and some Linux distributions. In fact, Webtop is based on Ubuntu Linux. A menu bar runs across the screen at the top, and an application dock sits at the bottom. If you so desire, you can pin individual sites such as Facebook to the application dock for quicker access.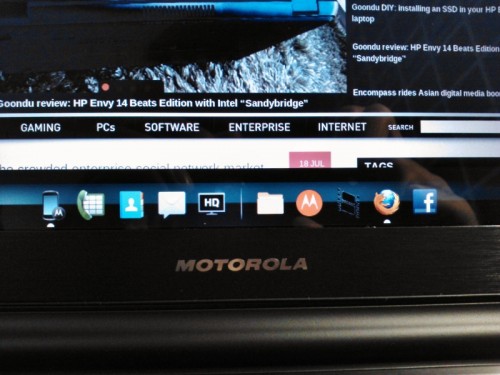 The genius idea here is how your phone integrates with the Lapdock. A window replicating your phone's screen, called MobileView, can be called up at any point in time, so you can answer calls, reply text messages and play some casual games like Angry Birds. Apps which use multitouch are out of luck, though, since you only get one mouse cursor to control elements on the screen.
Connectivity is also not a problem, since the Atrix's mobile network and WiFi connection can be shared with the Lapdock. Whenever notifications come in, such as a new SMS or email, a small notification box will appear in the top corner of the screen, a very nice touch.
Webtop also allows you to browse the filesystem of the phone, including the microSD card if you installed one. This is naturally terrific for photos and videos, especially preloaded movies on your microSD card for those exceptionally long waits or flights.
But any file you want to open will have to done with the relevant installed Android app. The Lapdock itself does not allow the installation of any native application, so if you double click on a Microsoft Word file, for example, your Atrix's QuickOffice will fire up and load the document. You'll have to read and edit it in MobileView, which you can expand to fit the screen.
The app that impressed me the most is the Entertainment Center, which is something like the Front Row you find on OS X. You can easily view all the multimedia content you have on your phone and play them though simple keyboard commands: arrow keys, Backspace and Enter/Return. A handy tool if you just want quick access to your movies.
It sure is a fantastic concept, but the laptop dock leaves a lot to be desired during actual usage. The mouse cursor, for one, is like a spoilt child that you have to drag along the trackpad. I wasted no time in sticking in a USB mouse and the experience greatly improved.
General performance of the Lapdock was also sluggish, with the most prominent app Firefox taking more than a few seconds to load. Surfing the web was an "okay" experience, and heavy sites tend to have short moments of freezes. On the upside, Flash works and I was able to watch YouTube without much trouble. Just don't touch anything while the video plays, or the whole page might freeze up.
The Lapdock's keyboard is, in a word, appalling. It's cramped, some keys are smaller than you'll be used to, and the tactile feel of the keyboard pales in comparison to a proper laptop (although they're much better than a soft keyboard, of course). If you already detest a netbook's keyboard, chances are the Atrix's will leave you in bad taste, too.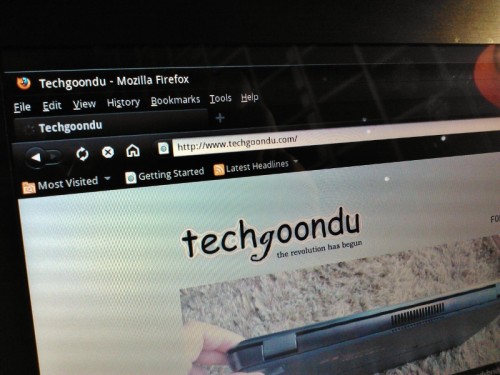 Conclusion
I can't possibly tell you straight out whether the Atrix is a good buy, because all users have different needs. As an Android phone, it is capable enough, and the dual-core chip is certainly enough for many to plunk down their cash and/or two years of their life.
Even so, I still say HTC or Samsung makes better Android phones, with noticeably better performance. Throw the Lapdock into the equation and things get more complicated. It's an enticing concept, to be sure, but as a first generation materialisation of an innovative concept, there is a lot of room for improvement, starting with Webtop's performance.
In fact, why not just boot into Chrome OS whenever the Atrix gets docked? It makes sense: Android is for phones, and Chrome OS is for netbooks. Chrome OS is in addition optimised for low-spec'd devices. Or you could just get a proper netbook – they're getting really good performance nowadays – and use the Atrix's WiFi hotspot capability.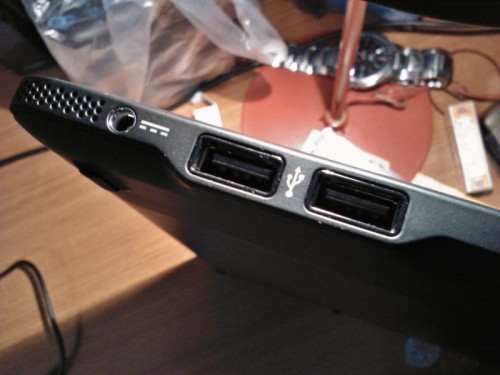 We didn't have a chance to test out the HD dock, but that could be a reason for purchase as well, if you want a very simple home theatre PC system. No messing around with cables and such; just plug in the phone and you're good to go.
All in all, we give the Atrix full marks for innovation, but just passing marks for execution. Because of some rough edges, it's not a must-buy, but we are patiently awaiting the next iteration of this concept, which will definitely be a huge improvement after spending much time in the real world.
Do you own an Atrix, or are considering getting one? Share your thoughts in the comments!