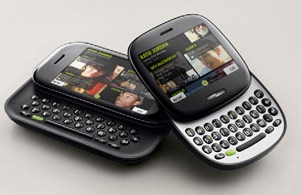 Google has done it, so why not Microsoft? Just hours ago, the software giant unveiled two self-branded phones aimed at getting the non-techy crowd on social networking services on the go.
Called Kin One and Kin Two, they look a little like a miniaturised Nokia N97 mini and a Blackberry with a slide-out keyboard. But hey, why change a proven design if rivals have made it work?
Both phones feature a Windows Phone OS that reminds one of the Zune HD interface, and will hook up to the music service seamlessly. But the OS – not Windows Phone 7 – looks like a hugely simplified affair, going by images and reports out so far.
Large icons of contacts and  their social media postings dominate the main screen, which seems a smart thing to get the non-techy crowd onboard. After all, they must first be able to see what the fuss is about Twitter or Facebook to be convinced, right?
Both phones sport handy slide-out keyboards – a pre-requisite, I believe, for winning over a group of users who are probably still toting candy-bar phones with traditional dialpads and are not familiar with a touch-screen (even though the Kins do support a touch-screen as well).
What I don't like, going by what is known about the phones now, is a lack of a native instant messaging client. It also doesn't sync with Outlook and doesn't have an app store to hook up to.
Another piece of bad news for those of you reading this in Asia: I've just been told the Kins will not make it to the region. They will only hit the shelves in the United States and Europe next month.