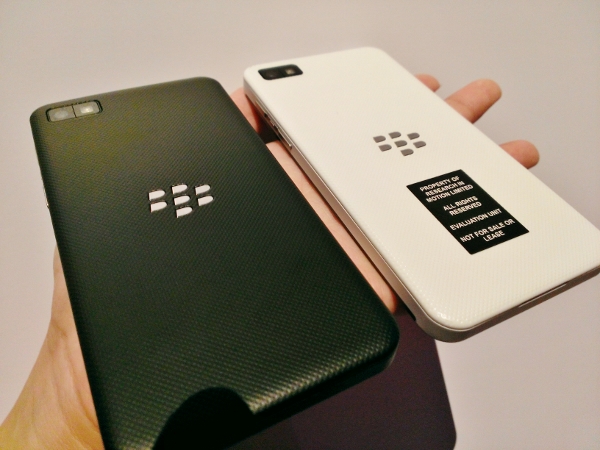 Come March 7, Research in Motion's BlackBerry's attempt to claw back market share from iOS, Android and perhaps even Windows Phone will officially begin on our tiny island, beginning with its Z10 smartphone.
Is it enough to inspire BlackBerry fans who have been waiting with baited breath to upgrade?
Hardware and design
BlackBerry phones have never lacked for great hardware and the Z10 is no different.
True to its DNA, the Z10 carries off a corporate air with an understated design that is nothing more than a rectangular slab with rounded corners.
Yet, its textured plastic backing and big front-facing glass are unmistakable.
Powered by a dual-core 1.5GHz processor with 2GB of RAM, the Z10 is no slouch in performance. I couldn't see any hint of laggardness when testing out the phone. There's even a micro SD slot to expand the built-in 16GB of storage.
Pictures and text were bright and crisp under its 4.2-inch (1,280 x 768) display. It seems to have pretty good colour, too.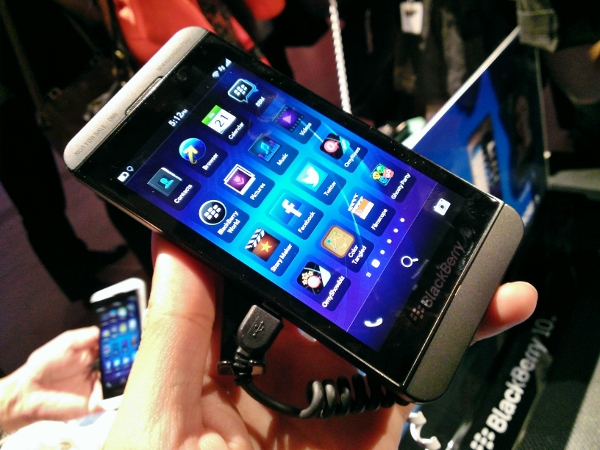 Despite its smaller screen size than most phones on the market, using the Z10 was not noticeably easier to handle due to its bezels and thickness.
But it does have a nice grip and the corners are slightly curved to be more ergonomic.
There's also an NFC chip for sharing content with other BlackBerry 10 devices, and hopefully make payments in the future.
The back cover can be peeled off and the batteries swapped should you ever need to do so. The SIM and micro SD card slots are also behind the cover, which helps the phone's exterior remain sleek.
BlackBerry 10 OS
Once the screen blinks into life, the Z10 reveals the hopes and dreams of BlackBerry: its brand new operating system, bringing a new look and new software packages.
The interface is clean and neat and quite easily figured out. There are several home screens for running apps and installed apps, and a new notifications hub all the way to the left.
The seriousness of the hardware design carries over to the software: it's not pretty, but it works.
The only difficulty users may face is the new gesture-based navigation, although that takes all of two minutes to learn.
Swipes are central to getting around on BlackBerry 10. For instance, a swipe from the bottom bezel minimises the currently running app into a multitasking screen. These so-called "Active Frames" are actually a pretty good implementation of multitasking, reminiscent of how Nokia's N9 does it. You are, however, limited to only 8 apps running at the same time.
A half-swipe up from the bottom bezel lets users peek at a summary of notifications that they missed. This peek feature can be launched from anywhere in the phone, whether you're watching a movie or reading an email. From there, continue the swipe all the way to the right to bring up the BlackBerry Hub.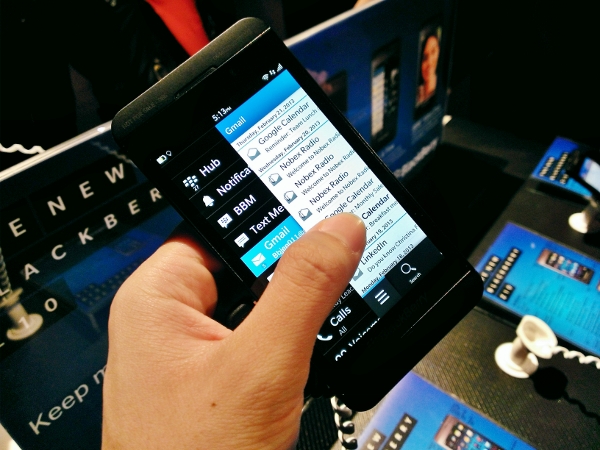 The BlackBerry Hub is essentially a notifications centre, and developers can write their apps' so that notifications show up there.
It's by far much more advanced than Windows Phone 8 in this respect, since the latter doesn't even have a notifications centre.
Of course, the one single feature that still has many hardcore BlackBerry fans drooling at the mouth is BBM, or BlackBerry Messenger.
In BB 10, BBM gains functionality beyond simple messaging. Including voice and video chat, BBM now even allows you to share your phone's screen with a contact, which I imagine will be useful for discussing things like presentation slides.
In a bid to be more consumer friendly, BlackBerry 10 finally works for the likes of you and me with a normal telco plan. Just pop in a normal SIM and you're good to go. There's no need to subscribe to special BlackBerry plan, although those will still be available.
The OS also has two separate sections for your work and personal lives, and you can organise your apps and content respectively.
Of course, you'll get productivity software such as an "intelligent calendar" and Documents To Go pre-installed on every Z10.
A new keyboard
The single feature that inspires the most loyalty in BlackBerry customers is the keyboard. The Z10 doesn't have a physical keyboard, but the company hopes its new soft keyboard will win you over.
But it probably won't.
Well, the new keyboard learns your typing habits, and predicts the next words that you may use. That's nothing new, and predictive keyboards are great at speeding up typing.
However, BlackBerry's keyboard displays its predicted words right on top of the next letter that you may type instead of an additional bar on top like most other predictive keyboards.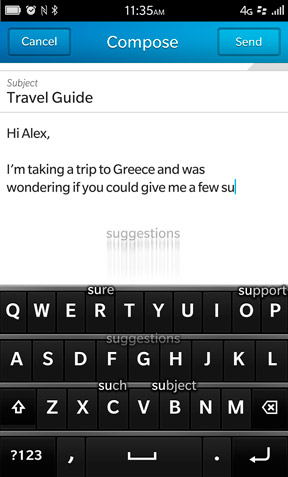 This means instead of just looking at one standard location to find predicted words, you have to look all over the keyboard. And if your word doesn't show up, you add one more letter, look around, then another letter, look around again, and another letter yet again, until the keyboard predicts the word you want.
Unless it's a particularly long word, I found it faster just to type out the word in its entirety in the first place.
That's not all. To input the predicted word, you have to swipe up from the key. This completely breaks up any typing momentum you've built up.
If you type one-handed a lot, then the new keyboard may provide some speed boost. But that still doesn't explain the strange placement of predicted text and the slow swiping gesture needed.
And if you still prefer a physical keyboard, you still have quite a wait ahead of you, as BlackBerry is mum on when we can see the Q10.
Camera
BlackBerry has quite a number of camera and photography related apps to show off with its new OS.
The Time Shift feature, for example, is great for group shots. It takes several shots at one go, and let you choose which of each person's face you want to keep so you can have a photo where everyone's eyes are open.
The Story Maker app is another fantastic one. It helps you create a slick movie out of a number of photos and videos that you choose from your albums, and the results look great.
It's just too bad that the camera itself isn't very good.
On paper, this camera sounds like any other camera phone in the market. An 8-megapixel autofocus sensor, back-side illumination for better low-light performance, and full HD video recording.
But its performance is very disappointing. Pictures do say a thousand words, so check out the following comparison test conducted by Crackberry:
It pales noticeably in comparison with other camera phones. The shots are good enough for Facebook and not much else. Hopefully the camera can be improved with firmware updates, but I'm not holding my breath.
Apps
BlackBerry has pulled off quite a coup with its apps line-up, and now has more than 70,000 apps in the "BlackBerry World". Besides your staples such as Facebook and Twitter, there are also quite a number of local apps that are not even available on Windows Phone yet.
Feeling curious, I talked to a few local developers and they all agreed that BlackBerry had provided great support at helping them get their apps to market, sometimes even attaching a BlackBerry rep to their companies full time to help push things along.
Of course, the fact that BB 10 supports the Android runtime means apps can easily be ported over. I wouldn't be surprised if the number of quality apps in BlackBerry's App World surpasses Windows Phone's shortly.
Wrap-up
The Z10 is a good device, that much is for sure. It has solid hardware, and a new OS that breathes new life into the company.
On the one hand, I can see myself using the OS. It's functional, and has a pleasant user experience that makes sense once you figure it out.
On the other hand, I can't think of any reason why anyone would want to use one.
Aside from the new OS and interface, there really isn't much else you can do on BB 10 that you can't already do on your existing smartphone.
That's the biggest challenge for Blackberry: just being good is not enough. If it wants to stage a successful comeback, it has to find a way to create features that surpass the competition. And the Q10's delay really isn't helping.