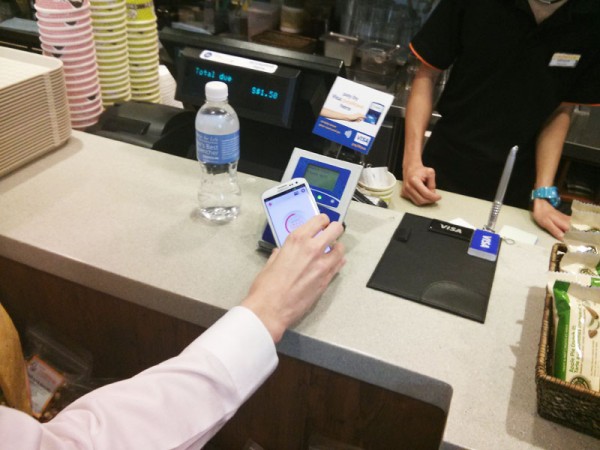 Visa card holders in Singapore will soon be able to pay for their groceries, petrol and a host of other items by simply flashing and tapping a compatible smartphone at the cashier, the payment company revealed on Thursday.
Though it stopped short of confirming when this will be rolled out here, it said it was bringing its mobile payWave service, now available in countries such as Australia, to Singapore at a yet undetermined date.
At a demo for media here, company executives showed how a Samsung Android phone from Vodafone Australia could be used right here in Singapore to buy a cuppa at a cafe. 
This cross-border feature will greatly help the takeup of such new payment methods, said Ooi Huey Tyng, Visa's country manager for Singapore and Brunei, at a media briefing.
Consumers are also getting used to this new tap-and-pay system, she noted, as there are now a million Visa cards in Singapore that support this new payment method at 11,000 places.
Come 2013, there will be two million such cards, paving the way for the use of not just more contactless credit cards but also smartphones that transact using account information stored on them, she said.
Singapore has for years been trying to emulate the success of other countries when it comes to contactless payment.
Despite government-funded trials since the early 2000s, it has only now started to take small steps, compared to Hong Kong, where the Octopus Card is widely used for train rides and other items and Japan, where an osaifu keitai (or wallet phone) can be used to pay for anything from instant noodles to train tickets.
In Singapore, a group of companies finally rolled out commercial smartphone payment services last year, though several issues persisted.
For starters, users have to own either a supporting Samsung or Sony smartphone. They then have to apply for a compatible SIM card for security reasons. After that, there are several apps – from the likes of transit payment operator EZ-Link or banks such as DBS – to download to pay for different items.
Asked about this, Visa's executives believed the variety of choices out there did not confuse users, but offered them a choice instead. Ooi said consumers now have about six cards on average and they are very savvy when it comes to choosing a payment option.
She argued that the market has reached a tipping point in terms of contactless payment, with Visa payWave transaction volumes in Singapore increasing 148 per cent from 2011 to 2012. Consumers are more aware than before of the convenience of the new technology, she added.