M1 users could hardly be "walking on sunshine" this morning when they fired up their cellphones and found themselves locked out of voice calls and SMSes because of yet another service disruption that lasted about five hours.
From about 7am this morning, many of the telecom operator's users said they could not access the basic mobile services. Some could, however, go online with mobile Internet links that provided alternatives such as Skype to make calls or WhatsApp to send messages.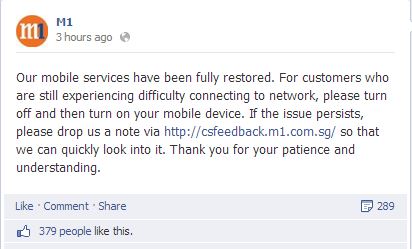 By about 1pm today, M1 said on its Facebook page that things were back to normal, but did not offer any explanation on why the latest disruption occurred. It is likely to face even more unhappy customers, and may have some explaining to do to the government regulator. [see update below]
Singapore's smallest operator had just been fined a record S$1.5 million by the Infocomm Development Authority (IDA) in October last year, for an outage that lasted almost three days in January 2013.
It also fared the worst in a survey of mobile phone coverage carried out by the IDA in the second and third quarters of 2013. For failing to offer enough coverage in outdoor places, it was fined another S$25,000, while its two rivals SingTel and StarHub passed all the tests.
Will M1 improve its services going forward?
While the IDA can only keep meting out heavy fines to repeat offenders, the ultimate punishment that the "orange" operator will get is frustrated customers switching to its "red" and "green" rivals.
Are you "walking on sunshine", "feeling good", as M1's familiar commercials suggest, this morning? Share with us your experience if you're an M1 user.
UPDATE:  M1 has now said that full service was restored at 12.15pm. Apologising for the problem, it explained that the issue was possibly down to its call processing software that unexpectedly prevented customers' devices from registering on the mobile network. It is offering customers free local mobile calls, local SMS and MMS this Sunday as a "goodwill gesture". More details on M1's website.