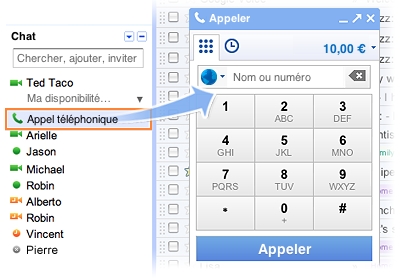 For a long time now we've been envious of our American friends, who could make calls to mobile phones and landlines from their Gmail account. We can now enjoy that as well, as Google brings that feature to 150 countries in 35 languages, along with the obligatory cute video explaining the service.
To make a call, simply select the little green phone icon in the chat module right within Gmail. If you can't see that icon, be patient as Google rolls out the feature over the coming days. For Google Apps users, check with your administrator and see if they have enabled Google Voice and Google Checkout in the administrator control panel.
Calling a local number in Gmail yields several advantages over a competing product such as Skype. For one, Google will only charge you US$0.02 per minute for both landlines and mobile phones, while Skype charges a teeny bit more at US$0.023 per minute. Also, you won't have to install any software on your computer to use Google's service.
Currently, Google allows the buying of credit in four currencies: US dollars, Canadian dollars, British pounds, and euros. You must have credits to make a call, making this feature a potential money spinner for Google.
But as the world moves towards faster mobile data transfer speeds, it becomes possible to transmit more data over IP (a topic that was recently covered at the UNWIRED conference), so we have to wonder if buying credits to call landlines and mobile phones is something that will last.
After all, I can use make a Skype-to-Skype call on an iPhone/Android phone and not pay a single cent, except to my telco. How will these services profit once everything is transmitted over IP? Until that day rolls around, hit this page to see how much it costs to call within Gmail.