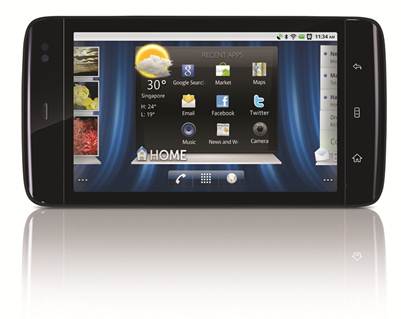 The Android tablet wave is coming on strong for the holiday season, with the latest entry here – Dell's well-praised Streak – joining a growing crowd of iPad alternatives in Singapore in the next fortnight.
Months after it first wowed consumers in the United States and Europe, the 5-incher will hit the stores here on December 11, 2010, with Android 2.2 pre-installed, according to the PC maker at a launch today. That means all the latest goodies on the Google platform are there when you unbox it. 
For a yet undisclosed period, StarHub will sell the tablet/smartphone exclusively for S$398 if you sign up for a S$38-a-month data plan that comes with 100 minutes of voice calls and 12GB of mobile broadband data. Sign up for a S$98-a-month plan and you get the Streak for free.
3G SmartSurf 100
3G SmartSurf 300
3G SmartSurf 700
3G SmartSurf Unlimited
Monthly fee (with GST)
$38
$58
$98
$205
Voice credit (mins)
100
300
700
2000
SMS/MMS credit
500
500
500
2000
Data credit (GB)
12
12
12
Unlimited
Dell Streak pricing
$398
$238
$0
$0
Free Entertainment Starter Pack:

1. Free viewing of all StarHub TV channels (till 31 March 2011)

2. Free 8 music downloads

[UPDATE: We were originally told there would be three free game downloads with the new phone, but StarHub has since updated us that there would not be any.]
We're quite sure the Streak will be sold without a plan or by M1 and SingTel after this exclusive period is over. I don't believe StarHub committed such big numbers of the Streak that it has an indefinite exclusive sales period.
What is my impressions of the Streak? It's excellent, especially in its industrial design. Built solidly, the device sports a durable Gorilla glass panel at the front that makes the screen appear flush to the width of the device. Neat.
That's not to mention its responsiveness. There is no perceivable lag here, even though Dell has thrown in resource-hungry HTC Sense-like widgets on the home screens. You get a stream of Facebook feeds, as well as weather on the home screen – pretty normal stuff nowadays – but on the Streak's 1GHz Qualcomm Snapdragon chip, the device doesn't feel laggy at all even when so many things are running in the background.
I say "device" because you can either call the Streak a phone (it has a 5-inch screen that is just marginally bigger than the HTC Desire HD's 4.3-incher) or a tablet (it is bigger than most phones out there and feels like a longish tablet).
There's nothing wrong with this sleek number, as I said when I first got my hands-on the device a few months ago at the IFA show in Berlin. Today, I tried out the 5-megapixel camera and realised how much more detailed and natural the images were compared to those taken by the inferior camera on the Samsung Galaxy Tab.
But one thing that is sure to split opinion is the Streak's size. If you think the glass is half-full, you'd say the Streak fits in nicely between a 7-inch tablet like the Galaxy Tab and a smartphone like HTC's Desire HD; if you think the glass is half empty, you'd ask why buy a Streak when you are not getting a lot more from it than a regular smartphone.
I'd expect the Streak to do moderately well, like any other well-built Android smartphone, but I'm not sure it would light up the sales charts for StarHub, as the Galaxy Tab has for SingTel.
You just think that the pent-up demand for iPad alternatives has been relieved somewhat by the Galaxy Tab in the past few weeks and the Streak has come to the party just a little past happy hour.