Does Singapore really need yet another consumer electronics show, besides the quarterly four — IT Show (March at Suntec), PC Show (June at Suntec), Comex (September at Suntec) and Sitex (November at Expo) — that we already have here?
Apparently yes, especially if there's money to be made off tech-crazy Singaporeans.
It's not a gaming-themed show like last year's Licence2Play, but the Singapore Great Electronics Sale 2010 this weekend at Suntec city (9th to 11th April) was supposed to be about 3D-TVs. Even though it is not, it drew in 30,000 people on the first day.
The event, which took up one convention hall on the 6th floor at Suntec, turned out to be a pretty meh experience for me.
Besides a few tech vendors like Samsung, LG, Panasonic and AudioHouse, the event was full of non-tech booths. DBS credit cards, crystal fengshui stuff and spa massages were some of the booths I spotted in my quick tour around the hall. It was an eclectic mess.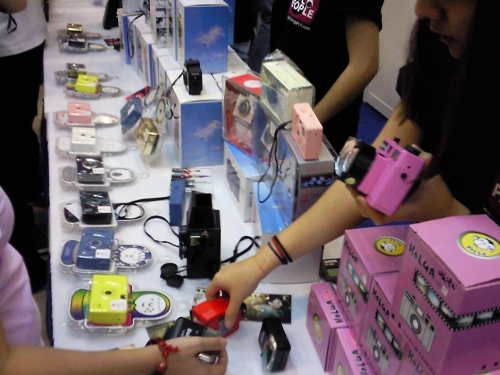 One of the more interesting booths I spotted was by Joco People, a niche shop selling toy cameras from Japan. The cameras cost around S$49 per camera for those displayed in the picture. Joco People's website doesn't sem to be up yet, but they seem to operate more via Facebook, and you can find more about them on their FB page.
Another interesting booth was selling powerballs, which was advertised as the world's strongest sport gyroscope. It literally "explodes with mind numbing inertial forces" and can be used for strength training and rehabilitation of injuries for the wrist and arm, according to the official Powerball website. From athletes to musicians, the powerball can be used for "sports, hobbies or pastimes", and can generate up to 40 pounds of resistance.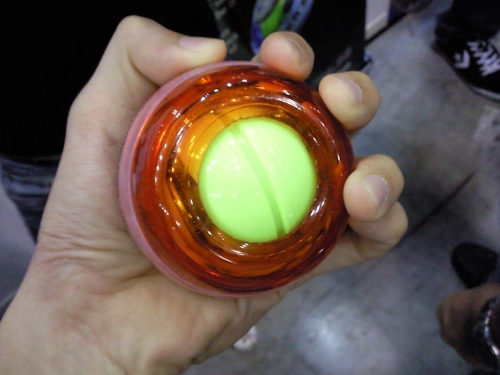 I tried it. You're supposed to rotate your wrist whilst the Powerball's gyroscope is spinning (which I was trying to do in the photo above, although that might not be clear), which creates resistance and tones your arm.
It's a cute toy, but I doubt it will be part of my gym or sport regiment soon. And it ain't cheap either. The 250Hz Classic in my hand cost S$39.90. There were a lot of folks gawking and trying out the powerball for its niche novelty, but I wonder how many folks actually bought the toy/training device. If you're interested, the Singapore powerball website is here.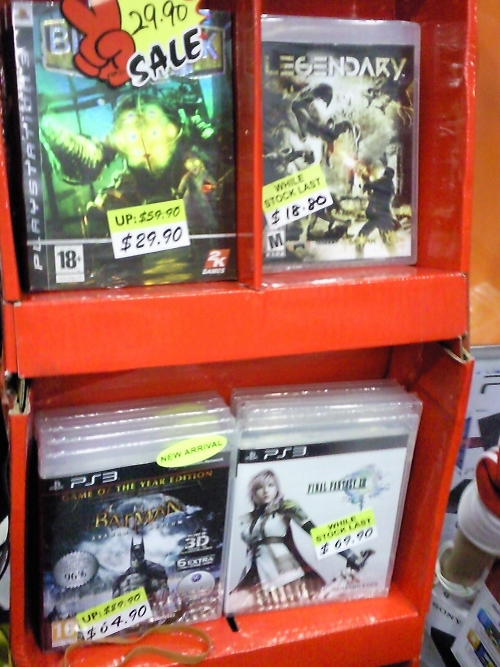 After some wandering, I finally spotted something I could wholeheartedly indulge in: A PC, PS3, Wii and Xbox games booth. The prices are slightly cheaper than the usual Funan prices, and that is PS3 Bioshock at S$29.90 and FF XIII (English) for S$69.90. As a PC gamer, I spotted the PC Mass Effect 2 going for S$49.90. Not a bad deal.
In summary, I would say that this Great Electronics Sale, compared to the IT Show that was just over in March, is a little underwhelming in terms of choice and range of IT products. If you went there for a dedicated gadget-hunting trip, it's probably not worth it. But if you were in the vicinity and popped by (like I did), it might be fun for all the random weird stuff.