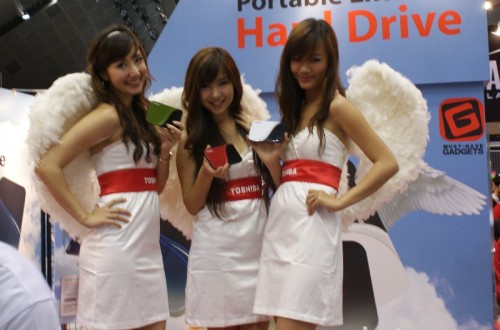 You can actually walk through the halls without squeezing past sweaty people – well, in most parts – at this year's Comex show at Suntec City.
At nearby Raffles City, there was even ample parking – many empty lots – at about 6pm on Friday when I visited this year's third quarterly computer and electronics bazaar.
So, what are the good deals that Techgoondu recommends you check out? I'd say the usual stuff were in store – large-screen TVs and portable hard disks – but there were one of two surprises, like Audio Technica's headphones.
Deals to check out at Comex 2009:
1. Philips 42PFL7482 LCD TV

Despite the lelong and shouting at nearby booths, this little gem of a 42-inch Full HD LCD TV caught my eye at a quiet Audio House corner booth.
Claiming to be the "cheapest in Comex", this 1080p screen goes for only S$899 – a steal in my opinion. Just a few steps away, the "hourly specials" dealers were asking for S$749 for an old LG 42-inch plasma that is only HD-ready.
I expect even fiercer pricing among the dealers – which also include Mega Discount Store, Harvey Norman and other electronics retailers – as the weekend wears on. So, if you are hunting for a flat-screen TV at home, Comex is the place.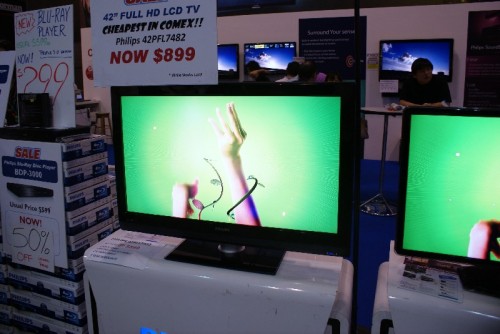 2. Audio Technica QuietPoint ATH-ANC7b
These headphones offer the best bang for buck for folks who want noise-cancelling ear muffs on the plane. The one on sale at Comex – the S$318 ATH-ANC7b – is an updated version of the ATH-ANC7, which I tested in Digital Life last year and really loved.
What's the good deal at Comex? The headphones come with a free Sansui iPod docking station – with mini speakers. I'm not a fan of most docking stations, to be honest. But this is free, and you're already getting a good deal out on the headphones.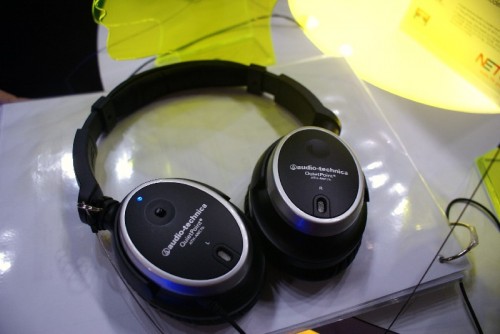 3. Toshiba NB200 – A101S netbook
This is one of the cheapest netbooks I found at the show – Toshiba's Atom N280-based machine going for just S$629. Nothing fancy here: it comes with standard Windows XP Home Edition, 1GB of RAM and 160GB of hard disk space.
However, the 10.1-incher weighs just 1.18kg and has an excellent keyboard (how did they fit in the spaces between the keys?) Most important of all, this machine is really cheap for a second portable to bring on the road.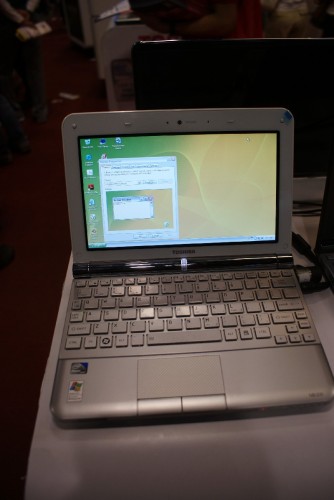 4.Western Digital WD TV Mini Media Player
This really drew the crowds to a booth on the 6th floor at Suntec. The little player basically lets you hook up any USB hard disk and play back music and movies onto your TV or AV system at home. It even does MOV and Real Media (RM and RMVB) movie files and supports subtitles (in the popular SRT and other formats).
Again, the main attraction is the price – S$119.90 – which is cheaper than Seagate's Free Agent Theater that supports only its own portable hard disks. If you buy the WD TV Mini, you can also opt to bundle a 2.5-inch 320GB WD Elements hard drive for an additional S$80 (usual price S$89.90). Good deal.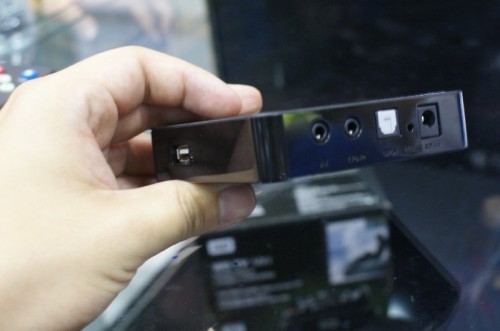 5. MSI GT628 gaming notebook
Okay, not everyone can afford a S$4,000 Alienware notebook. The next option is MSI's GT series notebooks for gamers. Thankfully, MSI has done away with some of the really ugly bling we saw on Toshiba's Qosmio multimedia notebooks, and kept the style understated.
The 15-inch GT628 comes with enough horsepower for many games today – an Intel quad-core Q9000, Nvidia's GeForce GTS 160M graphics card, 4GB of DDR3 RAM and 500GB hard disk storage space – for S$2,888. Decent price for decent hardware.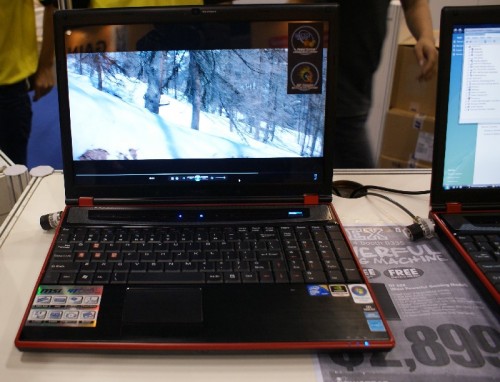 Other happenings:
1. The Xbox trade-in is still ongoing, despite a sign at the booth that says only the first 100 trade-ins will get a good deal. Just ask the staff at the Microsoft booth.
2. D-Link's DIR-825 – the budget-based, more practical version of the DIR-855 – is going for S$229. Without an OLED screen and with one less antenna, the much-awaited dual-band Wirelss N router is cheaper than the top dog DIR-855, which goes for S$299.
[nggallery id=12]