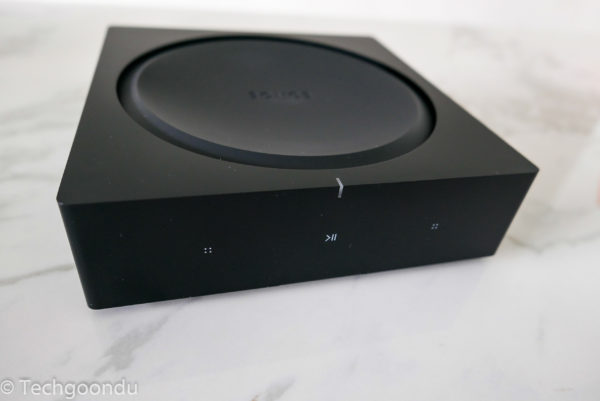 Folks who lament that "lifestyle" hi-fi setups have become more form over substance will be happy to listen to the Sonos Amp, a decent amplifier that comes with connected features that will make new converts of this quest for better sound.
It's from a company that has delivered more-than-decent performance with its TV soundbars, but it's still a nice surprise to hear how well this stereo amplifier works with music.
This has been a niche in the market that hasn't been fulfilled. The Amp comes with all the connected features you'd expect from Sonos, such as streaming services like Tidal and Spotify, as well as enough juice to power your own speakers thanks to energy-efficient Class D amplifiers.
You get a decent 125 watts per channel (at 8 ohms), which is powerful enough to fire up a pair of bookshelf speakers and even some floorstanders, if you're not picky.
As a user of Class D amplifiers over the years, I'm not surprised at how efficient the delivery is in the Sonos Amp. The fact that this is housed in a neat, black chassis will also help attract buyers who want a hi-fi setup that blends well with the decor.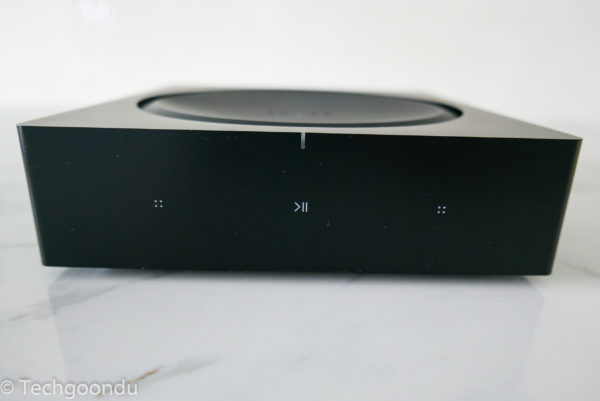 Also appealing is the touch-sensitive front panel. It is not something you'd use much, seeing how handy the mobile app is, but it's still a nice touch that sets Sonos apart from many traditional hi-fi equipment makers, which often still stick with physical knobs and switches.
Fortunately, the looks don't overshadow some of the nice touches that announce the Sonos Amp's serious credentials for decent sound. The speaker connectors, for example, are solid and fuss-free at the same time, letting you connect your speaker cables easily without turning to banana plugs if you don't have them.
When it comes to inputs, you can expect the usual modern connections. Like other soundbars, there is an ARC (audio return channel) port that you link to your TV via an HDMI cable to play the audio from your Netflix or other programmes.
But for music, you'd mostly be using the built-in streaming services, such as Tidal or Spotify. They are easy to set up – you just need to authorise the Sonos Amp to access your accounts – though you'd need to sign up for a separate Sonos account.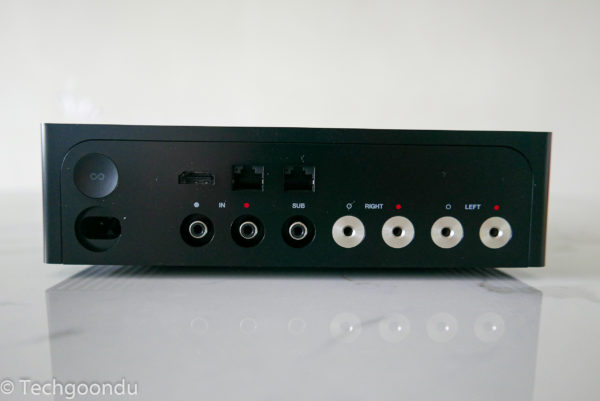 Perhaps most important is the sound quality that the amplifier can put out. With a modest pair of Definitive Technology satellite speakers from a ProCinema 600 setup, there is a surprisingly detailed presentation of, say, a Diana Krall jazz vocal track streamed over Tidal.
I'm also impressed with the extension and range that the speakers are capable of – they are driven by a humble AV amplifier usually – that show in jazz pieces from Thelonious Monk and John Coltrane, for example.
Interestingly, there is no lack of weightiness or speed in the beat, from an electronic piece from Modeselektor to a John Mayer track, Still Feel Like Your Man.
Most surprising to me was the open presentation. There isn't the boxed-in feel that many soundbars give you, or the compression that some under-powered amps can produce. Instead, there is a wide soundstage where you can pinpoint each sound source, say, the percussion, the vocals or the strings.
Of course, more complex pieces, like live orchestra performances, may sound a little less impressive, because the instruments may not be as distinctly separate. You need a bit more refinement and certainly, better speakers too, for that.
However, if genres like jazz vocals, pop or rock are your thing, the Sonos Amp has ample drive and definition for such popular sources of music. It's certainly a good companion with most entry- to mid-end speakers.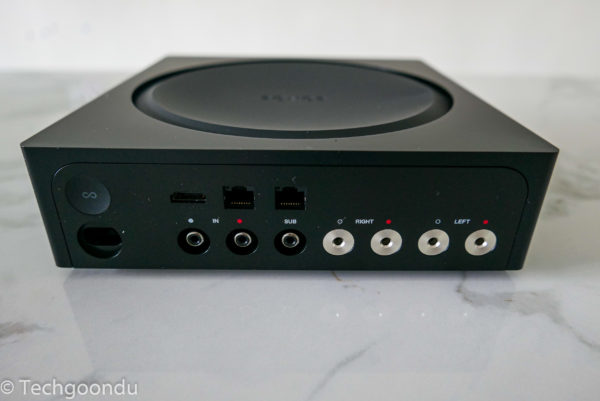 Out of curiosity, I connected the Sonos Amp to my B&W 805S bookshelves. I have to say it performed decently, though not with the headroom, detail and refinement that a pair of more powerful Belcanto Class D amplifiers can offer. Those cost a few times of the Sonos Amp, to be fair.
Liker other Class D amps I've heard, the Sonos Amp also lacks a little bit of the depth that gives a musical image its 3D realism. Things sound great like a virtual stage in front of you, but that added realism of depth often comes through better from a Class AB amplifier or with the addition of a tube pre-amplifier, for example.
Okay, that's nitpicking. Plus, audiophiles who fiddle with separate components are not the audience that the Sonos Amp is gunning for, certainly not for a start.
For folks looking for sound that's a step up from sound bars and other powered speakers, this new amplifier is a good first building block. Did I mention it supports a subwoofer too, if you want more oomph in the bass?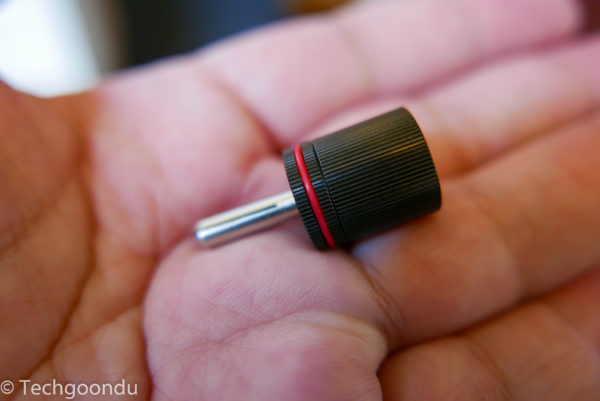 Certainly, what it offers is a class above many small amplifiers already in the market, with additional features such as Google Assistant and Amazon Alexa support. So, yes, you can tell the amplifier to play certain songs, without even using your app.
At S$1,099, the Sonos Amp isn't that cheap. But you can add a wide variety of great speakers – I'd recommend satellites or bookshelves – to it and have a much better hi-fi setup than that thin-sounding soundbar that came free with the TV.
You don't need the rest of the chain in a hi-fi setup, such as a streamer or a digital-to-analog converter (DAC), so this is something attractive for small apartments in Singapore.