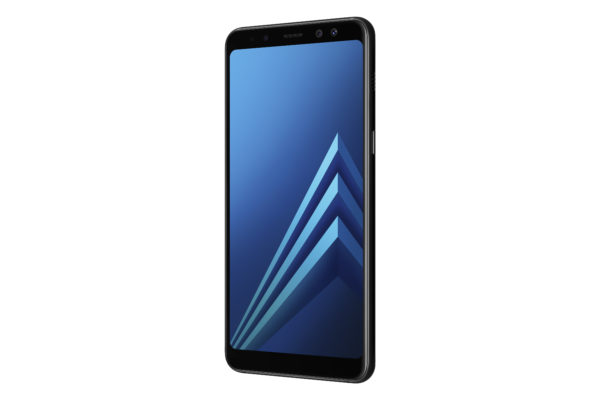 Samsung's latest mid-tier phones, the Galaxy A8 (2018) and A8+ (2018), were launched in Singapore yesterday, as the Korean electronics giant showed off features found on more expensive premium flagship phones such as the Galaxy S8 or Note 8.
The smaller Galaxy A8 smartphone is rated IP68 for dust and water resistance, and has a 18.5:9 Super AMOLED 5.6-inch FHD+ screen with a resolution of 1,080 x 2,220. It also sports the thin bezels look that Samsung fans love.
I would certainly prefer Quad HD resolution on a 5-inch screen to keep things razor sharp. At this market segment, however, the Galaxy A8's screen may seem competitive enough.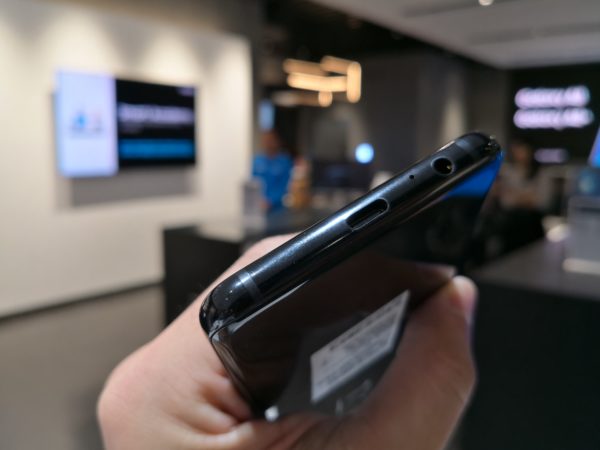 The A8 also retains the 3.5mm headphone jack, which is another huge plus for those who are not willing to part with their expensive wired earphones.
Having an Exynos 7885 octa-core processor, 3,000mAh battery, 4GB of RAM with 32GB of storage memory will ensure that the phone ticks all the right boxes expected from a mid-tier phone.
What I love about the new iteration is the presence of a standalone microSD card slot. For a while now, we have had a single slot that can only act as a SIM card or microSD card slot but not both at the same time. With the Galaxy A8, you don't have that worry.
Now, if you're travelling with the phone and pop in a second local SIM card as well as a memory card slot. So, you bring your songs along but also stay connected cheaply.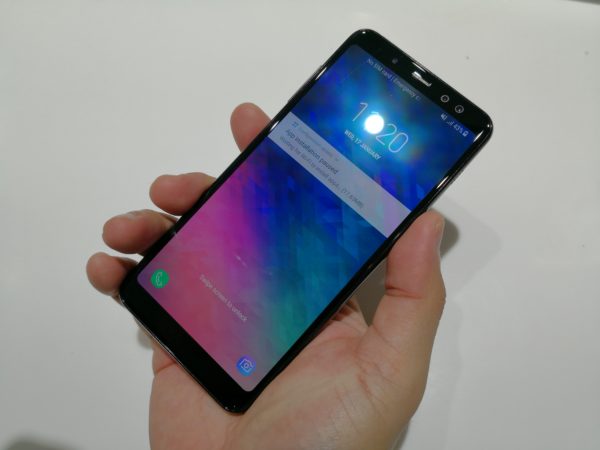 Of course, having so many things on the phone means something has to give. The Galaxy A8, at 8.4mm, is thicker than Galaxy S8 (8.1mm) but surprisingly thinner than Galaxy Note 8 (8.6mm).
During day-to-day usage, the difference is so minute it may barely register. I'd argue that being a little thicker means it feels more assured when holding it.
I'd rather have a slightly thicker phone that comes with a microSD card slot, then go for a slimmer one with a curved screen. For me, this makes the Galaxy A8 stands out from the competition.
Another handy feature Samsung has included on the Galaxy A8 is its front-facing camera with two sensors using two different focal lengths. For video calls and selfies, this might appeal to users a lot.
The main sensor is a 16-megapixel one using a lens covering a 76-degree field of view, while the secondary 8-megapixel sensor takes an even wider picture at 85 degrees. 
Having a second sensor to capture a wider angle will certainly provide a much faster and better user experience than being forced to take multiple shots and stitch them together in the past.
Both sensors on the Galaxy A8 now come with f1.9 maximum aperture lens, which is perfect for Selfies and Wefies in most lighting conditions.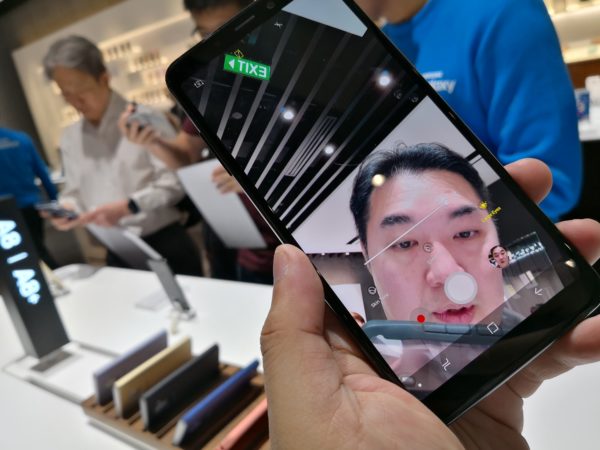 The selfie camera also come with beautification settings to smoothen your skin, sharpen your features or make your eyes larger, no doubt a feature that some users would love to have.
It can blur out, or bokeh, the background too using the Live Focus function for a more eye-catching portrait during or after a shot.
If you are fond of taking videos in high resolution, the Galaxy A8 may not tick the right box for you. The maximum video resolution is at Full HD resolution at 30 frames per second, unfortunately.
To be fair, that is more than enough for sharing online and the lower resolution allows the video to be less shaky, using the stabilisation feature on board. So, this is a question of what types of videos you usually shoot.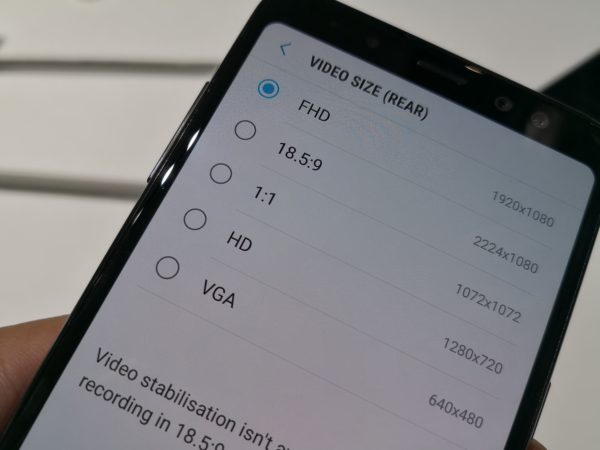 Unfortunately, the main Galaxy A8 camera is a single-sensor setup. There is a 16-megapixel sensor matched with a lens with f1.7 aperture, but you wonder if it will suffer in terms of image quality compared to other phones with dedicated sensors, say, for wide-angle shots.
There's reason to be optimistic, to be fair. The Google Pixel 2 XL, for example, has shown that a single-lens camera's image quality can be great. I will be very interested to test the new Samsung phone's camera capabilities when I get more time to try it out.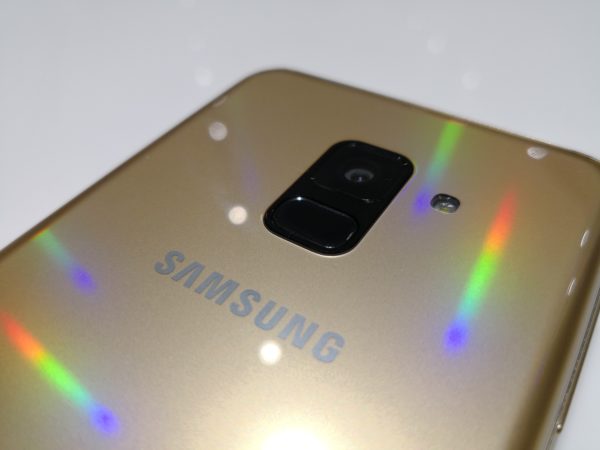 To unlock the phone, the Galaxy A8's fingerprint scanner is now thankfully located below the camera and will prevent accidental smears of the camera lens in an attempt to scan the finger.
The Galaxy A8 also provides facial scanning as the alternative access method, again another feature that used to be found on premium phones.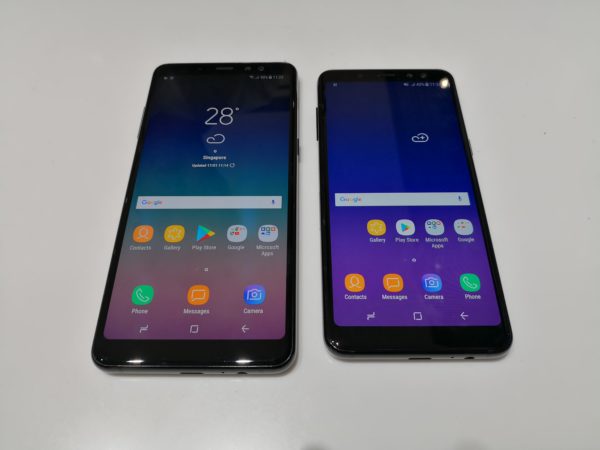 If you feel the Galaxy A8 isn't big enough, there's also the Galaxy A8+, which sports a larger 6-inch screen with hardware that's souped up even further. 
There's more memory (6GB), a larger battery (3,500mAh) and more storage space (64GB). However, for that, you'll have to pay S$798, which is in the territory of flagship phone prices.
The A8 will go for S$648, which is still a bit high for a mid-tier phone. Don't forget that flagship rivals such as the Galaxy S8, out early last year, and Huawei's more recent Mate 10, can be hard for just S$100 to S$200 more.
Both Samsung phones will be out in Singapore from January 27, in time for Chinese New Year. They come in gold and black.