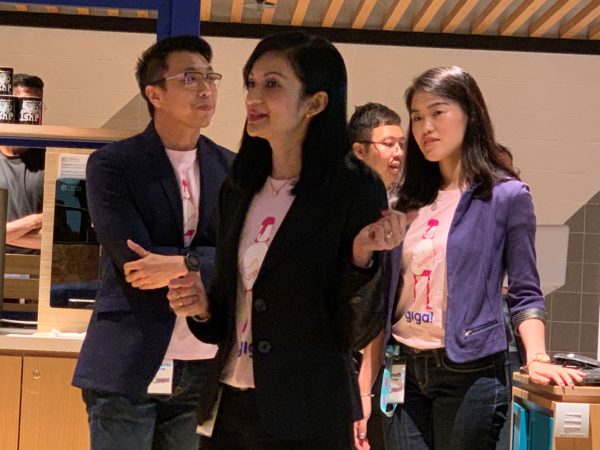 Giga, another SIM-only mobile service, has been launched in Singapore. A sub-brand of StarHub, it offers S$25 for 25GB of data, with 1,000 minutes of talktime and 1,000 SMSes.
It plans also comes with free incoming calls. Unused data can be rolled over for up to two months.
The no-contract service is targeted at millennials who travel, play video games and access data any time and from any where.
All transactions are done via a mobile app. Roaming, including free SMSes, is available for S$5 for 1GB. Valid for five days, this can be used in 14 countries, including Japan, Korea, Australia, Malaysia and Philippines.
"Giga is also the first to offer digital verification within the app to make it convenient for our users," said Aletheia Y P, head of Giga, at the launch today.
With Giga, there are now about seven SIM-only mobile services which call themselves mobile virtual network operators (MVNOs). These virtual operators own no mobile infrastructure, instead buying its services from a traditional telecom operator. In the case of Giga, it rides on StarHub's network.
In recent weeks, Singtel and M1 both came up with their own sub brands to jump into the virtual operator race. In the past few years, the market has became increasingly competitive, partly with the awarding of a fourth telco license in 2016.
Circles.Life became the first virtual operator in recent years to challenge the status quo here when it launched its service in June 2016 by using M1's mobile network. In February this year, it said it had captured five per cent of the market in Singapore.
Other virtual operators include MyRepublic, VivoBee, Gomo and RedOne. All these virtual operators have no contract plans and SIM-only services. RedOne, which had a soft launch in mid-May, claims to be the first virtual operator in Asean and currently has over a million users.
Giga was developed in six months using agile development, said Aletheia. The initial team of four huddled and brainstormed, reiterating the idea and app several times, she said. It formed a group of "super users" for feedback and advice.
"We reiterated many times. The version you see today is Version 7. Our superusers gave us feedback which allowed us to improve the features and the design of the app," said Aletheia.
Since it is a fully digital service, customer service is, well, digital. Customers don't get a chance to talk to a customer service executive. Instead, customer support is provided through messaging apps like WhatsApp, Facebook and SMS. Or they can pose questions to Gino, a chatbot.
As an artificial intelligence (AI) application, Gino promises to automatically understand the text messages posed by customers and respond accordingly. To do that, Gino will have to understand the context of the messages text by studying previous examples of chats.
Aletheia said that Gino is being "trained" at the moment with help from the superusers who have sent in about 30 questions. For accuracy, chatbots usually need to learn from larger data sets, usually numbering thousands or more.