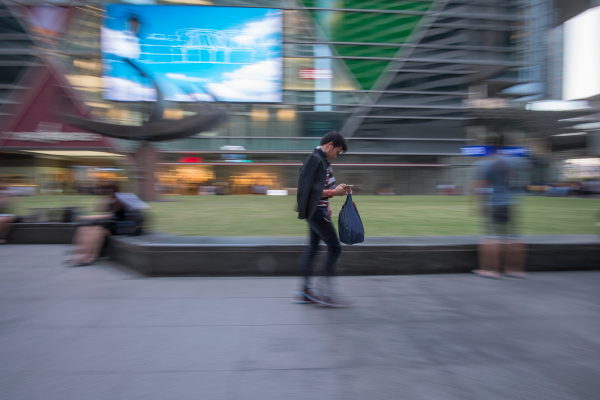 Usually, it's not a time to worry or complain if prices come down for mobile phone plans, like what's happening now in the latest round of competition in Singapore.
Where's the bad news when you hear that StarHub had come up with an independent virtual operator called Giga this week to challenge rivals with a 25GB plan for just S$25 a month?
And that's after M1 had just overhauled its own plans with a 30GB offer for S$25 a month in the same week. Plus, Singtel too has come up with its own sub-brand, Gomo, targeted at folks who travel with generous roaming data features.
The difference this time, after more than three years of intense competition, is that the Big Three telecom operators that run their own networks here are jumping in with plans that match virtual operators such as Circles.Life, which first threw in generous data bundles back in 2016.
In other words, they are going beyond just cheap roaming deals, unlimited data plans or even temporarily free add-on data packs. The basic plan now comes with just about all the data you can use and all the minutes (up to 1,000 now) that you can spend talking on the phone.
How can this be a bad deal? Well, the tough competition which has seen all the telcos here suffer – Singtel is expecting its lowest profit in 16 years – has been good to consumers.
And we've not even seen the plans for the fourth telco – TGP Telecom – which owns its own network, unlike virtual operators. Despite running a free trial for users since late last year, it has not shown its hand yet. It won't have things easy, though.
For consumers, the worry now is the unintended effect of extreme competition – a decline in network quality and customer service over time, as telcos struggle to cope.
Cast your mind back to around 2004 and you will remember the last time telcos slashed prices and threw in data bundles that were close to an all-you-can-eat offer.
This was after the introduction of mobile number portability, which meant users could retain their phone numbers after switching telcos. Plus, the Apple iPhone would soon be gaining traction and there was a mad rush among telcos to lock in users with contracts.
That didn't end well. Telcos found that their 3G networks back then couldn't cope with the flood of data that suddenly came through. With a freedom to download anything they liked, users clogged up the networks at a rate the telcos hadn't planned for.
The result? Webpages took a long time to load, YouTube videos stuttered and the experience was generally sub-par. What was the point of all that free data if you could not use it properly, many users would ask.
It took the telcos years of upgrades, including new 4G networks, to catch up with the more demanding usage patterns. WhatsApp, Gmail and YouTube would be things they had to properly cater for.
Which brings us to today. You would hope that telcos splashing out generous data bundle deals today, in a bid to stay competitive, are doing so without compromising network quality or customer service.
Things have improved since the bad old 3G days, of course. Today, networks are easier to manage to cater to new apps, plus smart tools allow telcos to ensure that their networks don't get clogged so easily.
Still, the worry is not an unfounded one. Many of today's plans come with no contract, so you can switch, but is that what you want to do on a regular basis? Worse, what if all the telcos suffer from network issues – as happened in the past – and there were no good alternatives?
Perhaps this is a good time for more scrutiny from the authorities. The Infocomm Media Development Authority (IMDA) regularly publishes results of how well the Big Three telcos perform in terms of 3G and 4G coverage.
Perhaps it is time to expand this beyond coverage to performance as well. This means measuring things like download speeds or latency, which directly affect the experience of a user on the go. This is similar to what the regulator does with fibre broadband plans.
It may also be useful to expand the tests beyond Singtel, StarHub and M1 to include virtual operators. After all, the smaller players have some control of the network, despite leasing it from the network owners.
These results would make it transparent to consumers which telcos are offering a good experience, while competing hard on price. More importantly, it is a way to hold them to account.
Ultimately, consumers still have to be wise to the effects of competition. Usually, it brings better deals. If things get too tough, though, quality sometimes suffers. Some players may even drop out, bringing things back to square one.
And beyond price, there are some intangibles to consider as well, such as customer service. Will speaking to a chatbot, instead of a human, be something that you're prepared to do?