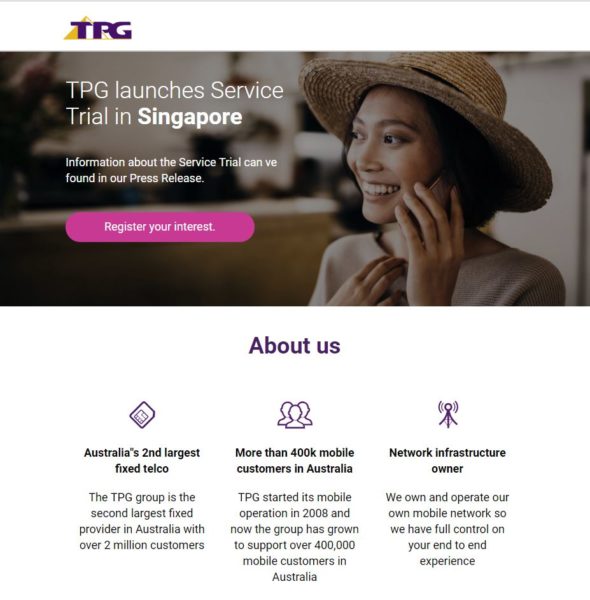 Just days before a deadline to blanket Singapore's outdoor areas with mobile signals, TPG Telecom seems to have finally come up with some details of its services.
Last week, the fourth telecom operator here revealed that it would be giving free mobile services for a year to the first 20,000 people to register with it, reported The Straits Times.
Since it won a costly bid in 2016 to enter the market, it had kept all but silent about how it would challenge the incumbent Big Three telcos as well as smaller virtual operators such as Circles.Life and MyRepublic.
TPG's new offer last week is a broadening of a free deal it had promised back in March, when it said seniors above 65 would get free perks once its services were launched at the end of this year.
We are now in the last days of 2018, and the only sign of things stirring is the trial offer revealed last week. Early bird trial sign-ups can get on a SIM-only plan that includes unlimited data and calls.
They get 2GB of data on full 4G speeds daily, and then have to get by with 1Mbps for the rest of the day. Now, 2GB a day (or about 60GB a month) isn't shabby at all but it remains to be seen if this is going to be extended beyond a trial.
The big question, of course, is pricing. No telco will reveal that ahead of a big launch, which for TPG is now likely in 2019. The problem it faces, however, is that the low-hanging fruit isn't there any more.
Two years ago, when TPG won the right to become the fourth telco, the market was a lot more in its favour. Incumbent telcos were still charging expensive sums for mobile data and the government regulator acknowledged that more competition was needed.
Since then, there has been a lot of competition. Data roaming costs have been slashed with new services that let you use your local data while overseas for low, flat fees from S$10.
More data is being bundled into affordable packages, the latest deal being StarHub's revamped offerings that rival even the smaller, more aggressive virtual operators.
Even the customer experience has seen a revamp. Forced to innovate, Singtel, M1 and StarHub have all had to offer more flexible plans while enabling users to mix and match options such as data add-ons via a simple tap on an app.
Where does this leave TPG, then? It simply means that it has a mountain to climb. Usually, new entrants come in to disrupt a market – as M1 and StarHub did over the years with Singapore's telecom liberalisation – but much of the disruption this time has already been happening for a few years.
The competition has got so intense in recent years that StarHub and M1 – the number two and three telcos – are seeking to share infrastructure to shave costs off their consumer businesses.
There are parallels in Australia as well. TPG's parent in Australia, which offers fixed broadband services, was in a bid to launch a mobile service as well but this year decided to merge with Vodafone Hutchison Australia instead to reach that goal.
So, instead of a potential price war, the competition there is expected to be a lot less fierce than expected. The number of mobile service providers isn't increasing, after all.
Back in Singapore, the TPG unit here doesn't have the luxury of using a ready-made network. Instead, it has the burden of building and maintaining a new one, plus doing so at the strict standards that the regulator sets.
Fail to match up to the more experienced incumbents in its coverage and it could look bad in front of the customers it is trying to impress. Without an early surge of sign-ups, it could take a while to recoup its investment in hardware.
Already, there are questions of whether Singapore can sustain four full-fledged telcos. But that misses the point about competition, which ebbs and flows.
None of the good deals that consumers have been enjoying of late would be possible without TPG throwing its hat in the ring. On the contrary, they could well be complaining about a lack of options from existing players.
Back in 2014, when the Singapore government first mulled over options to stir up a market that had become stagnant, nobody could have foreseen some of the events that followed.
Few would have predicted the disruption that virtual operators could bring, especially when it came to offering more flexible data bundles. Hard to know, too, that the Big Three would fight tooth and nail among themselves before a newcomer came into the ring.
You'd have expected them to hold on to what they have, reserving strength for a battle royale later. Instead, the fiercest competition has happened, long before TPG's entry.
That's obviously good news for consumers, who have not seen more choices in a while. Who could complain when there's a new telco arriving with more options? In TPG's case, they just have to be really good.