StarHub yesterday unveiled three SIM-only mobile plans that did away with subscription charges for caller ID and bundled in generous amounts of data, in its most aggressive bid yet to win over users.
The move is the latest from Singapore's incumbent telecom operators to ward off the challenge of incoming fourth telco TPG Telecom, which is expected to launch services next year.
StarHub has gone further than rival Big Three telcos – Singtel and M1 – by scrapping its existing plans to cater to users who have been seeking better deals from virtual operators such as Circles.Life and MyRepublic.
With StarHub's new plans, there will be no monthly subscription costs for caller ID and international roaming, which typically add up to about S$15 on other telcos.
As a sweetener, it is offering the first 10,000 users to sign up an additional 10GB of data free for a year, for a no-contract deal that they can cancel at any time without penalty.
If they choose to buy a phone at a discount, they have to top up S$25 a month. These customers get the same 10GB bonus for a full two years.
Certainly, the deals are eye-catching. For folks who don't mind the trouble of re-contracting or switching telcos, the additional 10GB boost appears attractive.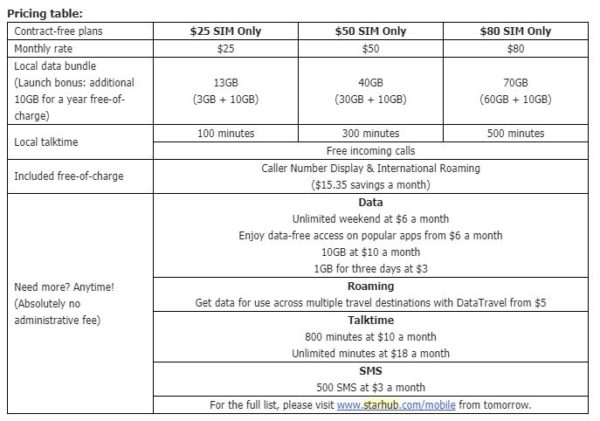 A S$25-a-month plan comes with a generous 13GB (3GB plus the 10GB bonus) along with 100 minutes of talktime. Users can opt for unlimited talktime at an additional S$18 a month.
Heavy users will look to the other two plans – a S$50-a-month plan offering 40GB (30GB plus 10GB) and S$80-a-month one offering 70GB (60GB plus 10GB).
In comparison, Circles.Life offers 26GB of data at S$48 a month, so StarHub has clearly made the move to challenge a virtual operator, gigabyte for gigabyte.
Until now, the Big Three telcos had tried to match one another, say with unlimited data plans, but avoided competing directly with nimbler virtual operators that they believed had a smaller market share and limited market power.
If Singtel and M1 follow StarHub's lead, users will get even more attractive deals in a market that has been shaken up in the past three years, since plans for a new player in town first emerged.
The bad news, of course, is for shareholders in these telcos. With the competition driving down the cherished ARPU (average revenue per user), the consumer business for Singapore telcos has been going through the grinder.
StarHub, in particular, has suffered. It is shutting down its legacy cable network next year as TV viewers have cut the cord with its cable TV services and gone on Netflix in recent years. It had announced job cuts in September to trim costs.
After several quarters of reduced profits, the company itself is going through a transformation, its new head honcho has said. The new mobile plans are one way to ignite its "challenger spirit", a statement to the media read yesterday.
"We hate to admit it, but people do not rate telcos highly. This is a regrettable reality, and we are determined to earn back customers' trust and be the telco that they deserve," said Johan Buse, its chief of consumer business group.
It's true, telcos are no longer rated highly today. At least in the consumer business, they are fast becoming the dumb pipes that the industry had feared for years.
As StarHub is showing, they need to come up with better plans to win back users before they can think of more data-driven businesses like advertising or content delivery.