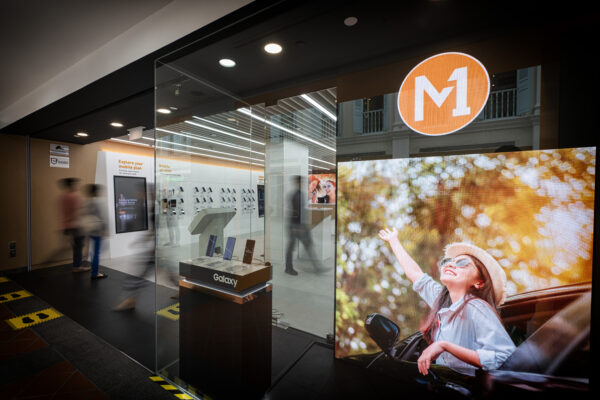 M1 has unveiled a series of mobile plans that let Singapore users customise how much to pay for a phone upfront and then load the balance onto their monthly phone bill.
The offerings, out today, also enable users to flexibly choose the amount of data and call minutes they would like to have each month, as well as the contractual lock-in period.
Part of a revamp that the telecom operator revealed today, the new plans are a result of its digital back-end servers that are now flexible enough to deliver more options to users.
It also comes two years after the company was delisted from the Singapore Exchange amid an ownership change and much uncertainty over its future in a highly competitive market.
The new plans won't immediately lift it above the fray, which has forced down prices for 4G plans and enabled smaller, nimbler virtual operators such as Circles.Life to win over its customers.
As a sign of the tough market today, M1 has continued to push out more generous SIM-only, no-contract plans to capture a bigger share of users.
A 40GB plan with 100 minutes of calls costs S$24.95 a month. Top up another S$15 to pay S$39.90 a month and you get a total of 65GB of data and access to 5G as well.
At Singtel, a no-contract SIM-only plan costs S$20 a month but offers only a total of 6GB of data with no talktime. StarHub, meanwhile, charges S$25 a month for a 30GB plan with 1,000 minutes.
With such low prices, M1 will be hoping that users will not only look to these SIM-only plans but also consider its new "flexible" contract-based deals. The lure of these buy-now, pay-later deals with popular phones models could help to lock down users.
The S$1,462 Apple iPhone 12 (256GB), for example, can be had with no money down if you sign up for a lengthy 36-month contract and pay about S$81 a month for a 25GB plan with 100 minutes of talktime.
For many young users who are happy to pay through instalments, the good news is that they can customise all these variables to determine how much they pay each month.
There are inherent dangers to this, of course, because M1 is essentially becoming a retailer offering a sort of hire purchase of a high-value product here. There is a risk of default.
Plus, of course, this could be a way for folks who need hard cash urgently to sign up a contract, sell the phone and get laden with debt to be paid through a phone bill each month.
To be sure, these issues are not new or unique to M1, but the sheer amount of customisation available to its new deals could lead to more users taking up such offerings.
That's not the story the telco would want to tell today, of course. Instead, it has pointed to its back-end transformation that has allowed for such flexible offerings, which replace the handful of standard packages that users used to have to choose from.
M1 said today that it has moved its back-end system, barring the physical network itself, onto the cloud. Apps have been reduced from 150 to 30, simplifying things.
It has also managed to streamline more than 200 databases into a single "data lake" that can offer real-time data analytics to better serve customers, it added.
How well these technical improvements translate into real-life enhancements is another thing, of course. In December last year, two outages on M1's fibre broadband network annoyed users who had to work and study from home.
The question now is whether the telco once associated with its "sunshine orange" logo can once again win over new users.
When it first burst onto the scene to challenge Singtel's monopoly back in 1997, it could secure 10 per cent of the market within the first month. Today, the market is saturated, with mobile penetration rate peaking at 154.4 per cent in July 2020. It has been falling since.