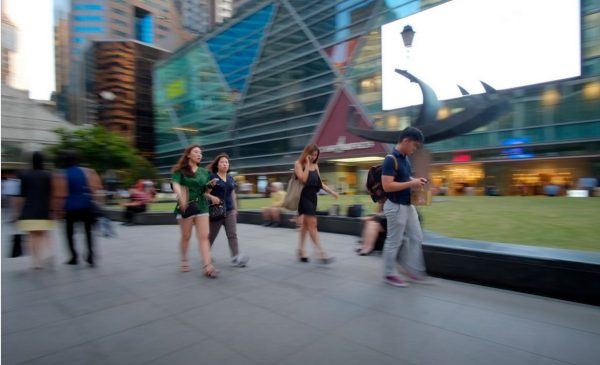 With MyRepublic entering the fray this week, Singapore mobile users got another telecom operator and more mobile data plans to pick from.
This adds to the Big Three of Singtel, M1 and StarHub, as well as Circles.Life, which is a virtual operator like MyRepublic that leases the network from one of the Big Three.
With so many options, consumers are spoilt for choice. So, which plan suits you? Here are a few that, we think, are worth checking out for their value and flexibility.
1. Smooth talker
One thing that stands out for MyRepublic's plans unveiled this week is the generous 1,000 minutes of talk-time you get even on the basic S$35-a-month plan.
Most basic plans at that price place an emphasis on data instead, thus cutting back on the talk-time to as little as 100 minutes. That's barely enough if you still make a lot of calls, say, for business.
So, the basic MyRepublic plan is a refreshing change for budget-conscious users who still want to call people on the go – without turning to WhatsApp.
For the price, you also get a useful 7GB of data as well as 1,000 SMSes. So, as an entry-level plan, MyRepublic offers a balanced option without making you pack more data or minutes separately.
2. Weekend warrior
StarHub's SIM-only plans now let you get unlimited mobile data on weekends, for as low as S$24 a month.
That price gives you a basic 3GB of data only, so it's not something you'd want if you are on the go a lot. But what if you are mostly at home or in the office on a weekday and can hook up to Wi-Fi?
This is when the StarHub plan comes in handy, by saving up what you don't use. Other plans may provide more data for about the same price but they don't offer unlimited data, for sure.
If you closely track how you use your phone and data, then this budget-friendly weekend warrior plan is worth considering.
3. Big data user (on a budget)
If data is your thing – and it is a big thing for most users now – then you can't ignore Circles.Life's offers. The basic deal of S$28 a month for 6GB of data plus free WhatsApp messages and 10,000 minutes of WhatsApp calls is attractive.
What's more interesting is the S$20 add-on for 20GB of data, which means you pay S$48 for a total of 26GB of data each month. That's a great deal, considering that most users probably won't exceed that amount.
If you're not sure you want to spend that much, Circles.Life offers a S$3-a-day unlimited data service too. Say, if you're tethering to your PC at a cafe, you can just boost the data for less than the cost of a cup of hipster coffee.
Do take note, however, that you only get 100 minutes of talk-time (both incoming and outgoing). Circles.Life expects you to use WhatsApp, more or less.
Still, even adding S$16 a month for unlimited outgoing calls and S$2 for unlimited incoming calls, to the S$48-a-month offer, you're still paying S$66 for an essentially unlimited plan for most users. This is a good deal for heavy data users.
4. Frequent traveller
M1's Data Passport service is probably the most straightforward and good-value plan for folks who travel a lot. This lets you surf on your phone like you would at home, while paying an affordable flat fee that beats most other options out there.
You subscribe to the add-on service for S$10 a month for Australia, S$25 for Japan and S$50 throughout Asia for the freedom to keep using your phone like you're at home. This is available in 62 destinations that Singaporeans typically travel to.
Whether you make monthly trips for business or just a few times for holidays a year, this is a great addition to M1's mobile plans that are also pretty competitive.
Plus, if you go for the unlimited data plan (at S$118 a month), you can roam overseas for as much as you like with Data Passport. Yes, roaming becomes unlimited as well.
5. Family man (or woman)
Many of these plans are great for one user, but if you can get everyone at home to share a plan, you can save as well. In this case, Singtel's unlimited data plan gives unlimited access to up to three other persons.
So, you sign up for the cheapest unlimited data offer (S$68.90 Combo 3 plan plus S$39.90 Data X Infinity unlimited data booster) for S$108.80 a month.
For about S$10 a month more, another family member can also get access to the use-all-you-can buffet, so you can spread the cost. Up to three members can do so.
Other considerations
Of course, there's no one plan that ticks all the boxes. What if you're a family man who also travels frequently? There may be trade-offs between plans.
Still, the renewed competition in the past couple of years has made the market a lot more competitive than when 4G was first launched a few years ago. And we have not yet seen the fourth telco – TPG Telecom – reveal any plans yet.
What users get now are flexibility and a range of options, not just lower prices. This is something that we saw when StarHub entered the fray in 2000. It brought new offerings like free incoming calls and per-second billing that incumbents did not at the time.
Network performance is important, too. Do check how each operator is performing by looking up the government regulator's frequent checks on the quality of service here.
The reports bring a transparency that is much needed. Look them up for a guide to whether Telco A is better than Telco B. This way, each telco is forced to work harder to ensure that their coverage and speeds are up to scratch against rivals.
Share with us your favourite plan and tell us why it fits your lifestyle.