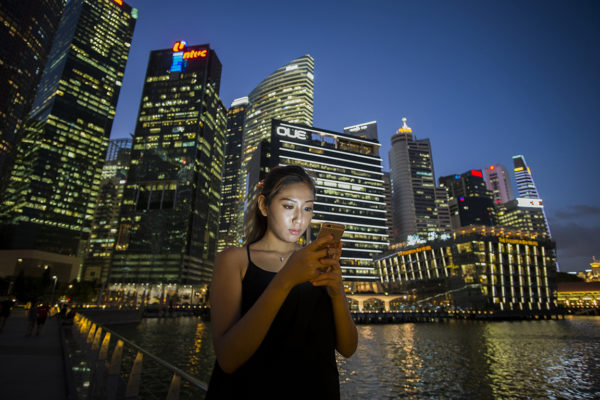 Facing the entry of a fourth player in the market, Singapore's Big Three telecom operators all brought back unlimited mobile phone plans in the past month to entice heavy users to sign on with them.
Now, these plans aren't necessarily cheap – Singtel's go past S$100 a month. However, the buffet-style offers do let you call, text and surf all you want.
If you are considering signing up, finding the right one could be a headache. Do you consider other lines that you have for your family? Or do you travel overseas often?
Here are unique features that the M1, StarHub and Singtel plans each offer. They are listed in order of their launch timings.
1. M1: Great for travellers
The smallest of the Big Three telcos was the first to bring back unlimited plans on August 30. For S$98 a month, you get unlimited data on a single line. Add S$15 for unlimited calls and SMSes as well.
The downside is that it is a SIM-only plan. That means you don't get the generous discounts you usually get on new handsets with such a high-end plan. Plus, you have to sign up for a year.
On the plus side, the unlimited data applies when you travel overseas as well, as long as you subscribe to M1's unique Passport service which lets you use your local data bundle while travelling.
This ranges from S$10 a month for places such as Australia and Hong Kong to S$50 for an Asia- or Europe-wide service. So, if you travel a lot, M1 and its data passport service lets you surf all you want when overseas as well.
2. StarHub: For the budget conscious 
Okay, not everyone is a big spender. What may be more attractive to people without unlimited budgets are StarHub's plans that let you surf as much as you want on Saturdays and Sundays.
So, instead of a buffet every day, you use as much as you want on a weekend, when you'd likely be out and about. The good news is that the plans start from S$24 a month for a SIM-only deal that comes with 3GB for your weekdays.
For a bit of flexibility without paying through the nose, StarHub's deals may be attractive to those who watch their spending more closely.
3. Singtel: Great for sharing in a family
Singtel was the last to come up with unlimited plans after its rivals have shown their hand. Its S$108.80-a-month offer has one thing the others don't – the unlimited data can be shared with other members in a family.
For about S$10 a month, another member can also get access to the use-all-you-can buffet, so you can spread the cost. Up to three members can do so, according to Singtel.
So, one strategy is to buy the cheaper Singtel Combo plans, which start from S$27.90 a month and tap on one buffet-style account for the data usage. Good news is, you still get handset discounts when you re-contract the traditional cellphone plans.