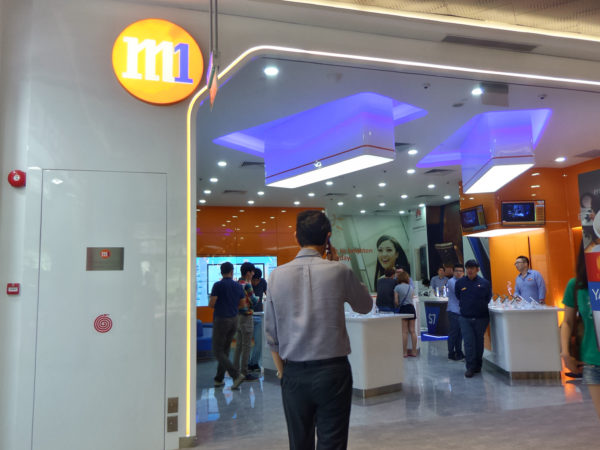 M1 has just launched a 4G mobile plan that gives users unlimited mobile data, bringing back the buffet-style offers that were once common in Singapore.
Available from tomorrow, the S$98-a-month SIM-only subscription also comes with 100 minutes of talktime and 100 SMSes. Add S$15 a month and you can get unlimited talktime as well.
What's perhaps more interesting is that the unlimited data access can be used overseas as well, as long as you buy what is known as a Data Passport service that lets you use your local data quota when you travel.
This M1 mySIM deal is a "SIM-only" offer, so it does not come with discounts for mobile handset purchases, unlike traditional plans. To enjoy the unlimited offer, users have to sign up for a one-year contract.
Other cheaper plans are also available to attract users to stay with M1 for a year. A subscription that provides 30GB goes for S$50 a month. A S$40 deal gives you 15GB and a S$20 offer provides 5GB.

M1's deal comes just hours after StarHub brought out new data plans that give users unlimited mobile data usage on weekends.
With prices from S$24 to S$119 a month for no-contract, SIM-only deals, they enable users to surf the Web, watch movies and share files on social media for as much as they like on Saturdays and Sundays.
The moves are aimed at preempting the entry of a fourth telecom operator – TPG Telecom – as early as next year. As competition has heated up in the past 18 months, the Big Three incumbents of Singtel, M1 and StarHub have dangled more attractive roaming and mobile data deals in anticipation of users jumping over to rival telcos.
They are also trying to ward off smaller players such as Circles.Life, which taps on M1's network to offer mobile services. The challenger started giving users a generous 26GB of mobile data for just S$48 a month earlier this year.
Now it seems M1 has taken the genie out of the bottle again with an unlimited mobile data service, five years after telcos here sharply reduced data allowances to limit usage and unclog their networks.
Since then, each has gone on costly network upgrades, from boosting speeds to better handling additional loads from increasingly data-hungry consumers.
Now comes the mad scramble to capture more customers, a tough task in a country where mobile phone penetration was almost 150 per cent in 2016. On the flip side, for consumers, it's good to know that telcos are fighting hard for their dollar again.