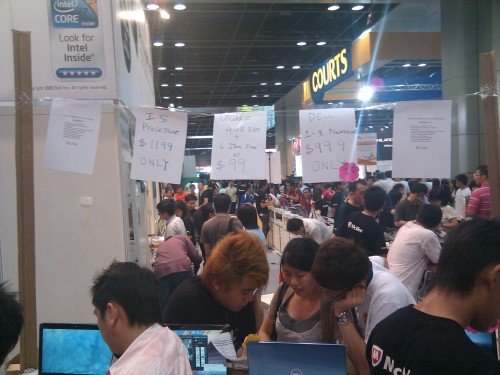 More flat-screen TVs, portable hard disks, printers and laptops were what I expected when I joined the mass of humanity that had congregated at the IT Show at Suntec Singapore yesterday.
Arriving just before noon, I could still find many lots in the carpark. And there weren't so many people carting away large-screen TVs and printers on trolleys. Is it because everyone already has two TVs and three printers at home, thanks to spending crazily at previous shows?
My tiredness of the bargain-hunting, however, soon disappeared when I saw how cheap these new Intel Core i3 and i5-based laptops were going for.
I'm talking about prices from S$999 for an entry-level Dell Inspiron with a 14-inch screen. Cute with bright colours like cherry red and ice blue, it comes with enough horsepower from the dual-core processor to crunch everyday work. It helps too that Windows 7 now doesn't suck up as much resources as Windows Vista previously.
What you get is a zippy experience which also happens to last hours – thanks to all the power-saving features built into Intel's new laptop platforms.
And the good news is that the competition is forcing prices down at this early stage of the technology being rolled out. My advice to you if you are looking for a new laptop – forget about the older Intel Core2 processors and jump straight to ones sporting the new Core i3s and Core i5s.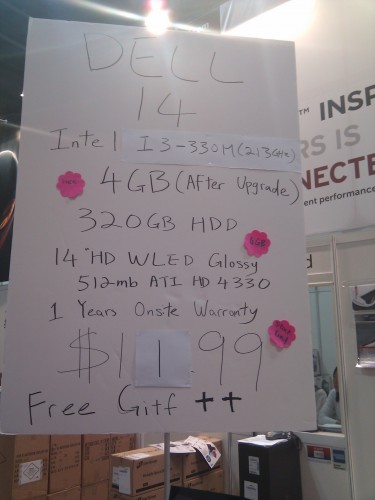 Besides Dell, the best deals for these budget laptops – which are no longer fat and undesirable like in the past – were from LG and Sony.
Yes, even the "premium brand" Sony. My wife bought a bright pink Vaio E sporting a Core i3 and a large 15.5-inch screen for about S$1,350 (a special deal from a Sony pal I bumped into, normal price is S$1,399).
Here were the laptops we considered – and ones worth checking out if you are down to Suntec today for some last-minute laptop bargains:
1. Sony Vaio E
– Intel Core i3-330M
-4GB DDR3 RAM
– ATI Mobility 5470 graphics
-320GB hard disk
-15.5-inch screen
-S$1,399
Quick review: My wife is super happy with this, especially the keyboard which has keys well-separated that makes typing a breeze. The large screen, along with the large keyboard that includes a numeric keypad, makes this a good alternative to a desktop PC. The ATI graphics onboard don't hurt too – if my wife decides to play Warcraft! I think we got a good buy.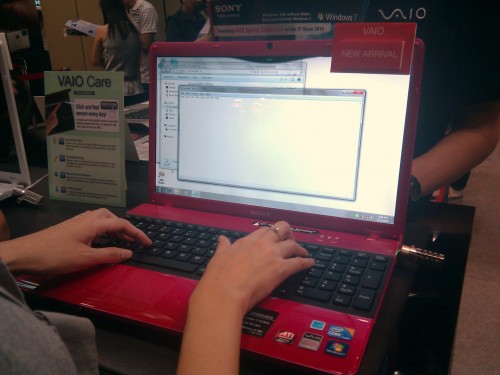 2. Dell Inspiron 14
-Intel Core i5-430M
-4GB DDR3 RAM
-ATI Mobility 4330 graphics
-320GB hard disk
-14-inch screen
-S$1,259 (after $60 2GB-to-4GB RAM upgrade)
Quick review: My sister-in-law bought this – a red version of it. I must say Dell's design has improved in recent years, and it's clear that at the low-end market, people expect even more out of looks than specs. The new Inspiron 14s don't look as stunning as the Sony Vaios, but they are pretty neat as well with some faux brushed metal and clean lines all round. The 14-inch screen looks great too.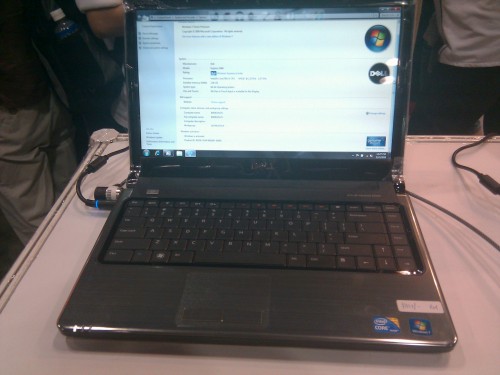 3. LG R490-K
-Intel Core i5-520M
-4GB DDR3 RAM
-Nvidia GeForce 310M
-500GB hard disk (after free upgrade)
-14-inch screen
-S$1,411 (should be under S$1,300 now, after price cuts).
Quick review: Nowhere as pretty as the other two models here, LG's Core i5 and i3 models are great for the price. Pretty powerful discrete graphics plus a bigger hard disk means you are getting a lot of hardware for a very good price. I've noticed a price cut in these LG models, so head on down to check if there are further discounts. Link to the brochure here.
That's it, folks, for my quick IT Show laptop roundup. Tell us what you bought at this quarter's crazy IT bazaar!