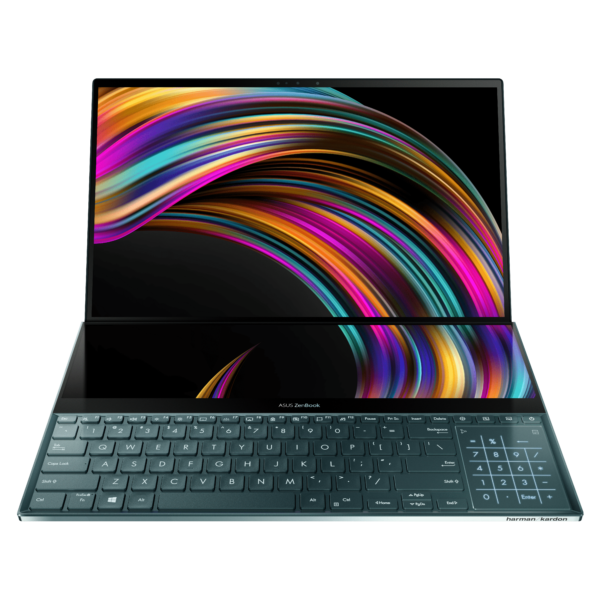 If you open many windows all at once every day at work, then the mould-breaking Asus ZenBook Pro Duo UX581 launched today in Singapore might tickle your fancy.
Clad in the classic ZenBook look that comes with the familiar concentric circles on its lid and the tapered diamond-cut edges, the new laptop is one handsome machine that will not be out of place in any office or meeting room.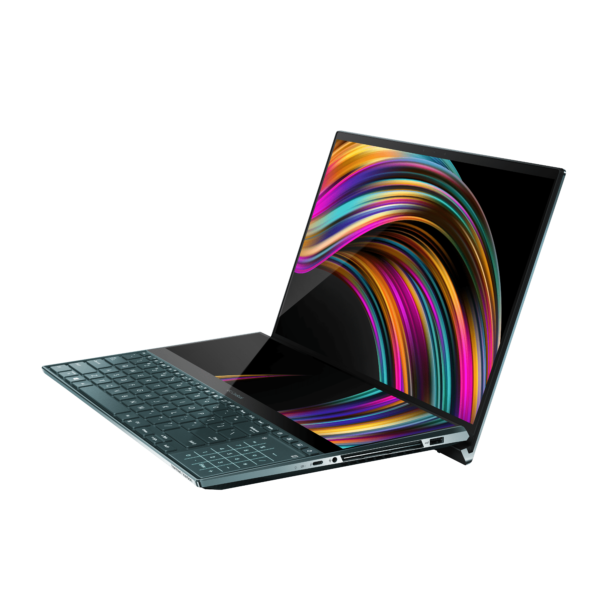 More importantly, this is a large laptop that comes with the works in terms of hardware, including a top-end Intel i9-9980HK processor and an Nvidia Geforce RTX2060 graphics chip.
Its main selling points, however, are its two screens – one main one like on any clamshell-shaped laptop and a large second one right above the keyboard. You've seen something like this before, yes, in HP's Omen X 2S, but Asus has packed in a larger screen.
The Taiwanese company has managed to squeeze in a generous 14-inch screen (at 3,840 x 1,100 resolution) along with the main 15.6-inch 4K OLED screen that can support 100 per cent DCI-P3 colour space for better colour accuracy.
Both screens are touch-enabled. You can use them with the included stylus as well, so you can write on them or do more precise touch-up on photos during post-editing.
After using the Asus laptop for a couple of weeks, I can say the dual-screen system is handy with photo management and editing software like Adobe Lightroom.
I can position the photo preview window using the bottom screen and edit my photos with the main screen in full-view mode. I could also place my folder of video clips at the bottom and drag the clips to a video editor on the main screen. Very nifty, if you're a creative professional.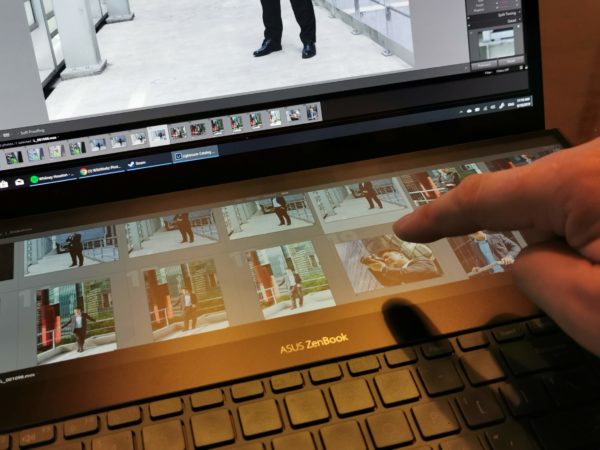 Most of the time, I would put my Web browser in the main screen with my Spotify app docked in the lower screen. That way, I can browse the internet and have direct access to my Spotify playlist without needing to switch windows.
Good news is, I can dock up to three windows on the secondary screen. This is great for expanding the number of apps and information you can gather at a glance.
I also like it that Asus has created a way for me to open up all the apps that I use for a particular activity, through the Task Group feature.
Whenever I need to do photo editing, I just have to activate the Task Group via an icon and the Lightroom app will be opened along with Spotify automatically. Again, very handy.
The Task Group function can be programmed with up to five apps per group. A total of four groups can be created within the Asus Launcher, so you can be ready in a jiffy.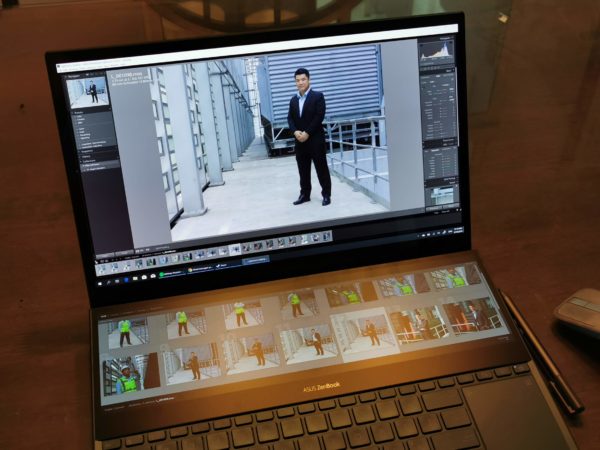 One gripe that I have with the secondary screen is that it can be too small at times. To quickly access Spotify, I find the on-screen buttons fine, but some users might prefer something bigger so they can control the music playback more easily.
All that useful interface would be nothing without great hardware performance to back it up, of course. Here, Asus' design works well to get the heat out of the high-performance CPU and graphics chip.
The laptop is slightly lifted off the table top when you open up the lid. This way, air gets in and out of the hot areas of the laptop more quickly to cool things down.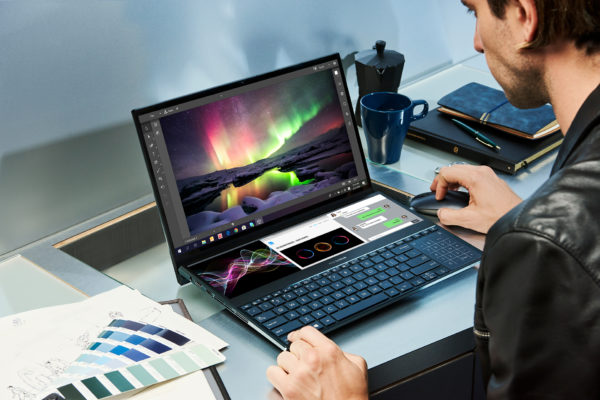 In particular, the Nvidia GeForce RTX2060 would be a pretty hot chip to cool down. Great for games, it's also a capable workhorse when it comes to professional apps.
The latest version of Lightroom CC now enables the use of a graphics processor to speed things up. Yes, it helps to have a fast graphics chip when I am editing photos or videos on a laptop that already has a good 32GB of RAM onboard.
As expected, the Asus ZenBook Pro Duo UX581 scored 5,342 in PC Mark 10, a performance benchmark tool, when tethered to a power source at full performance mode. In comparison, a top-end Dell ultraportable scored 3,599.
On the whole, I am satisfied with the speed even when editing huge image files from cameras, such as the Sony Alpha 7R Mark IV that shoots at very high resolutions.
All those image files do need a great amount of storage space and the Asus laptop's 1TB PCIe solid state drive (SSD) may not be enough if you need to handle lots of large videos or photos. Ready a portable or network drive, should you need one.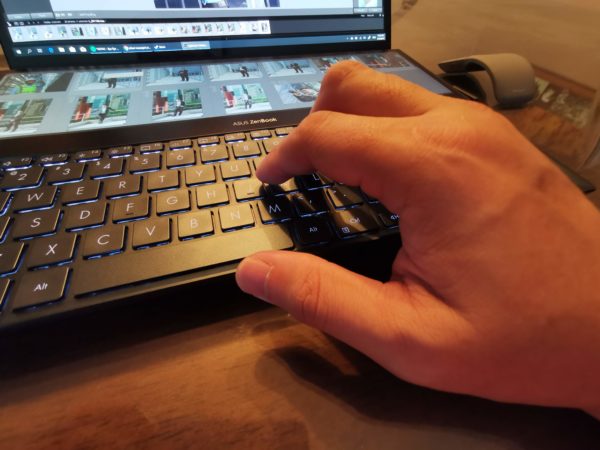 What about audio playback? I'd say it's a mixed bag. The Asus SonicMaster stereo system is clear and loud but the sound stage seems constrained, something that I thought would be less of an issue with a big laptop such as the new ZenBook.
You might think that the extra space would have been used to make better speakers. Unfortunately, the bass is also not as evident as I might like. For better sound, a pair of decent headphones are a must.
Another thing to take note of is the lack of a built-in palm rest, because all the space on the laptop has been taken up by the cooling system and the secondary screen.
To be fair, this is no issue for some quick notes on the laptop but things can get uncomfortable if you are writing a long report.
Do you mind bringing a palm rest along when you're travelling? That's what you might want to ask yourself before buying the ZenBook Pro Duo UX581.
There are other little details that Asus should have included, I believe. For a laptop aimed at creative professionals, the lack of an SD card slot is quite baffling.
To transfer photos or video from a camera to the laptop, I would have to drag my card reader along with me on my road trips. Yes, adding another item to the bag.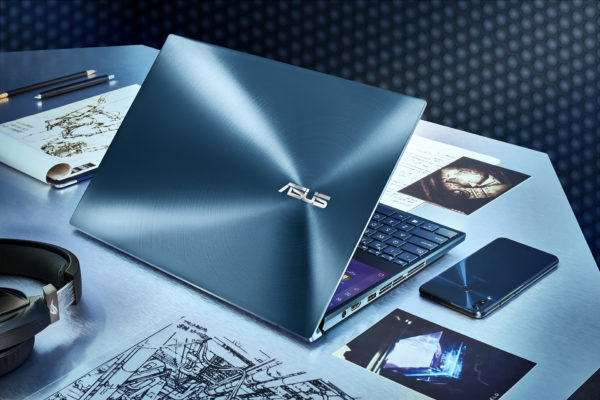 What about battery life? The ZenBook Pro Duo UX581 comes with a 71Whr battery that lasted 4 hours pretty easily during my tests. Not too bad for a machine with a power-hungry graphics chip. Still, the longevity is shorter than most ultraportables in the market.
So, is this 2.5kg Asus laptop meant more for a desk-bound worker? On the road, don't forget to add the huge power adaptor, mouse, palm rest and dongle to your bag.
Then, would a desk-bound worker be happier with the dual screens on the new laptop? That depends, actually. If he doesn't carry the information with him much, then it might be cheaper to just hook up monitors, the traditional way.
To be sure, the Asus ZenBook Pro Duo UX581 is a powerful laptop for users such as photographers, videographers or financial analysts who want to have more screens and windows to do their work on the go.
However, you have to be ready for the price. This in the form of a hefty $4,998, which you'd to exchange for a rather unusual laptop with two screens.