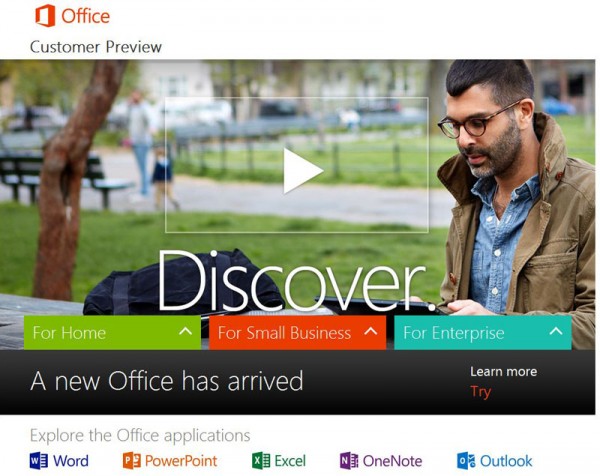 After offering a preview of its upcoming productivity software two months ago, Microsoft is selling its new Office for S$139 a year to home users here to install on up to five PCs, Macs or tablets.
Unveiled today, the prices reflect the company's push for subscription sales instead of standalone box software that cater to each PC. In Singapore, the subscription cost works out to be under S$12 a month for each household.
The offer is packaged under its Office 365 subscription service. For small business owners, the same subscription deal is available for US$149.99 (no local pricing yet, details on all packages here).
The new Office, also known as Office 15, is still going to be sold in the traditional shrink-wrapped boxes. These, however, allow you to install on only one PC or Mac. A Home and Student version of this, called Office 2013, costs S$139.99 for one user alone.
What Microsoft is clearly doing is trying to get as many users setting up Office on as many devices as possible. In the past, where there were no Google or Apple to eclipse it in the PC-only universe, it could charge hundreds of dollars for any Office software that came with little innovation.
Today, the story is different – Microsoft is fighting to keep its place in the market. This means new, more flexible deals (read our Office 15 hands on).
For consumers, the most straightforward option is to buy the Office 365 household licence, which gets you covered for most of the devices at home. Is a subscription cheaper than the boxed options now? It depends on how many devices you have.
In my case, I have a desktop PC, two Windows laptops and an iMac at home – for now, I can buy a three-licence Office 2010 for my PCs but I have to pay for another copy of Office for Mac. That's about S$189 + S$228 = S$417 (both seem to be often sold in three-licence packs).
If I pay for Office 365, it's S$139 a year. Used perhaps for three years, this works out to be S$417. Uncannily, that's exactly the same cost as buying six licences for both Macs and PCs on Office 2010.
So, ultimately, a new Office 365 subscription may not always be cheaper going forward. It does, however, come with additional features like Outlook, Skydrive and free Skype minutes.
More importantly, it has Office on demand, which means you can install a copy of Office on another machine, say, on the go, and log in with a password and use the software. If you've ever logged in to a World of Warcraft game on a PC other than your own, you'll understand.
We asked Microsoft but they don't have an official launch date to share yet. What it's offering users who buy the current Office 2010 from October 19 is a free upgrade when the new Office goes on sale. We think sales of the new Office are imminent, given that Windows 8 will become available next month.
Meanwhile, do try out the free preview and let us know what you think of the new Office.