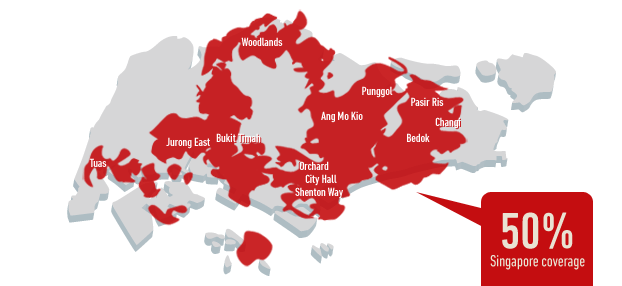 (Photo credit: SingTel)
Despite seeing its rival M1 become the first to offer 4G throughout Singapore, SingTel is sticking to its guns and promising that its slower rollout will provide better quality.
M1 became the first telecom operator here to cover 95 per cent of the island with LTE or Long Term Evolution signals on September 15, and the pressure is now on the other two local telcos to match up.
Yet, the "red camp", Singapore's biggest telco, has hit back by suggesting it offers better quality of service. Said its CEO for Consumer in Singapore, Yuen Kuan Moon: "We will focus on quality rather than (rush to) cover the entire island with LTE."
Speaking at a media briefing with network equipment vendor Ericsson on Monday, he said customers who hop on to SingTel's LTE network now will be able to fall back on upgraded 3G speeds of up to 42Mbps in areas where the LTE signal is unavailable.
This faster 3G is exclusive to SingTel's LTE subscribers, and appears to be a temporary measure to keep LTE subscribers happy until the whole island is covered.
SingTel currently has 50 per cent of the island covered with LTE and expects 95 per cent coverage by March 2013.
Check out our guide to whether or not it's a good time to jump on the 4G LTE bandwagon.