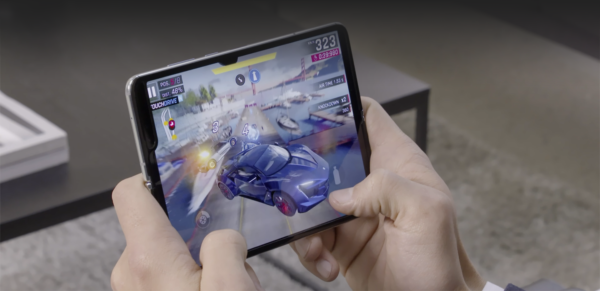 At the start, it was filled with hope and expectation. Thanks to foldable screens from Huawei and Samsung, 2019 was supposed to be the year when the rules changed for smartphones.
Yet, months later, as we head towards the last quarter of the year, these phones are still to hit the shelves.
Okay, Samsung's Galaxy Fold is expected next month, after the Korean company took its design back to reworked following complaints from early testers.
A pre-order page has gone up again in China, but can it generate the same amount of interest in the latest and greatest from the world's top smartphone market?
Even with the Galaxy Fold out in time for the holiday season, the cheer greeting phone manufacturers won't be as loud or enthusiastic as they had hoped for months ago.
For one, the wow factor for these new models may have worn off a little. For Samsung, all that hype had been followed by a deflating return to the drawing board, to rework a supposedly groundbreaking product.
This is not to say that Samsung shouldn't have spent more time on the Galaxy Fold before releasing it, but the timing is certainly not as optimal as when the it was first unveiled months ago.
Huawei, the number two phone maker, has had a difficult few months as well. It didn't have the product design issues that its Korean rival faced, but its entire future was threatened when the United States government banned it from buying technologies from American companies.
This cloud of uncertainty doesn't exactly offer the best environment to launch a next-generation phone, the Mate X, in.
The Chinese manufacturer's foldable phone is expected to be out in the next few months as well, but it will hope that by then, its troubles with the US authorities would be over. The world's two largest economies could yet reach a deal.
Talking about disappointments so far this year, let's not forget 5G too. The first models went on sale in South Korea and the US, where early 5G networks were rolled out, but there were severe limitations, such as having uploads still handled by a 4G network.
So, users looking for a groundbreaking 2019, as promised early in the year, will now have to look slightly further into the future.
To be fair, the launch of the Mate X and Galaxy Fold might yet change things in the last few months of this year.
And as 5G launches in a more mature form – that is, with a "standalone" version that also offers lower latency along with the added speed – more phones will take advantage of the new features to connect users better.
That's likely in 2020, though. Indeed, that's when global smartphone sales will pick up again, after a projected 2.5 per cent decline this year, according to research firm Gartner.
For now, what's there to look for if you're buying a new phone? Well, there are flagships that now cost more than laptops, such as the Galaxy Note 10.
Or you can just opt for a mid- or low-tier phone, say, from Honor, that offers most of the cool features without killing your bank account.
Not so revolutionary, but they'll do your important tasks, like e-mail, surfing and YouTube, just fine. Plus, no need to wait for the next big thing to arrive.