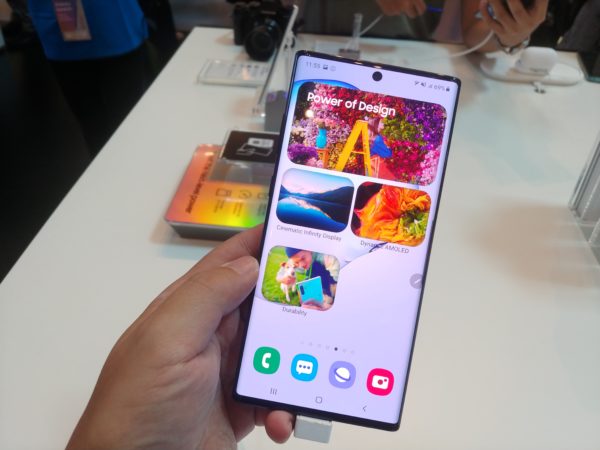 Holding Samsung's newly launched Galaxy Note 10 and Note 10+ in your hands, you instantly feel the difference from last year's large-screen phablet from the South Korean electronics maker.
Clearly, this year's models weigh less and they are also slimmer. The Galaxy Note 10+, the bigger of the two, tips the scales at 196 grams, while the smaller Note 10 weighs 168 grams. Both are 7.9mm thick.
Last year's Galaxy Note 9 weighed 201 grams and was 8.8mm thick. The numbers don't really tell the tale, to be fair, because the look and feel of the new models have clearly been updated to be more competitive in a tough market.
Good news is, the camera cutout in the centre now makes things much neater, compared to the Galaxy Note 9's notch and the Galaxy S10+ this year, which has an elongated cutout holding two lenses.
There's a compromise needed, of course, to have the slim bezels all round. Instead of two lenses at the front, you only get a 10-megapixel, f2.2 lens now. It may not be a big loss unless selfies with a nice depth of field are a daily habit.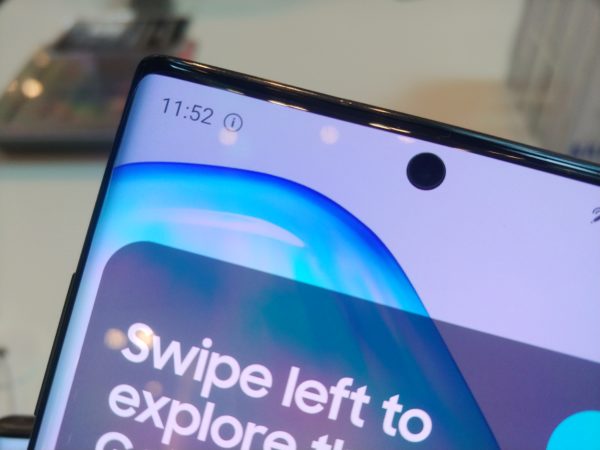 Speaking of cameras, the main cluster at the back is what you would expect of a flagship model today. No fewer than four cameras are found here on the Galaxy Note 10+.
There's a regular wide-angle 12-megapixel camera you'd use most of the time for your food and holiday pictures. Plus, there's an ultra-wide angle one with a 16-megapixel sensor and a telephoto option with a 12-megapixel sensor.
The final camera is a depth camera, which helps the phone determine how far or close each subject is. This promises to deliver more realistic bokeh, or the popular background blur effect.
Be aware that the Note 10 doesn't have this depth sensor, part of a number of items that it lacks due to its smaller size and lower cost.
Still, it is not surprising to see Samsung show off some of its new camera features at a media launch in Singapore today.
A live feature lets you choose the kind of bokeh, from a dramatic blur to something subtler, for that standout Instagram post.
This even applies to videos, so you can have pretty neat depth of field effects when applying the Samsung software. Just beware that it's not foolproof.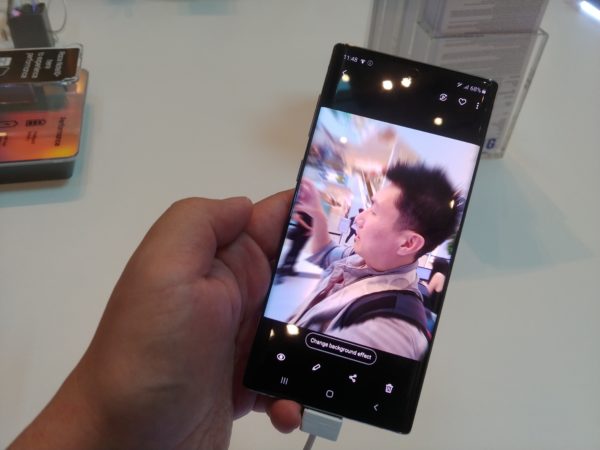 During a quick test today, I saw a fellow journalist capture a video where the background was abruptly blurred then brought back into focus in an instant. You still need proper lenses and camera work for complex shots.
What about the other hardware? As you'd expect, both new phones come with a top-end processor (an Exynos 9825 for Singapore), at least 8GB of memory and at least 256GB of internal storage.
Unsurprisingly, the Galaxy Note 10+ gets a high-resolution screen in the form of a large 6.8-inch Dynamic AMOLED display with Quad HD+ (3,040 x 1,440) resolution.
Strangely, though, the Galaxy Note 10 only gets Full HD+ resolution (2,280 x 1,080) on its 6.3-inch screen, which is large enough to deserve something sharper.
The smaller phone also doesn't get a microSD card slot, which is another mystery. How much does one cost? Certainly, it doesn't need a lot of space since it is usually packed with the SIM card slot.
Could this be down to the Galaxy Note 10 being aimed at Apple iPhone users, who have never had an external memory card slot and who probably are used to lower-res screens?
That's a bad move, in my opinion, because we know how Apple has fleeced its users over the years. Samsung should do better.
Sadly, there's another Apple move that Samsung has pulled with both the new Galaxy Note phones. As you'd probably read from leaks before the launch, they don't come with a headphone jack any more.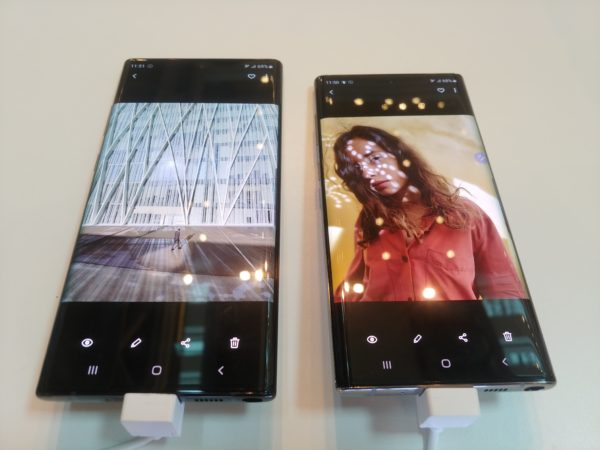 Yes, after laughing at Apple in its ads in the past, Samsung has decided to do the same now and force people to use Bluetooth headphones or plug in another adapter. Maybe we should be happy that it's included in the box.
Is that a deal breaker? I guess for folks who have invested in nice headphones or those who don't wish to have the hassle of unplugging a pair of headphones when charging.
Still, there's no denying that Samsung has improved with the Galaxy Note 10 and Note 10+, in terms of their overall attractiveness, at least going by early impressions.
The bad news is the high price. At S$1,398, the Galaxy Note 10 isn't cheap at all. If you opt for a larger screen, the Galaxy Note 10+ will cost S$1,598 for the 256GB version and a princely S$1,898 for the 512GB version. Hefty, but unfortunately, not surprising, either.
I haven't spoken about the stylus, which sets apart the Galaxy Note. There are some new features, such as support for gestures, which let you control your camera remotely when you mount the phone on a tripod. I hope to try them out more when a test unit arrives in our office soon.
Look out for our review of the Galaxy Note 10 and Note 10+ soon!