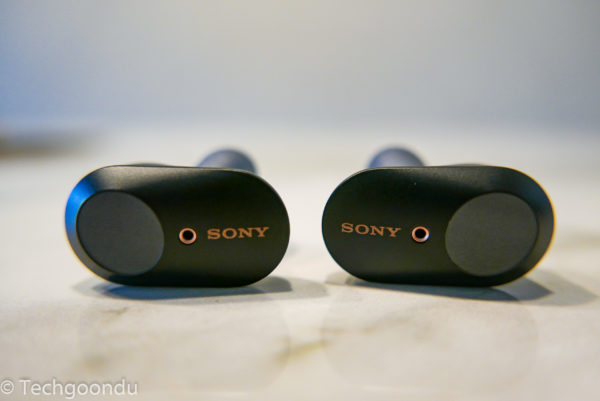 Cramming every feature into a small pair of earphones while making them sound great isn't an easy feat, but the Sony WF-1000XM3 seem to have managed that effortlessly.
The Japanese company's latest fully wireless, noise cancelling earphones not only tick most boxes for features but also manage to deliver more than decent audio quality.
In other words, they are just as adept in the noisy airplane cabin as they are in a quieter room, where you might want to enjoy your music a bit more and listen out for some of the details of a recording.
First, let's talk about the fit and finish. Here, the WF-1000XM3 certainly match what the best out there – B&O, for example – can offer.
The charging case, with a smooth finish on the sides and a snap-on lid, feels premium. Impressive too are the slots for popping in your earphones, which are assured and feel just right.
More importantly, the Bluetooth earphones themselves are a treat to use. They impress the moment you easily pair them with your smartphone and place them in your ears, thanks to the lightweight comfort they offer.
Weighing 8.5 grams each, these ear pieces don't weigh down on your ear, unlike some heavier units. That's just one factor, of course.
The other is the shape of the ear piece, which lets it rest on your ear canal without adding much stress. The result is hours of comfort when you wear the earphones at home, on a train or a plane.
What I am also a little surprised by is the more neutral sound that Sony seems to have come up with here.
I've felt that it has always tuned some of its musical gear more towards a bass-heavy audience, but the WF-1000XM3 are thankfully free of the usual bloat.
The 6mm drivers do a decent job delivering audio that has enough body, resulting in a fuller sound that does not get bogged down at the same time.
Listening to Blur's live concert on BBC on Tidal, for example, you get the bass guitar as well as the higher notes from other instruments and the vocals all coming through distinctly.
The new earphones don't miss a beat, either, with tracks that call for some attack and zip. With electronica, like some old Saint Etienne tracks, you find yourself tapping to the beat.
What about larger, more complex pieces? There's no miracle here, of course. These can benefit from larger headphones that can separate the various instruments and singers in a track more precisely.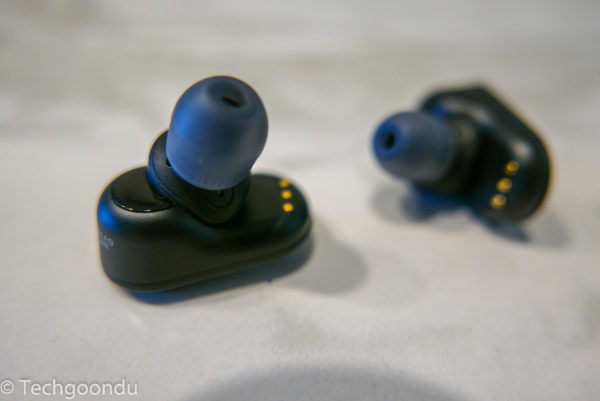 Like other earphones, the WF-1000XM3 still face the limits of size. They punch above their weight but do not perform better than larger headphones that sport larger drivers.
The good news is that the WF-1000XM3 don't have that boxed-in sound that is emblematic of many lesser earphones of the same size.
They are relatively open and airy, though just slightly less so than compatible earphones I've heard with Creative's SXFI algorithms. This is also one reason why you don't get fatigued with these Sony earphones for hours.
Besides audio quality, the noise cancelling is also praiseworthy. The dual microphones – one feed-forward and one feed-back – employed to block ambient noises do their job well to keep out chatter.
I didn't manage to try the WF-1000XM3 on a plane in the short time I had the earphones with me, but I won't be surprised if they can keep out the din in the compressed cabin.
I did make calls with the earphones and they did a good job making sure the other person on the line could hear me clear. Yes, I used them for a conference call without issues.
It's also clear that Sony has put in a bit of effort in the interface. Like my favourite wireless earphones from 2017, the B&O Beoplay E8, the WF-1000XM3 come with some handy touch controls.
Besides controlling playback, you can also long-tap on the left earphone to let in ambient sound. This way, you can listen to cabin announcements on a plane, or someone who is trying to speak to you.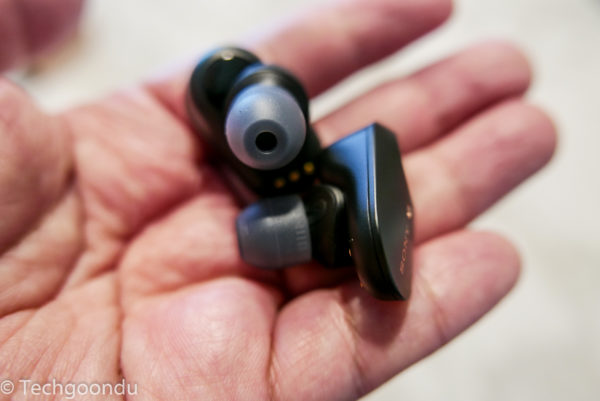 The audio cues help as well. Putting the earphones on after a while, you are told that you have, say, 70 per cent of juice left. Also, sensors in the earphones automatically cut off the playback when you take them out of your ears.
Speaking of that, the battery life on the new Sony earphones is also great for medium-range trips. With noise cancelling on, Sony promises six hours of continuous playback. Add two hours more if you turn that off.
That's an improvement over the three to four hours often offered just a couple of years ago, which are one reason that prevented many users from going wireless.
Of course, six hours on the Sony earphones are still not long enough to reach Japan from Singapore (that takes seven hours), and it's annoying to have to stop the music and charge them.
If it's any consolation, the case is good for three charges on the go, so you can still continue once the earphones are juiced up.
One thing you have to note, though, is that the WF-1000XM3 don't support audio formats that work with high quality Bluetooth streaming.
There's no aptX HD or even Sony's own LDAC extension for Bluetooth, so don't count on playing tracks back with these formats that promise better quality.
Is that a deal breaker? Perhaps for some users who have invested in wireless players or smartphones supporting these formats, but you suspect the WF-1000XM3 will win over the mainstream audience without problem.
By and large, these Sony earphones are a great companion whether you're sitting at your desk or taking a daily commute in a crowded train.
Though they are not cheap at S$349, they are great all-rounders. A neat design, decent battery life and good audio quality and noise cancelling make them the first lightweight wireless earphones you have to check out if you're looking for a pair.