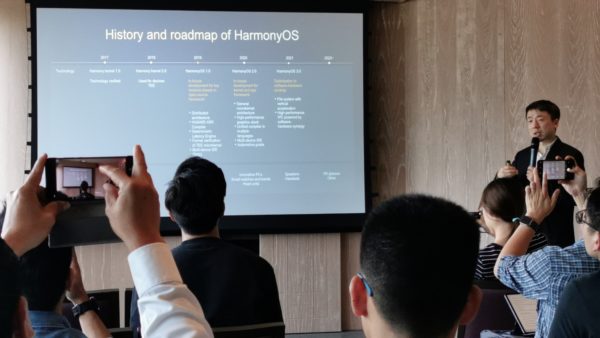 Much has been said about Huawei's potential move to its new Harmony OS, amid a trade war between the world's two largest economies that has threatened its continued use of Google's Android operating system.
However, the Chinese company will stick with Android for its smartphones as long as it is allowed to do so, according to James Lu, senior manager for EMUI product marketing at Huawei Technologies.
Despite launching Harmony OS earlier this month, the Chinese company is keen to show its preference for Android, which is the most popular smartphone operating system today.
Even the roadmap for Harmony OS shown during the media briefing in Singapore this week did not feature any smartphones and tablets in the foreseeable future.
The wait-and-see strategy is perhaps Huawei's best move. In May, the Trump administration banned the Chinese company from buying American technologies, bringing its ambitions to be the top smartphone maker in the world to a screeching halt.
Huawei got an extended reprieve earlier this week to keep doing business with American companies, which is good news to it, because it is still banking on Android for the short term.
The reasons are simple. Google has a mature ecosystem in place that users will find it difficult to move away from. Besides that, popular apps such as Facebook, WhatsApp and Instagram will not be able to port over to Harmony OS any time soon.
That's because the ARK Compiler, a critical component to code apps for use with the operating system, is still very much a "work-in-progress" said Huawei's Lu.
That hasn't stopped Huawei from launching its first Harmony OS-based product in China, the Honor Vision smart TV. Through the OS, hardware is basically virtualised as shared resources.
One example is the use of multiple devices to provide a seamless experience. So, a user can use his smartphone to cast a video clip to the TV while the sound is streamed concurrently to hi-fi speakers for better audio quality.
With such a system, even a Harmony OS-driven drone's camera can be used by the smartphone to take a photo without an intermediary app. The promise: simpler and easier interfaces.
Well, can't Android do that? The difference, according to Huawei, is that a Harmony OS developer can write one set of code for all types of devices.
This "distributed architecture" will cut the time for developers to create the code to run multiple devices and provide a unified user experience, it promised.
Other features of the new OS include better management of processor resources through its Deterministic Latency Engine so important functions of the devices can work faster.
The new OS will also have a much smaller footprint in terms of code size and memory usage so that it can be used in more devices, according to Huawei.
Of course, the reality is not always so straightforward. Even if its features are great, Huawei will still need time for it to mature and secure buy-in from other electronics manufacturers and even other rival smartphone makers, such as China's Oppo, Vivo and Xiaomi.
To this end, Huawei has made Harmony OS open-source starting this month, so more developers can experiment with it.
With Harmony OS still in its infancy, what happens if the plugged is pulled one more time in the months ahead, as Huawei launches its new flagship phones?
Lu was not not willing to comment further but he hinted at some of the features from Harmony OS already being built into its new EMUI interface running on current versions of Android.
For example, the Harmony OS' new file system will be available in EMUI 10 and can be experienced when current models – the P20, P30, Mate 10 and Mate 20 – are progressively updated in the coming months.
In truth, it's hard to tell what will come next in this ongoing saga. We'll only know more when Huawei launches its new phones in the coming months.