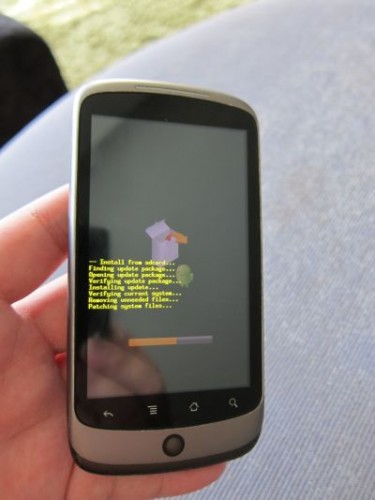 Enterprising Android fans have found a link to Google's latest smartphone OS update and posted it online, so now Nexus One and Nexus S users don't have to wait for weeks for that over-the-air download for the official Gingerbread update.
The nice chaps at XDA Developers have posted a link to the file here.
Alternatively, you can download directly here
-for Nexus One
-for Nexus S
How do you update your phone manually? Simply download the right update for your phone (one is for Nexus One and the other for Nexus S) and follow the same instructions you'd use for previous Android updates here.
A standard disclaimer, of course: it's not our fault if you destroy your phone! But it's safe to say, this update has been tried and tested here by this Goondu to work fine on his Nexus One.
UPDATE: Here are the instructions again (thanks to Gin Lee):
Step One:
Download to your PC the update file
-for Nexus One
-for Nexus S
Two
Rename the file update.zip.
Three
Connect a USB cable between your phone and PC
Four
Copy update.zip into the main directory of the SD card
Five
Shut down the phone
Six
Press Trackball and Power button together
Seven
When it restarts, you will see a DOS-like screen. Use the volume keys to move up and down and power key to select. Choose Bootloader then choose Recovery.
Eight
The phone then reboots until you see the picture of an Android robot with an ! sign. Now press power button and volume up button at the same time. Now use your trackball to scroll down to Apply sdcard:update.zip and select by pressing trackball. Your phone will now restart and some stuff will happen. Just wait and wait until you see your normal screen again.
(NOTE: I had a problem here where I was stuck with the Android robot with the ! sign and nothing happened. I took out the battery, restarted the process and was presented with the update menu and things went smoothly afterwards.)
Let us know in the comments section if you have problems or experiences to share on your own update. Alternatively, you can still wait for Google's over-the-air update, of course!