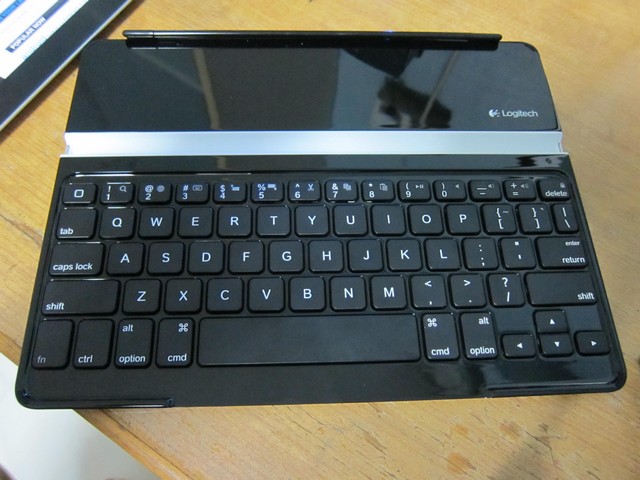 The name may be one of the least inspiring among Logitech's many peripherals which range from mice to music streaming devices, but this Ultrathin Keyboard Cover does exactly as advertised, and very well too.
I'd say this is easily one of the best cover-cum-keyboards that you can pair your iPad with. Not only does it look good, this Logitech accessory makes it a real joy to type e-mails or memos on your iPad 2 or third-gen iPad.
Firstly, the keyboard cover snaps onto the iPad screen like the original Apple magnetic cover. The good news is it hardly adds any heft to the device. When closed like a clamshell, the iPad and the Logitech accessory look slimmer than many a useless case that promises some amazing protection for your precious tablet.
The Bluetooth keyboard here is also easy to get started with. Simply power it on, go to your iPad's Bluetooth settings and select the Logitech keyboard to pair them once. You're then connected wirelessly.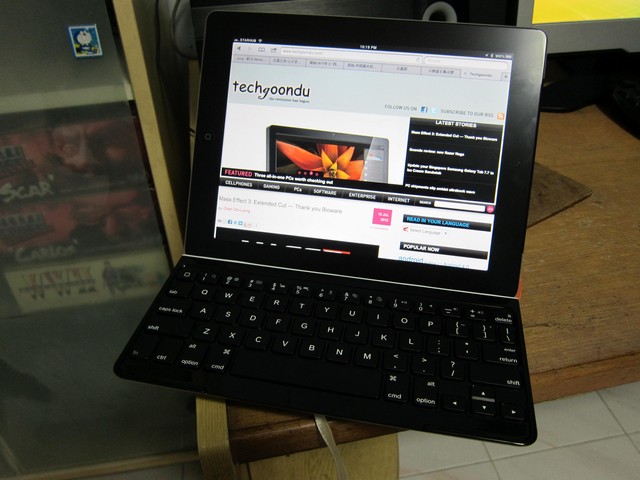 The second thing that impresses is the way the keyboard lets the iPad "dock" effortlessly at an angle. A thin ledge allows the iPad to magnetically lock in place, so even if you type away furiously, you don't move the iPad one bit.
Speaking of which, the keyboard is also top notch. You won't expect less from Logitech, which is known for its mice and keyboard, and this iPad keyboard doesn't disappoint.
Ultrathin it may be, but the buttons are large and easy to reach. For sure, the keys are shallow, but the tactile feedback is probably as good as I've tried on such thin keyboards.
The most important keys – the space bar, backspace and enter – are all large and easily accessible, so you have fewer typos. There's even a "home" button that brings you back to the home screen on the iPad without your fingers leaving the keyboard for the touch screen.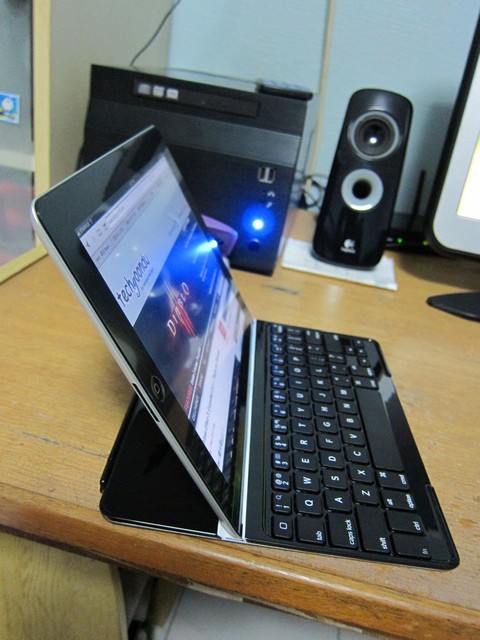 To charge the keyboard, you hook it up to a USB port on a PC or regular phone charger. Don't worry about bringing a charger with you once you have the device juiced up before your trip. I never got around to using up the battery – Logitech claims six months of battery life if you use it for a couple of hours a day.
I must say that I didn't expect much of this accessory at first, but after testing it, I'm impressed enough to say this is one gizmo to have if you want to do some work on the go with an iPad. Whether at a cafe or the airport, it effortlessly transforms the tablet from a media consumption device to one for creation.
The main thing going against the Ultrathin Keyboard Cover is its price. That's a hefty S$139, by the way.
Maybe you can consider that this consists of a cover as well as a keyboard, so it appears to be a better deal (there's even a piece of cloth for cleaning your iPad screen). But that's still a lot of money to part with for an accessory.
To be sure, it's an excellent piece of gear for folks always on the road with their iPads, but at the price Logitech is asking, it's probably going to attract more of the serious road warrior or gadget fan.