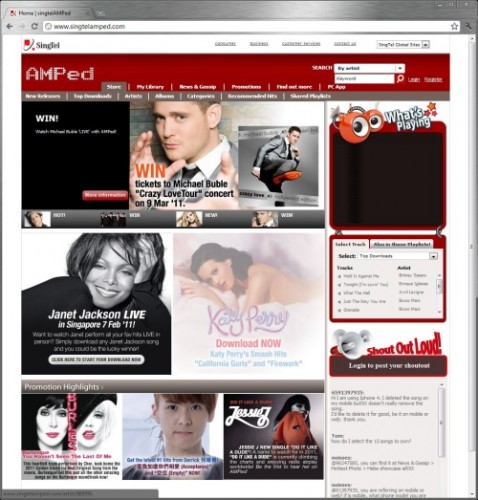 SingTel cellphone users can now download songs from Madonna, Katy Perry and Jolin Tsai over SingTel's AMPed music download service, after the telecom operator added songs from record firm Warner Music Group, which also represents EMI in Singapore, to its catalog last week.
With the new additions, the "red" telco now has all the major international music labels for its download service, which will feature two million tracks for users to download onto their phones and PCs. This comes about half a year after it added Sony to its list of record labels in July 2010.
With more songs available, subscribers for the AMPed download service have tripled within a year, said the telco on Friday. The service is free for selected SingTel data plan users, and does not incur data charges when users download songs over the air.
Other plus points for AMPed, where other music service have failed? Users get 15 DRM-free songs each month and the service works on more than 80 handsets including the iPhone, Android devices and Nokia's Symbian phones as well.
AMPed appears to be among a handful of music services still heavily marketed in Singapore after its launch in 2009, when a raft of similar offerings from both telcos and handset makers were launched.
Nokia recently scaled back its music offerings by scrapping the Comes With Music free-downloads-for-a-year offering in most markets, while little more has been heard of Sony Ericsson's PlayNowPlus music service, which runs on the company's older Walkman phones or StarHub's Play online store, whose website could not be accessed.