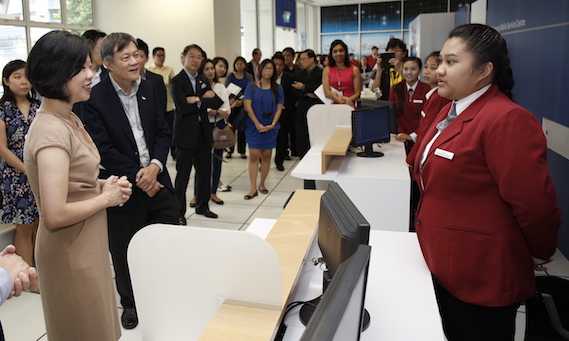 Samsung has opened a new facility at Singapore's Institute of Technical Education (ITE) to equip students with technical skills to repair mobile devices made by the South Korean electronics giant.
Called the ITE-Samsung Tech Hub, the facility at ITE College East will also expose students to the finer points of delivering good customer service, such as managing an electronic queue system, by simulating an operational Samsung service centre.
The Tech Hub also houses a Display Solutions Centre that showcases various emerging display technologies for students to learn how to install and maintain next-generation digital displays.
ITE students specialising in mobile devices and display technologies are already taking classes at the facility, Samsung and ITE said in a media statement Friday.
Some 52 students are also undergoing an eight-week joint certification training programme that focuses on technical training and product knowledge on the latest Samsung smartphones and tablets. The top students in the programme will earn internship opportunities at Samsung customer service centres to further hone their skills.
The Tech Hub is part of a three-year partnership between ITE and Samsung to provide job certification training, industrial attachments and scholarships for ITE students in relevant courses.
So far, 11 students have gone through a 10-week internship at Samsung from August to October this year. They learned about Samsung's business in areas such as technical support, marketing, customer service and sales operations.
In August this year, the Singapore Government accepted recommendations from the Applied Study in Polytechnics and ITE Review (ASPIRE) Committee to improve the job prospects of ITE and polytechnic students.
These include helping students make better career choices, providing more career pathways and setting up a work-study scheme.
Harry Lee, president of Samsung Electronics Singapore, said the partnership with ITE will support youth education and job training through the use of Samsung's technology, services and expertise.
"With the ITE-Samsung Tech Hub, students have the resources and a learning space to develop technical skills needed to join the workforce," he said.